May 16, 2016
Dear Bank, are you trying to talk to me on Messenger?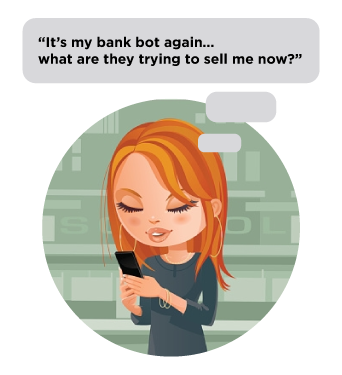 I'm a big time user of messaging apps. I use WhatsApp and Facebook Messenger to communicate with family and friends, Skype for work, and iMessenger for pretty much everything. It's not that I am especially tech savvy or over-communicative. Messaging platforms are accessed daily by billions of users worldwide. WhatsApp has over a billion users. Facebook Messenger is used by over 900 million people around the world, including over 50 million businesses.
So when Facebook announced it was opening up its Messenger platform to third party chatbots, it was big news.
Chatbots enable Messenger users to interact with an AI-powered "representative" from a business, providing the business with a new channel for instant communication with consumers. Some of the businesses with active Facebook bots include 1-800 Flowers, CNN, eBay, Disney, Staples, and Shopify, to name just a few.
Financial institutions were quick to jump on the chatbot bandwagon. Bank of America, TD Bank (Canada), and AXA (France) are among those that announced plans to use Facebook's Messenger as a channel for communicating with customers.
Why?
This is how Michelle Moore, Head of Digital Banking at Bank of America explained it: "We want to serve clients wherever and whenever they choose, and Messenger is a perfect complement to our connected banking proposition."
But why should I chat with my bank's bot?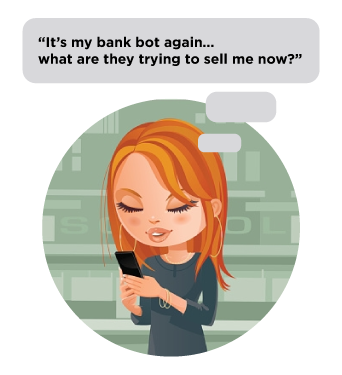 I don't get many messages from my friend Simon, but when I do get one I know he wants something from me. Pick him up at the airport, walk his dog, there is always something he needs.
Simon is a dear friend, but if my bank is going to be like Simon, thanks but no thanks.
If my bank plans on using Messenger to try to sell me on their mortgage, that's the last message I want to get (a close tie with Simon asking me to help him move next week). If they plan on just sending me generic messages about the benefits of their new card, forget about it.
The key to the success of chatbots for customer communication is making it all about the customer. An intelligent AI-powered chatbot needs to be able to understand who I am and what I am trying to do in order to provide me with valuable information, insight, and guidance. I want the bank's bot to be able to answer any question related to my bank account, and I want the response to be accurate and relevant to my situation. If I'm asking how to add my wife to my account, it should know that while we already have a joint checking account, she's not on my credit card account. Based on this understanding, it should direct me to the right place to request an additional card.
But just responding to questions is probably not enough to create a compelling case for letting the bank's chatbot into my life. As David Marcus, head of the Facebook Messenger business and former PayPal president said: "We've learned that (a) we need to make [bots] more proactive for people to build more of a habit, and (b) we've learned that we needed to build a variety of vertical bots to fulfill different types of intent."
What would be really cool and valuable is if my bank could use this new platform to anticipate my needs and provide me with useful insights and advice that can help me stay on top of my day-to-day finances without spending too much of my time (yes, we are all busy!)
For example, tell me how to best use my card when I travel to a different country – should I use my debit or credit card or withdraw cash at the ATM? How much can I withdraw? What fees will I incur and how can I minimize these fees?
As I go about my trip, tell me how much I've spent to-date so I don't have to be constantly worried about my spending. Or if I choose to ignore this information, I can just type "Stop these messages until I get back home" and continue to have fun while draining my account… And when I get back home, you can help me get back on track with some good savings advice tailored to my earnings and spending habits.
If you start doing that, dear bank, I'd be more than happy to chat with your smart bot. If you plan on being like Simon, forget about it.
Related content:
Want to explore how your bank can harness the power of AI to engage and serve customers? Request a demo now
Latest Posts