April 19, 2015
Eye-Popping Customer Engagement Rates for Banks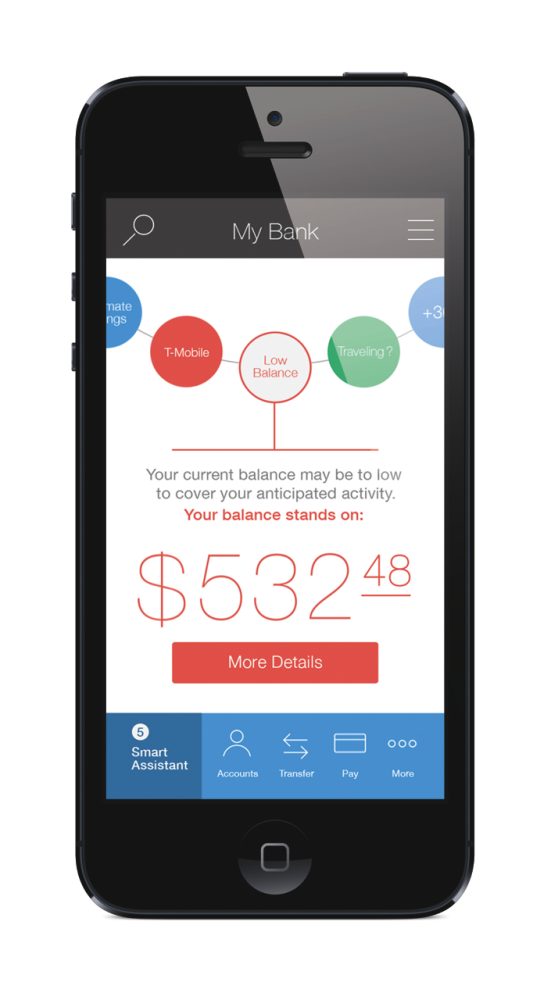 Three years into the journey of harnessing predictive analytics, machine learning and other sophisticated technologies to drive highly personalized consumer experiences across bank channels, there is much to report. 
And in just over a week, Personetics CEO David Sosna will give a keynote address at the Net Finance Conference in Miami — revealing results amalgamated from top banks around the world that clearly show why "getting personal" with your customers may be your best weapon in driving higher customer engagement, trust and cross-sales. He'll also provide a peek into the near-future for the exciting new category of digital banking called Personalized Guidance, unveiling some of the latest experiences Personetics is creating for use across bank channels.
Take a look at the engagement and response scores below.  These are results from recent deployments of our Personalized Guidance solution — consolidated from different customer segments across different financial institutions and geographies.
The average customer engagement rate around our dynamically served personalized content was 40%. The average response rate to recommended product and service offers was 25%. (Yes, these results are so positive as to be almost unbelievable.)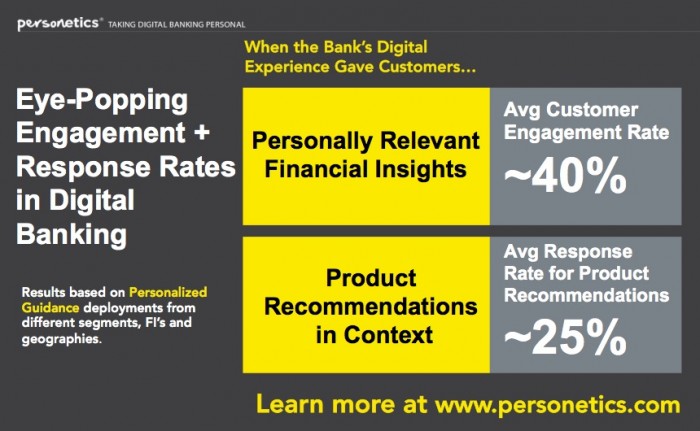 Forward thinking banks who are leading with content that engages the customer on a personal level – rather than simply serving up transaction views or a sales proposition — are the one's coming out as winners.  
Here's how it works on the customer level. Consider a scenario where John, a 25 year-old associate at a small law firm in New York who does most of his banking digitally, racks up $15 in foreign ATM fees each month because he walks south on Lexington Avenue on his way to the deli for lunch. What if his bank or credit union could intervene the next time he logs in by pointing to one of its own (free) ATMs one block north of his office? Taking that logic one-step further, let's say John gets married and his weekend beer runs become expensive weekly trips to Whole Foods. Could his financial institution be smart enough to alert John and his spouse that they are headed for an overdraft fee before they actually get one?
What would John's relationship with his financial institution be like after a few of these positive – and personally relevant – digital interactions? What would that relationship look like after a year of such guidance? Banks and credit unions currently have both the data and digital platforms to make these kinds of positive behavioral interventions possible, and the decision support technology is readily available to make them practical.
The results of our data show that banks win if they first engage the customer with meaningful insight that helps them personally with their financial life, and then make that customer an equally meaningful, personally relevant, product offer.  Do these two things in combination over time — with an emphasis on helpful insight vs selling — and your bank is likely to exceed expectations for engagement, loyalty, and cross sales.
If you won't be attending the upcoming Net Finance conference, but would like to learn more about the real-world results we're achieving for banks around the world, please fill out the form below and we'll arrange to get this information into your hands.