Drive Business Impact with Customer Transaction Data: American Banker – Small Biz Banking 2022
The Personetics team is coming to Nashville for Small Biz Banking on October 3 – 4. We would love to meet you there!
Don't miss the session CFO in Your Pocket: Becoming a Trusted Advisor for SMB Clients presented by Jody Bhagat, President of Americas, Personetics.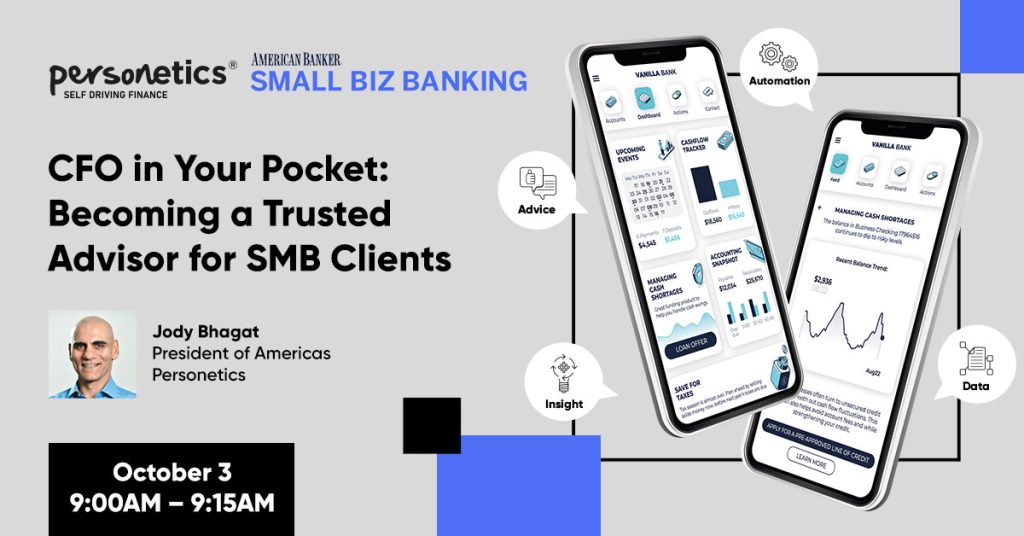 Let's set up a meeting time at Booth #601.
We'd love to show you how Personetics' data-driven personalization can help SMB bank customers with:
Integrated experience for the SMB owner straight to their banking app: Integrate financial data-driven personalization seamlessly with existing digital experiences to enhance digital and human interactions.
Enhanced categorization and data enrichment: Help your SMB customers make more accurate forecasts with cleansed, enriched transaction data.
Customer engagement: Reach out to SMB customers with the right personalized offerings at the right time to increase business impact at scale.
Open Banking and Finance: Integrating data from external sources, such as bank data, invoices, and cloud accounting software.
See you at Small Biz Banking Nashville.
Book a meeting in advance by using the form.