Santander Elevates Their Banking with Self-Driving Finance
Financial institutions have heard a lot about the potential of Artificial Intelligence (AI) to transform the banking experience. Santander Spain decided to make this vision a reality – by using AI technology to better humanize the banking experience and become trusted advisors to their customers.  
Santander Spain partnered with Personetics to implement Self-Driving Finance. With the help of Personetics' financial data-driven personalized engagement platform, the bank is supporting their customers' financial wellness with useful, actionable insights that give a clear view of their personal finances.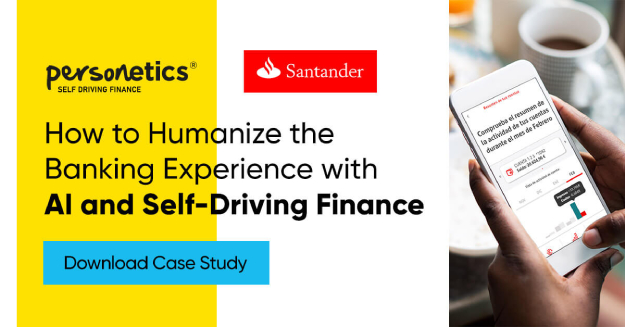 In our case study, see how Santander Spain Bank achieved award-winning results, including:  
40% increase in digital engagement 

 

Expected 20% increase in overall app customer satisfaction within one year

 

90 million personalized insights generated per year 

 

4.7 out of 5 average insight rating 

 

2021 Efma-Accenture Banking Innovation Awards Gold Award for Analytics & Artificial Intelligence