Join Personetics at American Banker Digital Banking, 13 June 2023, Boca Raton, FL.
Boost Engagement and Deposits with Financial Data-Driven Personalization
1:30 PM – 2:00 PM EDT / 8:30 PM – 9:00 PM  Your local time   (30 Min), Boca Raton, FL.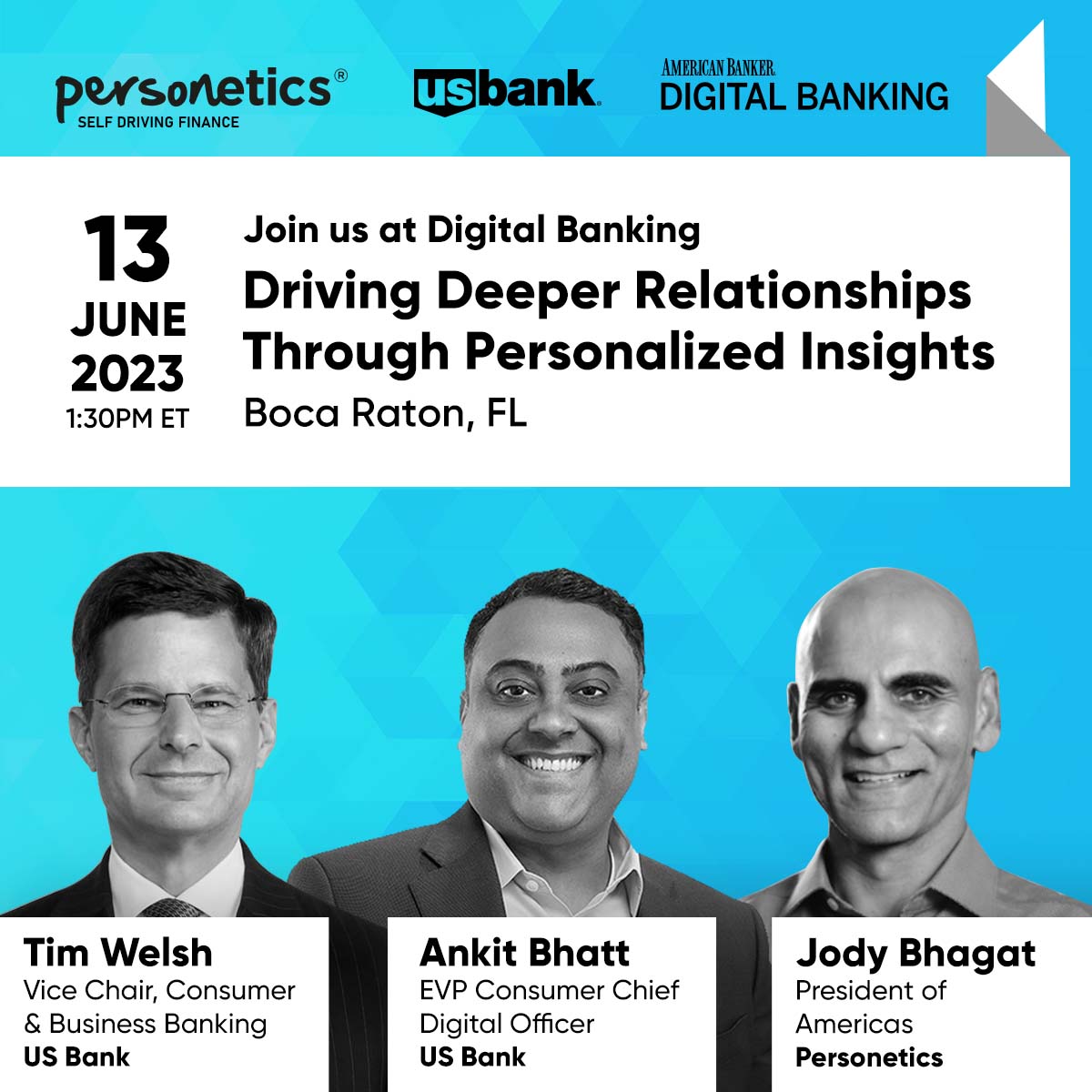 US Bank and Personetics Personalized Insights Drive Customer Engagement
Leading banks globally are embracing personalized insights as a key element of their experience. Customers benefit from having their primary institution better understand their financial situation and deliver proactive, intelligent interactions. Banks benefit by having customers more engaged and with deeper relationships.
Discussion includes:
1. Enhanced Customer Understanding:
By embracing personalized insights, leading banks globally are improving their understanding of their customers' financial situations.
US Bank has successfully delivered over 2 billion personalized insights to its customers, enabling a deep understanding of their individual needs and goals.
With this enhanced understanding, US Bank can proactively deliver intelligent interactions tailored to each customer's unique circumstances.
2. Proactive and Intelligent Interactions:
Through personalized insights, customers receive proactive recommendations and interactions that cater to their specific financial needs.
US Bank leverages the power of advanced analytics and artificial intelligence, in collaboration with Personetics, to continuously learn from customer behavior.
By identifying patterns and utilizing real-time data, US Bank can provide timely and relevant recommendations, empowering customers to make informed financial decisions.
3. Strengthened Customer Engagement and Relationships:
The implementation of personalized insights fosters deeper relationships between banks and their customers.
By delivering a superior digital experience, US Bank has garnered recognition and acclaim, including being ranked #1 by Keynova for its mobile app in 2022.
Engaged customers are more likely to remain loyal, increasing their satisfaction and creating long-term relationships that benefit both the bank and the customer.
Through the strategic collaboration between US Bank and Personetics, personalized insights have become a driving force behind customer engagement. This innovative approach empowers customers by delivering tailored solutions, fostering financial well-being, and strengthening relationships. With the success of US Bank's award-winning digital experience, personalized insights have become a pivotal element in the evolution of banking services worldwide.
Fill out the form to book a demo with one of our on-site executives.