June 23, 2015
Bankers Excited by Personalized Guidance at London's Future of Digital Banking show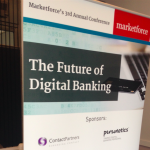 Personetics CEO, David Sosna, delivered a keynote address at the Future of Digital Banking conference in London on June 24.  He covered the latest developments in Personalized Guidance, a new category of digital banking.
Attendees told us afterwards that the results being achieved in customer engagement and other areas were very exciting.
Sosna provided examples on how banks in locations worldwide are harnessing predictive analytics, machine learning and other advanced technologies to drive highly individualized consumer experiences.  He also provided statistics showing how these deployments are generating impressive improvements in key metrics such as customer engagement, loyalty, trust and cross-sales.
The presentation is available to interested banks upon request by emailing marketing@personetics.com