January 25, 2015
Eye-popping Loyalty and Engagement Scores with Personalized Guidance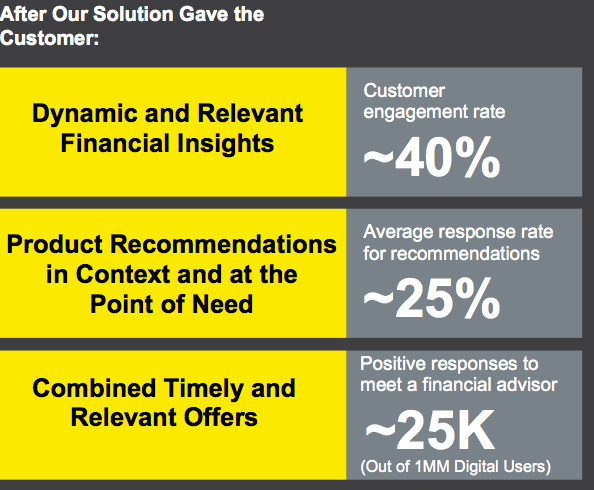 The Wall Street Journal did some digging into the details of a recent Bain & Company report, which finds that mobile interactions now account for 35% of consumer banking experiences. While that stat alone is pretty staggering, the WSJ notes a couple of even more interesting facts about the behavior of mobile banking customers:
"… 'Digital-only' customers scored lower on a loyalty and engagement scale than those who only visited branches or used a combination of branches and digital channels.
Digital-only customers also purchased fewer products than those that connect with banks through a combination of digital channels and physical branches."
The Personetics View: Boosting loyalty, engagement and cross selling have become the Holy Grail of digital banking.
So take a look at the engagement and response scores below.  These are results from recent deployments of our Personalized Guidance solution — consolidated from different customer segments across different financial institutions and geographies.
The average customer engagement rate around our dynamically served personalized content was 40%. The average response rate to recommended product and service offers was 25%. (Yes, these results are so positive as to be almost unbelievable.)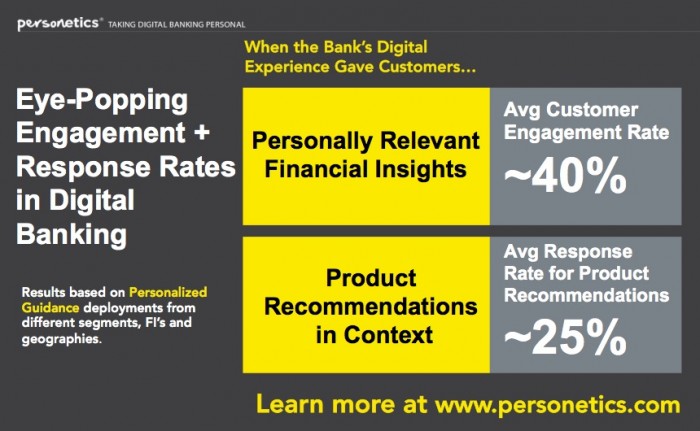 So what are we learning?
Forward thinking banks who are leading with content that engages the customer on a personal level – rather than simply serving up transaction views or a sales proposition — are the one's coming out as winners.  
Net/net: first engage your customers with meaningful insight that helps them personally with their financial life, then consider making them an equally meaningful, personally relevant, product offer.  Do these two things in combination over time and your bank is likely to exceed expectations for engagement, loyalty, and cross sales.
Hyperbole?  We don't think so.
We're seeing in the early data the opportunity for banks to create a digital experience that's not just a proxy for a face-to-face interaction, but one that's even better: An experience informed by Big Data and predictive analytics that can actually predict what the customer needs and is looking for when they log in.
Personalized Guidance technology supporting this kind of digital banking experience is leading the way. Personetics can help!