November 4, 2014
Net Promoter Scores Improve with Personalized Guidance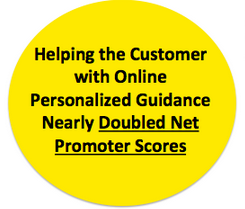 The transition to digital banking seems to be fostering the idea that customers will soon live in a technology driven financial utopia, able to choose products and services independently—and handling everything themselves. Apparently no help from the bank (whether in a branch or elsewhere) will be needed.
Nothing could be further from the truth.
In fact, the transition to online banking does not eliminate the need for personalized customer guidance; it merely changes how it will be delivered. The opportunity is for banks to provide new and better ways to serve each customer personally via digital channels.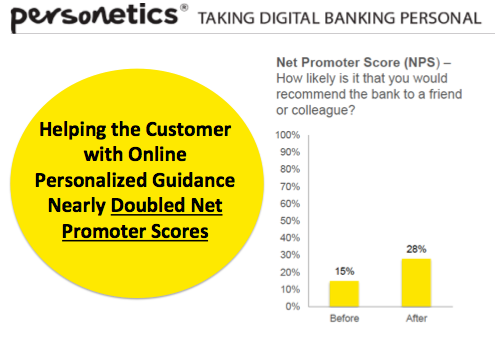 Take a look at the chart above.  Based on data from one of our clients, online customers who received Personalized Guidance from our Smart Assistant solution were much more likely to recommend the bank to a friend or colleague. In fact NPS scores almost doubled.
While this is only one result – it's still a clear early indicator that keeping the customer's individual interests top of mind will remain a key value driver in the battle to win the future of digital banking.