April 25, 2022
HSBC Leverages Smart Analytics to Develop New Tools That Enhance the Personalised Customer Experience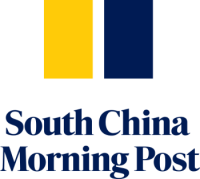 The new Budget feature in the HSBC HK app harnesses big data to generate personalised insights for customers, allowing them to see spending patterns
Users can track their monthly spending, and also receive actionable insights to help them take charge of their financial goals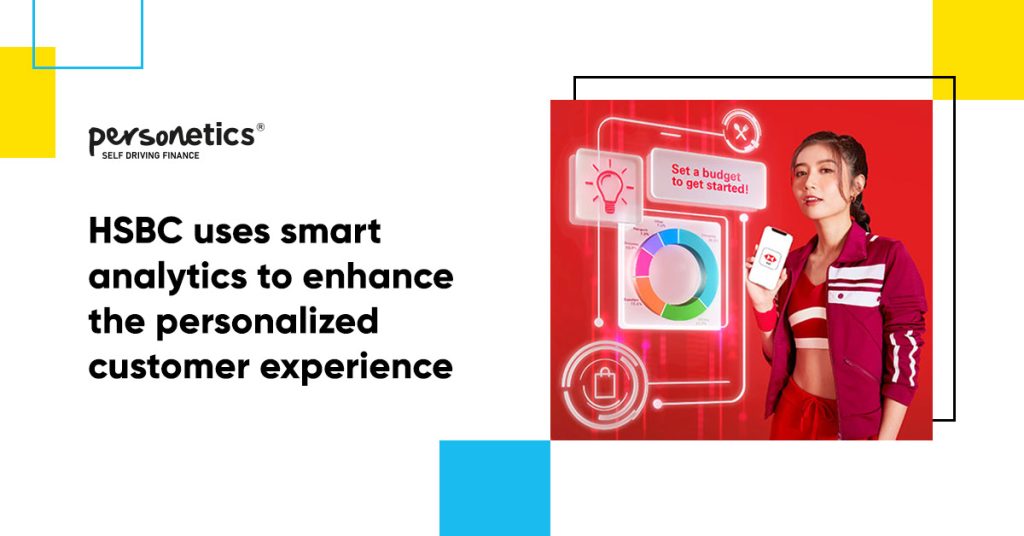 Digital banking has long focused on providing people with a digital version of the services that once required a trip to a physical branch. But consumers' needs have evolved, and they now want new tools as well as targeted information and insights to help them take charge of their finances. In response, HSBC tapped into the latest trends in technology with an aim to take personalised banking to the next level via its mobile app, helping customers transform the ways in which they manage their money.
Brian Hui, head of customer propositions, international, and marketing, wealth and personal banking at HSBC in Hong Kong, says that its vision is to enable anyone to learn to become more adept at managing their money. "It could be maximising the discount with your favourite merchant, having the investment solutions for idle cash, or taking flexible cash when needed. We want to help you spend, save, borrow, invest and insure smart with HSBC. You may be surprised at the insights you discover about yourself and the solutions to improve your financial habits."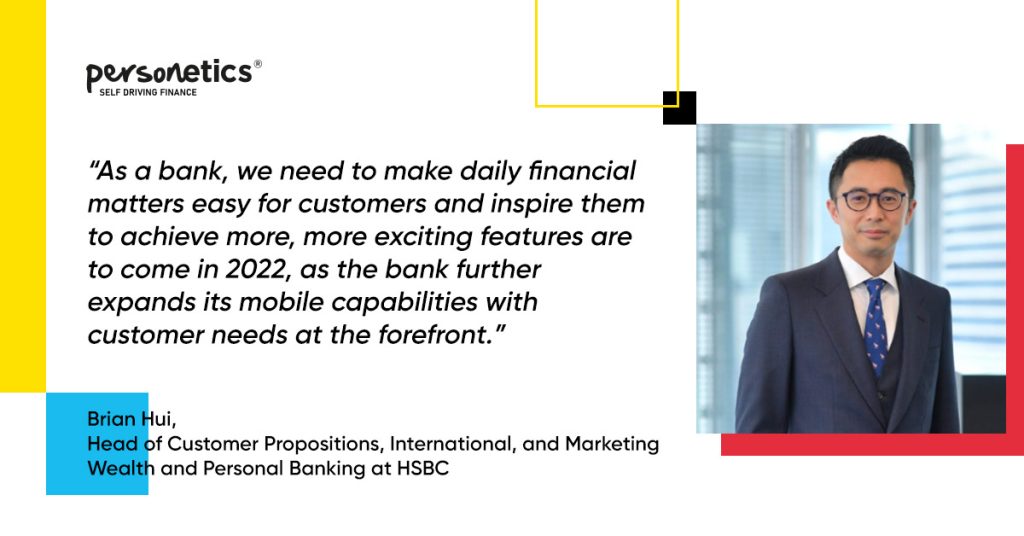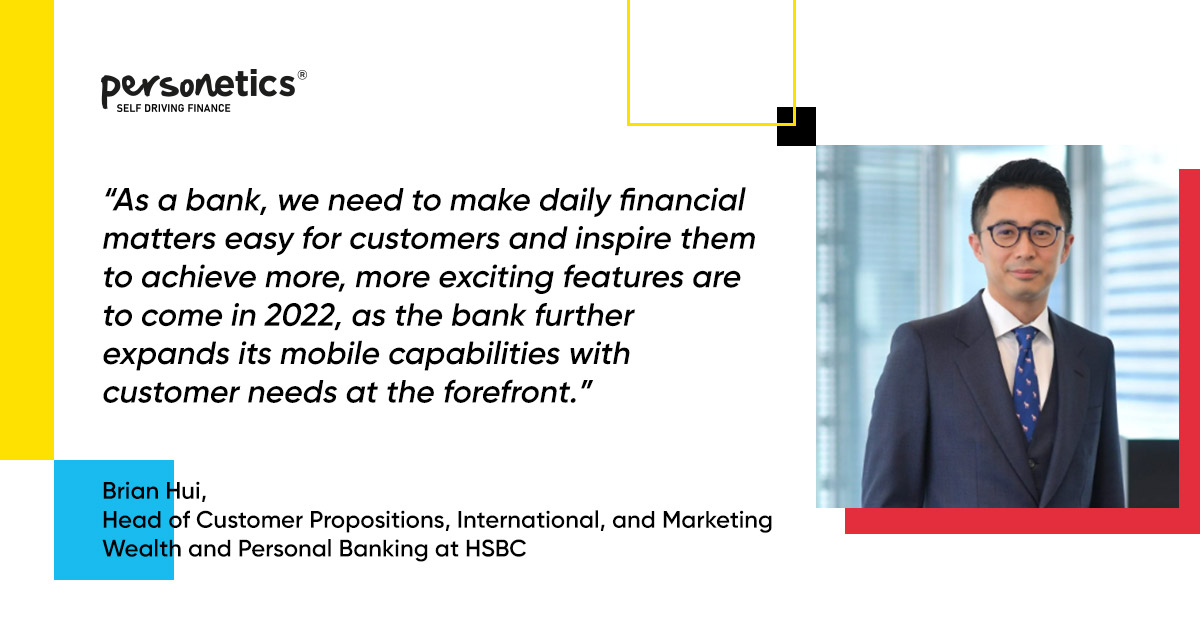 By leveraging smart analytics to identify the behavioural spending and saving patterns among its customers, HSBC is able to provide meaningful, actionable insights to each customer regarding their individual finances. For example, each time a customer logs in to mobile banking through the HSBC HK app, they are shown recommended actions to take to improve their financial standing.
Yusuf Demiral, group head of data analytics and customer relationship management, wealth and personal banking at HSBC Hong Kong, explains: "We used the massive transactional data that has been created through HSBC's banking operations, and applied AI and machine learning methods to it in order to uncover the behavioural patterns of various customer segments."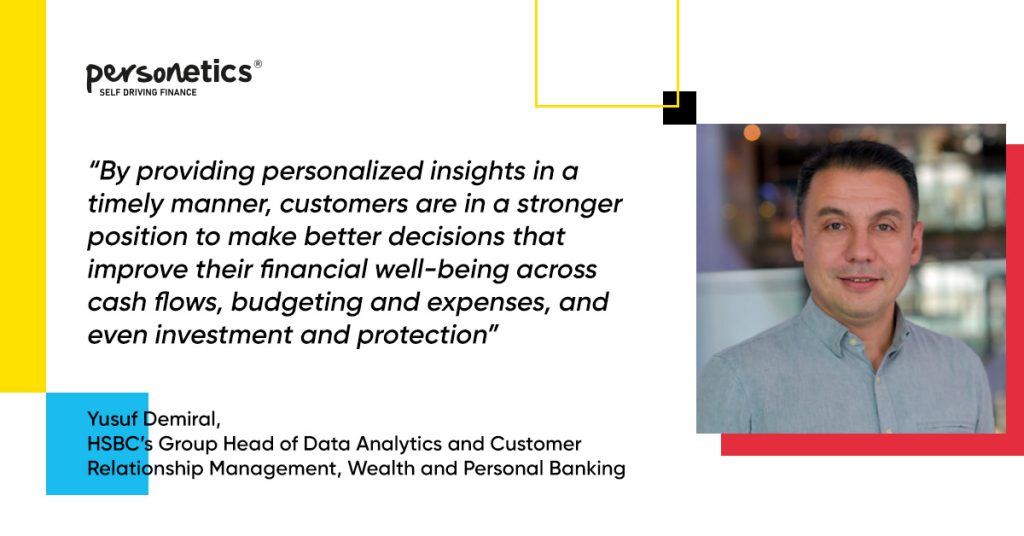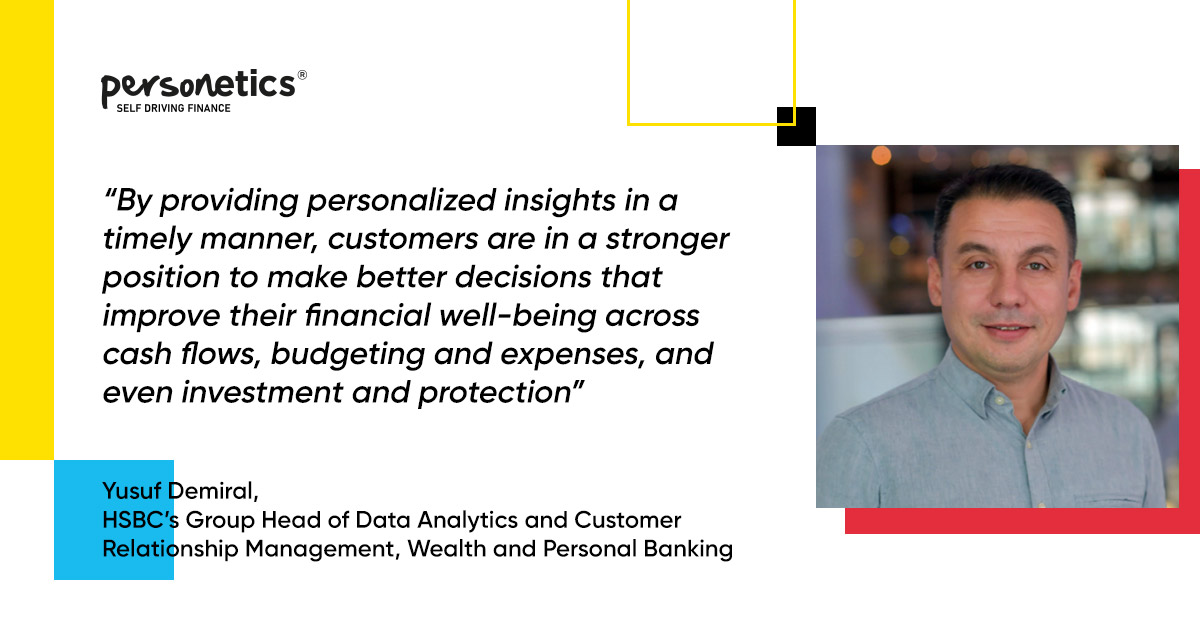 In the future, HSBC credit card holders can also expect to receive relevant and timely offers from the bank's credit card programme based on their individual spending patterns. "Consolidating your daily finances using the app can further maximise the AI-powered insights for more relevant actions," Demiral says.
Other personalised financial insights include a view of wealth portfolios, highlighting gains and losses to prompt customers to check their holdings and rebalance them as needed. It also offers information on the level of insurance protection in place according to net assets, family size and cash flow, guiding customers to review and possibly enhance their coverage.
"Through providing these personalised insights in a timely manner, customers are in a stronger position to make better decisions that improve their financial well-being across cash flows, budgeting and expenses, and even investment and protection," Demiral says.
The new Budget feature that was recently added to the HSBC HK app marks the first phase of this customer-centric project. The bank leveraged artificial intelligence (AI) and big data to create this hyper-personalised financial management tool, which shows customers exactly how they spend their money while also providing them with actionable insights tailored to their individual circumstances and financial goals.
"By harnessing data analytics, we are making the HSBC HK app a mini-financial coach in the pockets of our retail customers. This makes it easier for them to apply money management techniques, especially for those who have a hard time budgeting," Hui says.
HSBC conducted a study of Hong Kong consumers' spending and saving habits in December last year. The survey, which questioned 1,244 Hongkongers aged 18 to 64 to provide a general representation of the city's banking population in terms of age and gender, revealed that while 60 per cent are putting money into savings, only 37 per cent had created a monthly budget – the cornerstone of successful financial planning.
The study also found that local consumers typically spend nearly half of their salary each month, mainly on dining, shopping and paying bills. Meanwhile, data collected by RFI Group in the first half of 2020 on 1,000 consumers suggests 42 per cent of HSBC customers are still managing their finances manually – using spreadsheets, or pen and paper – making it difficult to identify and understand spending patterns.
To solve these issues, the Budget tool was designed to automatically track customers' total spending across all HSBC bank accounts and credit cards, breaking their daily expenses down into 18 different categories to help them see where their money goes. Transfers to investments or customers' other personal accounts are automatically excluded, in order to provide a clearer picture of everyday spending patterns.
The app tool also compares these patterns over the past 12 months, to help customers track changes in their spending habits and to support them in reviewing details of each transaction. They can even take personal financial management a step further by creating their own expense trackers within the app, which will sort transactions into the 18 categories.
The new feature also enables customers to create their own budgets and set a monthly ceiling on spending. Users are alerted when 25, 50, 75 and 100 per cent of the limit is reached, enabling them to adjust their spending and stay on track with their budget.
"By receiving notifications of unusual transactions, spending trends and tips, people can make better daily money management decisions," Hui says.
HSBC has seen that its younger customers prefer to learn from their peers and compare their financial standing to that of their contemporaries. To better help customers understand how well they are managing their money, the bank provides insights with comparisons to people who share a similar profile according to their age, income and spending patterns. The bank calls it a cloud-sourced, intelligent way to learn about money management.
HSBC developed the new Budget tool based on analytics of the spending data gathered from over 5 million retail banking customers in Hong Kong. That data comprises more than 500 million transactions carried out in 2021, accounting for about HK$3 trillion (US$383.2 billion) in customer spending. Customers also participated in the testing and refinement of the new tool, as part of the bank's commitment to the customer experience.
Digital innovation has become a key focus area for HSBC, with the bank launching one new digital banking feature for every working day in 2021, on average. The importance of this digital transformation has been further reinforced by the Covid-19 pandemic and its resulting social-distancing measures, so HSBC continues to invest in innovation to answer the need for banking services that can be accessed from home. In February, during the coronavirus fifth wave in Hong Kong, 98 per cent of all sales and servicing transactions were made digitally, while one in two customers banked using HSBC mobile apps.
Want to explore how your bank can harness the power of AI to engage and serve customers? Request a demo now
Latest Posts