October 13, 2022
Banking on Innovation, A New Kind of Leadership Podcast Series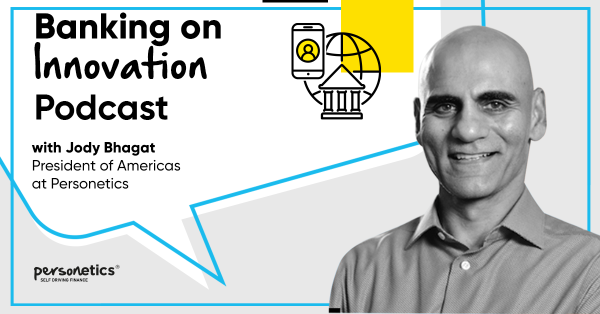 By JODY BHAGAT, President of Americas at Personetics
I am delighted to announce the launch of Banking on Innovation, our new leadership podcast series featuring acclaimed industry leaders who have driven customer-centric innovation and business impact
Our guests share learnings from their personal journeys and candidly discuss both the challenges they faced and the results achieved.  While the conversation is purposely casual, the perspectives shared can be provocative, intended to challenge the industry to achieve greater heights.
As podcast host, I'm excited to lead the conversation on customer-centric innovation given its importance in the industry to meet evolving customer expectations and behaviors.   It's vital for the banking industry to innovate on behalf of its customers to drive greater value in light of increased competition from fintechs, challenger banks and even big tech and retailers, as well as the movement towards open banking, which puts more control in the hands of customers.  This new competitive environment requires a shift from product-centric models to customer-centric models where personalized experiences and interactions are paramount.
We are in an exciting period of transition for the industry where we will see greater disparity between leaders and laggards.  To compete effectively and win, banks of all sizes will need to embrace advances in data and analytics to better "know" their customers and anticipate their needs to deepen relationships.  We call this capability data-driven personalization and it will be a key competitive battle ground for the industry.
Banking on Innovation is intended to help our audience embrace customer-centric innovation and drive meaningful business impact.  The guests' perspectives are both inspiring and challenging, and my hope is that our audience will utilize the wisdom to find ways to deliver greater value for customers and build a stronger customer franchise.  As importantly, our guests expound on what challenges the industry has yet to address to successfully meet the future needs of customers.
Listen here to the podcast on Spotify
Listen to the podcast on Apple and Google
A unique perspective on customer-driven innovation
Episodes will be released every two weeks, with the inaugural episode launching on October 13. It features Dennis Devine, CEO of Alliant Credit Union, one of the 10 largest credit unions in the US, discussing how the organization strives to create an outstanding member experience in a digital-first environment.
Dennis was a natural choice to lead off the podcast series given his unique blend of experiences: CEO of a leading credit union, executive roles in major regional banks, and consulting at McKinsey and Company.
I am humbled that so many fascinating and accomplished leaders have agreed to participate in the first season of our leadership podcast series.  The list features CEOs, Retail Bank heads, Chief Digital Officers, and CMOs from some of the country's most progressive banks and credit unions. The list includes:
Dennis Devine, President and CEO of Alliant Credit Union
Liz Wolverton, Head of Consumer Banking and Brand Experience at Synovus Bank
Brendan Coughlin, Head of Consumer Banking at Citizens Bank
Harit Talwar, former Chairman and CEO, Marcus by Goldman Sachs
Jamie Warder, Head Digital at KeyBank
Ankit Bhatt, Chief Digital Officer at U.S. Bank
Christopher Kay, Senior Executive Vice President at M&T Bank
Hans Morris, Managing Partner of NYCA Partners
Erin Pryor, Executive Vice President, CMO & Client Experience at First Horizon Bank
Todd Lane, President and CEO at California Coast Credit Union
Our conversations were broad-ranging, from evolving customer expectations to the challenges they face to deliver more personalized experiences.  Each of the episodes, which are typically 20-35 minutes long, ends with the same provocative question: What will customers expect in the next three-to-five years, for which the industry is not well prepared?
Because the podcast is an intimate format – recorded over video – guests are able to be more candid with their perspectives, and many of them also shared valuable insights into their personal journeys to success.
Personally leading the change
I was struck by how intimately engaged all these leaders are in the effort to innovate on behalf of customers. They not only championed the transformation within their organizations but were deeply engaged and personally vested.  Most carried with them an ambition or a north star of a desired state, but also a conviction to drive the near-term change required and overcome obstacles – whether they be technical, organizational or partner ecosystem related.
The salient learnings from their personal journeys showed the importance of grit and execution with conviction, not simply conveying a bold vision.
Along with many inspiring stories of personal development and learnings, there were a few broad takeaways from the podcast series:
Data continues to persist as a challenge. As I comment, Yogi Berra-style, in the first episode, 90% of banks think that their data is worse than average.  Yet, all of these institutions were able to drive impact and deliver customer value in parallel with an ongoing data transformation. This is a profoundly important mindset to drive innovation.
Customers expect banks to deliver more personalized and intelligent interactions to help improve their financial wellbeing, particularly during times of economic stress. Capabilities exist today for banks to take meaningful steps and deliver value to customers. There is, however, much more innovation yet to come in this space and it's important to "lean in" and build organizational muscles in personalized interactions.
Most traditional banks will gain advantage by synchronizing digital and human capabilities to meet customer needs. Leveraging data and coordinating interactions and experiences across digital and banker channels are key elements of how banks will compete and build stronger customer franchises.
How can you listen to the podcast?
Please tune in and join me and my guests on this journey. Episodes of Banking on Innovation will be released on every 2 weeks.
You can access new podcast episodes here: Spotify, Apple, Google 
Want to explore how your bank can harness the power of AI to engage and serve customers? Request a demo now
Latest Posts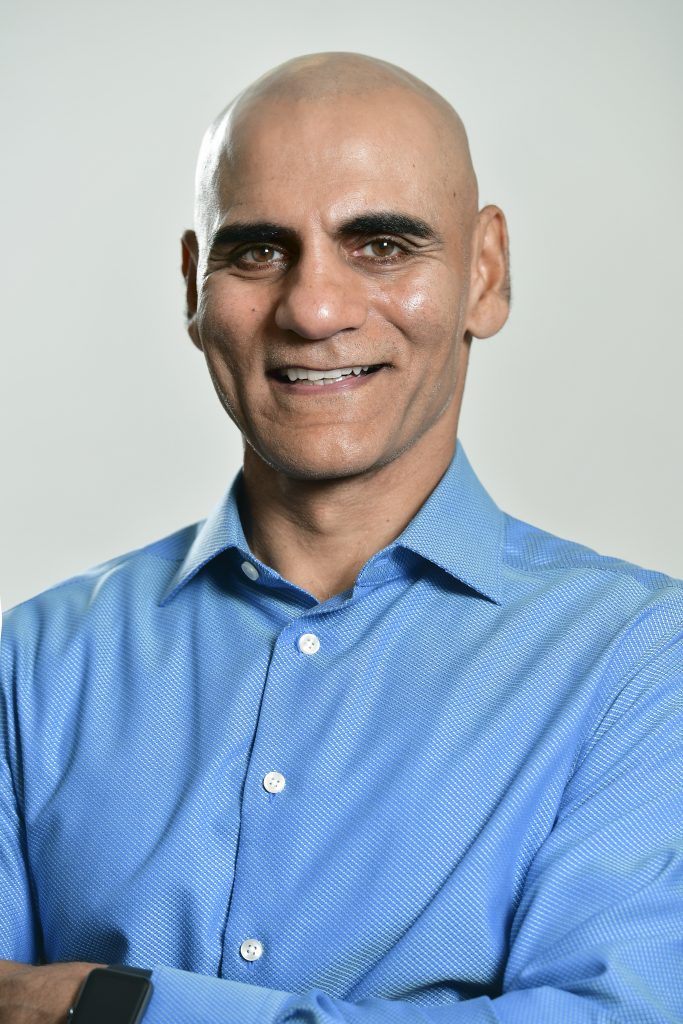 Jody Bhagat
President of Americas
Jody brings deep operating experience in financial services – managing direct channels, launching digital ventures, and leading digital transformation programs. He was previously a Partner at McKinsey & Company, where he helped financial institutions define and execute digital transformation programs to drive customer growth and operating efficiency. Jody also served in senior digital operating roles at U.S. Bank, Wells Fargo, and Providian. In these positions, he led digital sales and service functions and direct to consumer businesses to deliver organic growth and enhanced customer experience. Jody has an MBA from Northwestern University and a BS in Computer Engineering from The University of Michigan.