July 20, 2016
Meeting Customers Where They Already Are with AI-Powered Chat Bots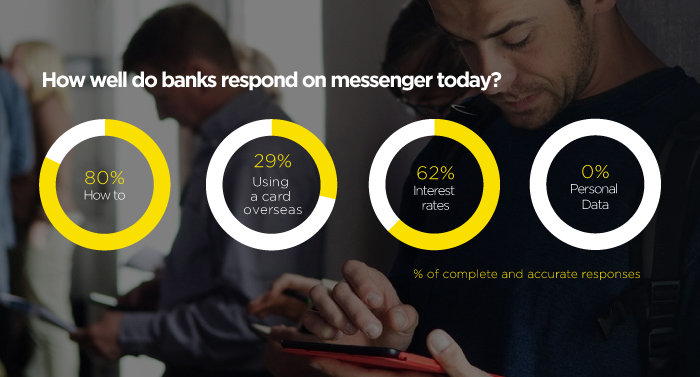 We are in the midst of a transformation. Activate, a consultancy, estimates that 3.6 billion people will have at least one messaging app installed on their smartphone by 2018. That's half the world's population, and 90 percent of people with an Internet connection.
Already, WhatsApp and Facebook Messenger process a combined 60 billion messages each day, three times the number of global SMS messages.
The business world hasn't missed the move to messaging apps. Companies are using these apps to connect with people where they are – on their phones. The next step is for companies to use AI-powered chat bots to provide personalized and timely assistance to customers.
Financial Services Are Behind the Curve on Messaging Apps
Some major banks are currently using messaging apps to communicate with customers. But, customers may find the services lacking at times.
While most banks do a respectable job responding to simple questions such as a branch location, they struggle to provide timely and accurate answers for more complex questions.
Another issue that some banks face is agents and bots can't provide a response to questions about someone's particular account unless there's a way to authenticate the user. This may become less of an issue as messaging platforms offer end-to-end encryption, making them a secure way for banks to connect to customers.
Not less troubling is the time it takes for a consumer to connect with banks via messaging. Since responses are provided by bank employees, response times are often well over an hour – not exactly what customers expect when they need help!
AI Power to the Rescue?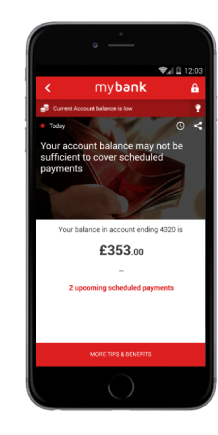 That's where AI can shine. Artificial-intelligence-powered chat bots can eliminate the time delay and provide personalized and accurate answers to questions. It can tell your current account balance, transfer money to a friend, pay a bill, and report recent spending activity.
Taken to the next level, it can use predictive analytics to suggest personalized money-saving advice to customers. Perhaps a transfer that will help a customer avoid an overdrawn account or tips for avoiding fees while traveling overseas.
A well-built bot uses several means to answer questions accurately and identify helpful resources for customers.
It comes with industry-specific knowledge built in. This includes common triggers and workflows that let the bot provide assistance out of the box.
It can incorporate the bank's current content into its knowledge. This allows the bot to point a user to a relevant and helpful blog post or FAQ page that's already made and regularly updated.
It learns over time and improves its ability to predict users' needs and respond with helpful information.
Last but not least, the bot should work on the messaging services and integrate with the personal assistants that customers are already using. Facebook Messenger and Amazon's Alexa are two of the most popular ones, but also look for integration with WeChat, Siri, Cortana, Slack, Line, Kik, and other platforms.
Additional Resources:
On-demand webinar: Serving Your Bank Customers Wherever They Are – Facebook Messenger, Amazon's Alexa, Siri, and more
Blog: Dear bank, are you trying to talk to me on messenger?
Personetics Anywhere™: Financial Services Bot
Want to explore how your bank can harness the power of AI to engage and serve customers? Request a demo now
Latest Posts