October 14, 2022
Dennis Devine CEO of Alliant Credit Union: How to be Customer-centric in a Digital-first Organization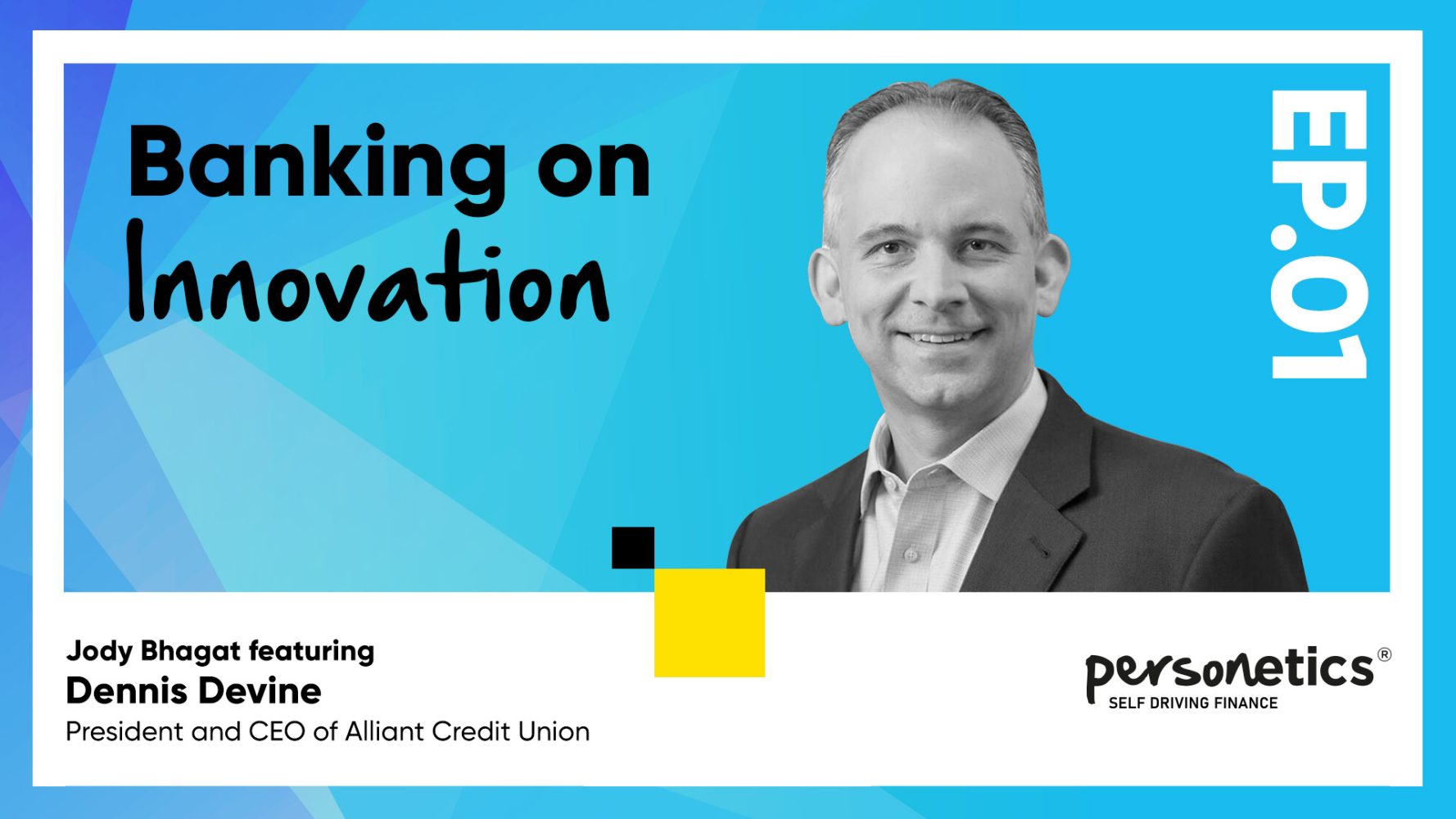 By JODY BHAGAT, President of Americas at Personetics
The inaugural episode of our leadership podcast series, Banking on Innovation, launched yesterday with an interview with Dennis Devine, President and CEO of Alliant Credit Union
Dennis was the natural choice as my first guest on the podcast, which features leaders driving customer-centric innovation in banking. His perspective is unique and compelling, given his background in leadership roles in regional banks such KeyBank, Citizens Financial Group and PNC Bank. Dennis took an unorthodox path compared to typical big bank executives by joining Alliant, a digital-first national credit union, one of the largest in the US with over $16 billion in assets today.
I was eager to hear about how his past roles prepared him for his current leadership challenge, and how his views on customer-centricity may have evolved. His answers were quintessential Dennis, and his messages of member centricity have clearly been honed across his extensive leadership experience.
Dennis says that no matter the size or nature of organization in which he worked, the key to scaling and innovating successfully was being extremely focused on member needs.
At Alliant, he said, "One of our superpowers is being clear about who we are and what we are, because if we try to be everything to everyone, as an institution our size, we just can't be successful."
In this environment in which your brand and proposition must be very well-defined, there will be opportunities to experiment, but for this you may have to lean more heavily on partners in financial technology.
To make this work, you need to learn to become "as good a partner as anyone can be," making your organization attractive to good partners not just through attractive deals but through successful onboarding and a long-term relationship.
Listen here to the podcast on Spotify
Listen to the podcast on Apple and Google
Transforming into a digital-first organization
Dennis described to me Alliant's evolution into the country's leading digital-first credit union.
Alliant organization is over 85 years old and was originally the primary credit union for United Airlines. As a result, says Dennis, the institution always had a national membership and had to be good at remote service.
In 2014, when Alliant realized that 96% of the transactions occurring in its branches could be done digitally, it closed the physical locations.
"The benefit [of being digital-first] is the best cost structure in the industry, without the cost of a far-reaching and often underutilized branch network," Dennis says. "We're able to take those cost savings and give them back to our members."
How to keep member needs at the centre of your culture
The needs and requirements of members are at the "heart of our culture and of our management routines," he adds.
"So, for example, every one of our leadership meetings starts with a member impact story. We take turns and we do it in our recognition meetings as well… telling a story of an interaction we've had with a member that is shaping the way we think about the work. Our first value is to wow members; they're at the center of all that we do."
Alliant also uses analytics for the same purpose: analyzing speech, text, and the interactions members have in the digital channels.
What they learn from members guides changes, for example, the decision to eliminate overdraft fees last year."We were one of the first large institutions to entirely eliminate [overdraft fees], no nibbling around the edges. It was driven by member experience, not by financial outcomes, that's for sure."
The well-received message to members was: "We're in it for you."
"You can imagine the debate that occurs among a leadership team before you do something like that," says Dennis. "One of our values is be bold – think big, move fast, own the outcome. When the decision was made, there was a modicum of frustration around why is it going to take so long for us to implement this… And a brilliant member of the technology team thought we could do this in a matter of weeks with some simple robotic process automation…. The pride in our team, the warm response from our members when you make a decision that's as clear as that, 'we're in it for you', that's what's great about being part of an organization like this."
The challenges of delivering a more personalized experience
Looking to the future, Dennis proclaimed that delivering members a more personalized experience will become increasingly critical. However, one of the challenges is that consumers typically have relationships with several financial institutions.
"In many instances, they're going to have a mortgage in another location and a wealth management relationship in another location. You don't know everything about that member, and that creates a challenge… You might not have the complete data set, but you have to be relevant for the piece that you do."
Asked what customers will demand from banks in the next three years that the industry isn't so well prepared for, Dennis argued that making embedded payments work across financial services and other consumer experiences is becoming increasingly critical – again, highlighting the importance of good partnerships.
Finally, he added, institutions must stay "constantly thoughtful" about the competitive landscape, including emerging players – not only because "you don't know what is next", but because "it causes you to be super zeroed in on the type of member you want to serve and how you can be as good as possible for them."
Want to explore how your bank can harness the power of AI to engage and serve customers? Request a demo now
Latest Posts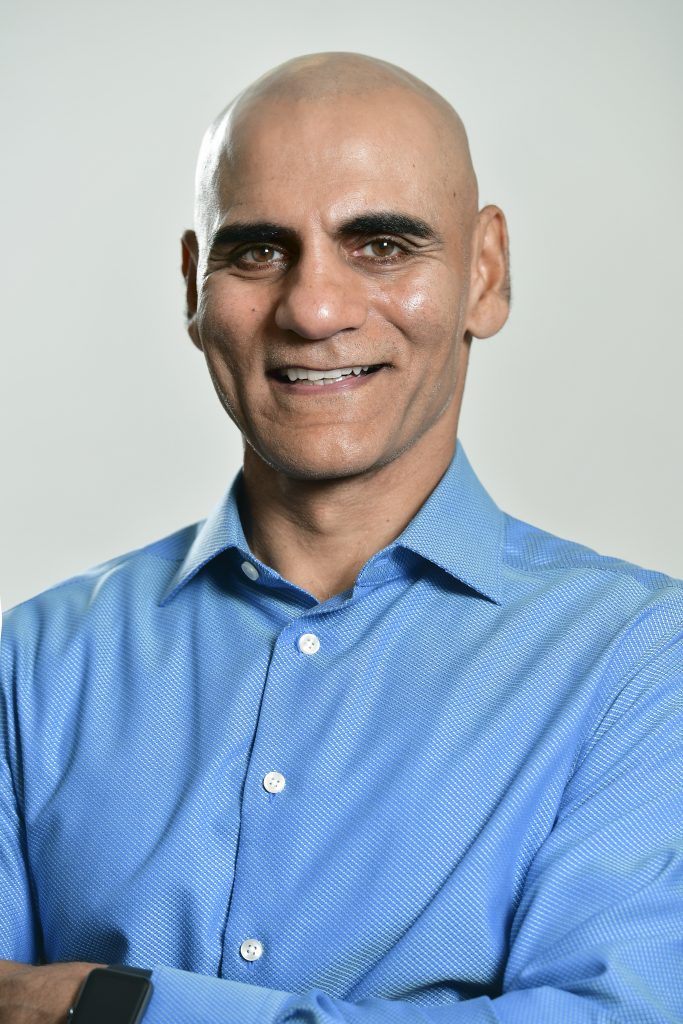 Jody Bhagat
President of Americas
Jody brings deep operating experience in financial services – managing direct channels, launching digital ventures, and leading digital transformation programs. He was previously a Partner at McKinsey & Company, where he helped financial institutions define and execute digital transformation programs to drive customer growth and operating efficiency. Jody also served in senior digital operating roles at U.S. Bank, Wells Fargo, and Providian. In these positions, he led digital sales and service functions and direct to consumer businesses to deliver organic growth and enhanced customer experience. Jody has an MBA from Northwestern University and a BS in Computer Engineering from The University of Michigan.