June 28, 2023
Drive Business Impact with a Turnkey Enterprise Level Platform: Personetics Solution for Q2 Explained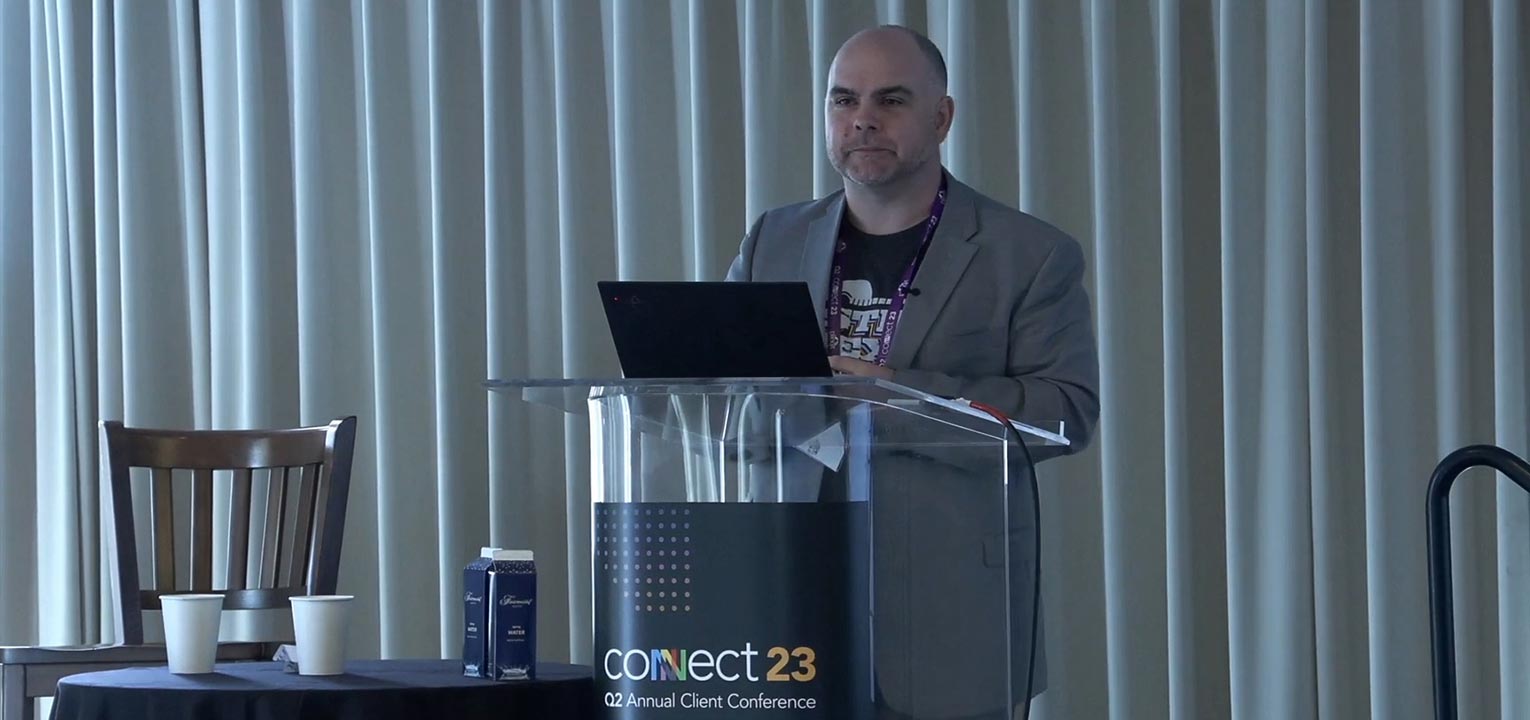 During my recent presentation at Q2 Connect (Q2's annual conference), I introduced Personetics solution for Q2 clients and spoke about the significant value financial data plays in the way banks can personalize the consumer banking experience, as well as grow and retain deposits.
Personetics for Q2: Near Zero FI Effort. Maximum Value
Personetics is a powerful financial data-driven personalization platform that was developed based on over a decade of experience working with leading financial institutions both in the U.S. and globally. Now, with the established new partnership with Q2, Personetics can offer Q2 banks and credit unions a turnkey enterprise-level personalization solution, that's easy to deploy and seamlessly integrates into the Q2 digital banking experience.
By leveraging customer financial data, Personetics' solution delivers timely and hyper-personalized insights and advice, that help customers make informed financial decisions, while keeping them engaged. Leading to significant business results, including up to 35% engagement rates, and 17% click-through-rates for advice and product recommendations taken.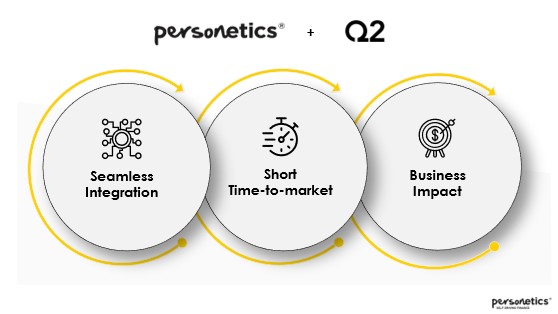 It All Starts With Data: Data Integration & Enrichment
With a turnkey data integration for Q2, Personetics AI-based models automatically map customers' transactional data, to cleanse, categorize and enrich the raw data. This in return, provides clarity to end-customers, and helps financial institutions lower transaction disputes.
Stand Out and Delight: Seamless User Experience
Whether planning to integrate into Q2's traditional or composable dashboards, Personetics pre-designed UX widgets, and flexible customization options, ensure a seamless user experience, with full support to your brand look and feel.
Deliver Business Impact: Market-Proven Content & Creative Control
Leverage an extensive library of 60+ market-proven actionable insights and money management activity trackers, in areas such as savings, budgeting, financial tracking, subscription management, and product recommendations – to boost engagement, grow deposits and drive cross-sell opportunities. You can also maintain creative control, with an intuitive admin console that enables you to further customize and optimize the content based on your business needs.
Unlocking the Value of Transaction Data: The Battle for Deposits
With increased competition on deposits, fueled by the current economic landscape, banks and credit unions must rethink their traditional approaches towards attracting, retaining, and growing their deposits. Personetics financial-data-driven approach, can support financial institutions in building their deposit strategy in a few ways.
Deposit Boosters: Approaching Customers with Timely Saving Opportunities
Leverage relevant and timely financial events to grow and retain existing deposits, as well as to capture external funds. For example, recognizing a user with ongoing transfers to savings, and recommending them to set a recurring transfer, based on their positive balance forecast. Or recognizing a user with an existing standing order to an external bank account, and presenting them with an attractive counteroffer designed to capture their deposits.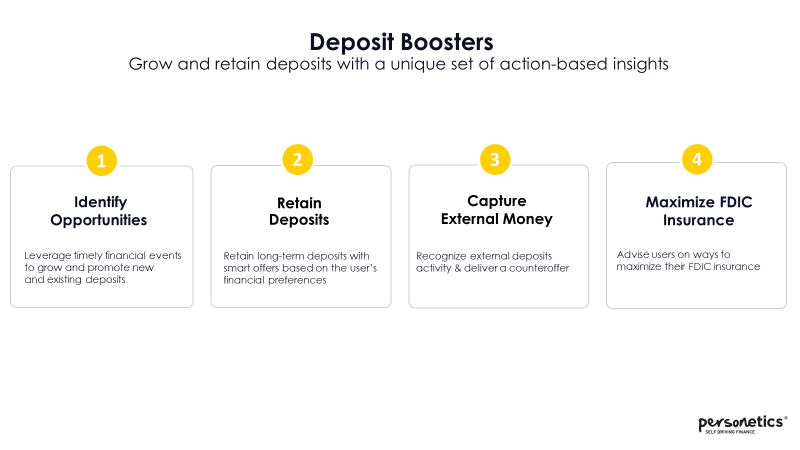 Reimagining Savings: Smart and Personalized Savings Journeys
Personetics reimagines the savings journey by providing more than just a savings account. Through automated fund allocation, goal-based savings, and ongoing personalized trackers and nudges, we help customers stay on track and empower them to save more efficiently. We offer personalized journeys that educate customers about various financial milestones, such as saving for a down payment on a home. These embedded experiences are unique to the financial institution, and help retain customers, as well as grow savings accounts.
Discover Your Flow of Funds: Deposit Banker Intelligence You Can Act Upon
Gain a competitive intelligence view of your users' relationships with external financial institutions. Understand your inflow and outflow of funds by FI, deposits, or financial products, track competitive trends, and build targeted segments – to prevent churn and attract deposits in a timely manner.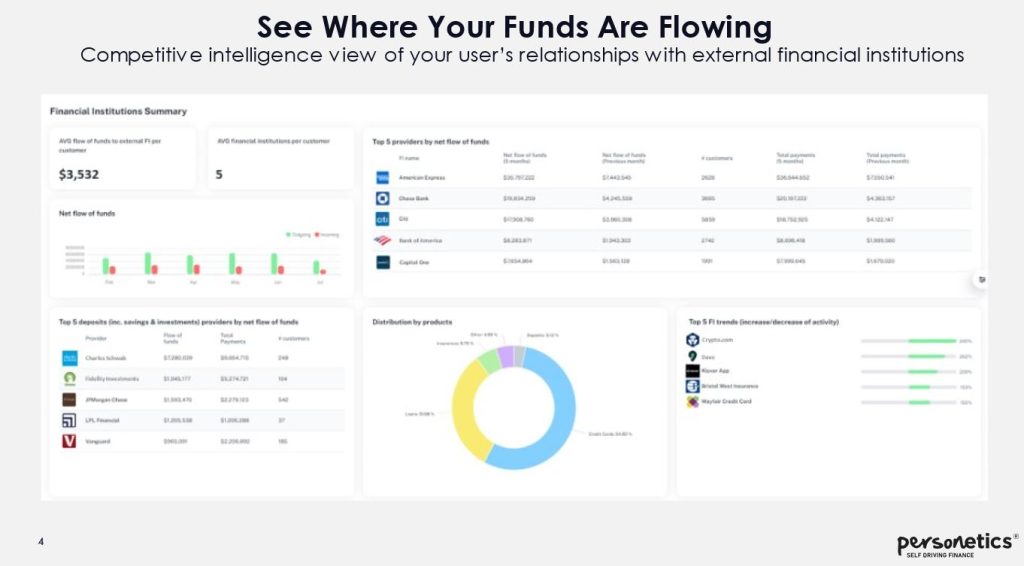 Conclusion:
Financial data-driven personalization is key to unlocking deposit growth in today's challenging banking landscape. By leveraging customer financial data, we can create personalized experiences that drive engagement, satisfaction, and deposit growth. With Personetics, Q2 clients get access to an end-to-end solution that enables them to deploy these strategies quickly and efficiently.  It's time to embrace the power of financial data-driven personalization and position your financial institution for success in the evolving banking industry.
Want to explore how your bank can harness the power of AI to engage and serve customers? Request a demo now
Latest Posts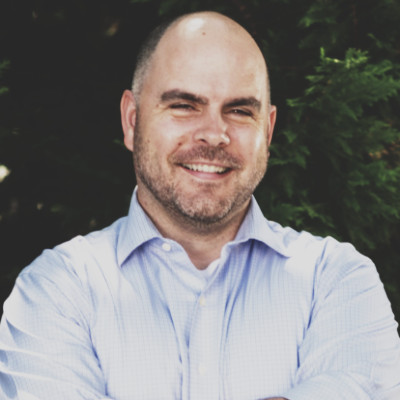 Scott McQuilkin
Data and Analytics Transformation Leader
Scott has built artificial intelligence products at more than 20 financial institutions over the past 15 years, including 3 of the top 4 U.S. banks.  Having managed AI projects with more than 300 stakeholders, Scott has seen first-hand how these undertakings can quickly grow exponentially without a deep understanding of the nuances of AI in the compliance and regulatory environment that banks and credit unions live in. His primary focus is on packaging Personetics products to provide the most value in the least amount of time for our bank partners.