December 12, 2022
Erin Pryor, EVP, CMO & Client Experience at First Horizon: From Personalized Insights to Personalized Offers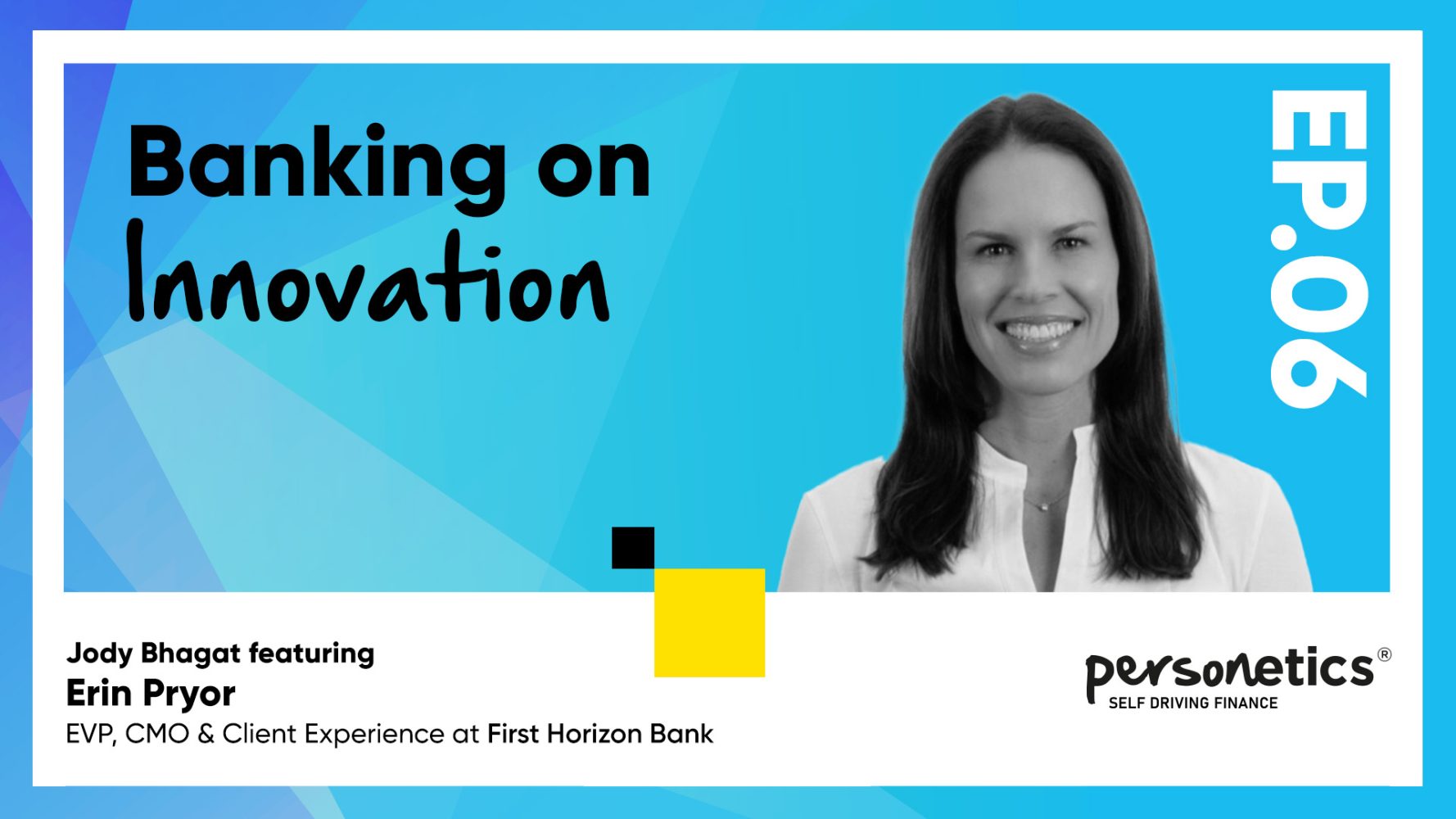 I'm delighted to feature Erin Pryor, Executive Vice President, Chief Marketing Officer at First Horizon Bank, as our guest on the sixth episode of Banking on Innovation, Personetics' leadership podcast.
First Horizon is already the fourth-largest regional bank in the American Southeast. But it is set to become the sixth-largest US bank by assets by mid-2023, when its $13.4 billion acquisition by TD Bank is expected to complete.
As the first Chief Marketing Officer on the podcast, Erin brings a unique perspective on how banks can deliver customer satisfaction through clever use of data.
Prior to joining First Horizon she was Executive Director of Brand Management at USAA, a leading provider of financial services to the US armed forces. She is currently leading First Horizon through a marketing transformation, including updating the bank's Mar-Tech stack.
On the podcast, we talked about the confluence of traditional marketing campaigns and the delivery of personalized insights for bank customers.  She argues this is already well underway:
"At First Horizon, our purpose is to provide capital and counsel. The capital is not just the money – you can get money from any bank. It's also the human capital and the advice and counsel on what your goal is, whether that's growing your business or buying a home. But if you're providing that advice and you know your client, then it makes sense to provide them with an applicable offer.
"And so the marketing message and the marketing offer needs to be aligned with the client journey, which is part of the personalization. So I think we're there."
A better-rounded view of customer needs
I began, though, by asking Erin how her approach to leadership has changed over 20 years in the wealth sector, direct banking and now with a major regional bank.
She said that "It's just critical to listen and learn. [What's] really been an evolution for me is understanding that I don't always want to be the smartest person in the room. That's been key for me in terms of success."
Those she seeks to learn from include not just peers and other leaders, but "also my directs and leaders on the marketing team, and the people that you know at every level."
This desire to seek a well-rounded, broad view extends to customers. Since she joined First Horizon two years ago, gaining a deeper understanding of their needs has been a top priority.
"One of the first things I did when I reorganized the team was create marketing analytics and insights. So, building out that research capability to take on looking at your awareness, your Net Promoter Scores (NPS), Customer Satisfaction scores (CSAT), what are the opportunities where [your clients] feel you're strong and where do they feel that you have an opportunity to grow?"
Listen here to the podcast on Spotify
'Owning the moment'
Combining that macro research with micro research already performed by the client experience group in labs has allowed First Horizon to expand its view of "where our clients are and where they want to go," in order to provide a superlative customer experience.
But it rests on a very broad definition of "client experience", encompassing not just direct touches with banking services, whether in-person or digital, but also touches with marketing and advertising campaigns – a truly holistic view.
"The client experience is the totality of the touches," says Erin. "We talk a lot internally about owning the moment. What this means is that every person in the company owns a piece of the customer experience. Whether you're in risk or whether you're in IT, there's something you're doing that's building some piece of that."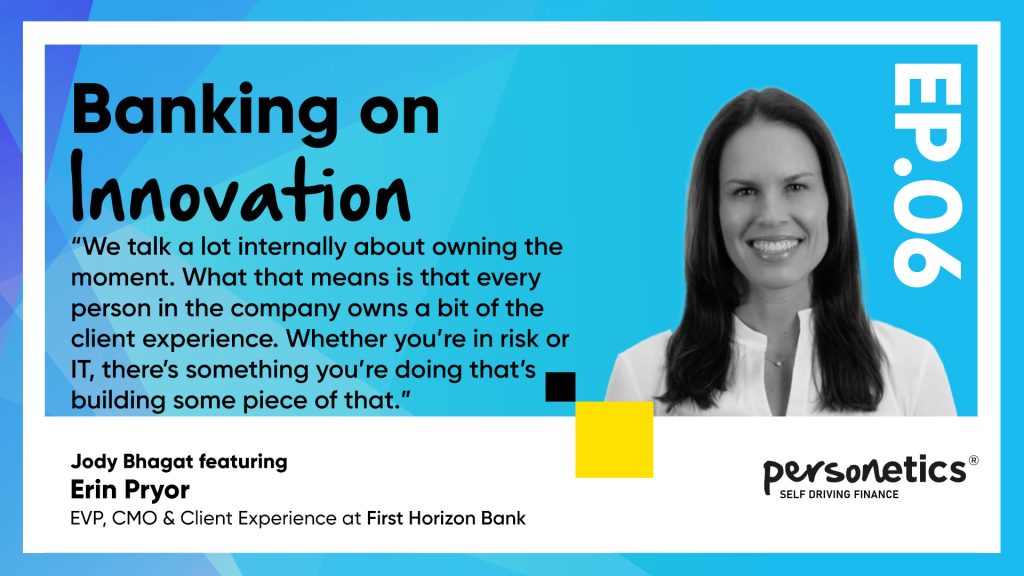 Towards personalized marketing offers
Gathering and managing customer data is integral to this effort, which is why First Horizon became the first bank in America to implement Salesforce's Customer Data Platform. The CDP provides a unified, 360-degree profile of each customer, such as profile information, details of past transactions, interactions with staff and interactions across all digital channels, including paid media, email and website.
There are many fast followers and rapid adopters in the banking industry.  Being the first was a gamble, says Erin, but "somebody's got to do it… We're leaning into it and sometimes you have to take a bit of a risk and put yourself out there to reap the benefit."
It's important for banks to invest in core capabilities such as CDPs to create a unified customer view.  Personetics' Discover solution injects rich customer intelligence into CDPs to improve audience targeting and marketing conversion.  It is this kind of data management which allows banks to create more personalized marketing offers to clients, based on evidence-based insights. And eventually, it may allow banks to truly market to "a segment of one", creating completely unique, relevant marketing offers to each customer based on their behavior, with evidence of how it might benefit them, rather than showing them generic, modelled banners.
"We're working to get there," Erin says of this vision. "I believe that with the data and technologies that exist, it's going to be a very fast follow."
Customers expect banks to know them and understand what they may need, whether interacting in digital or banker channels.  Delivering on this intent builds loyalty to the institution and deepens relationships.
"I do believe people love their bankers – they love getting that human-to-human interaction. I don't think that was lost during the pandemic. It's not either/or, it's 'both-and', so how do we help the banker and the client by providing that more personalized advice and the personalized offer to the client, to show that we as an institution know and understand them and can help them get to where they want to?"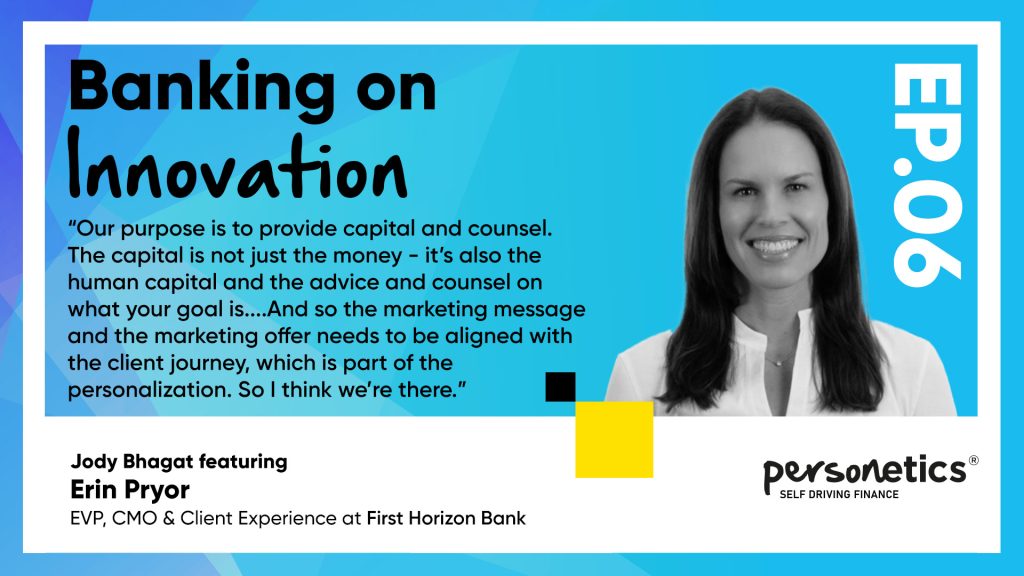 CRM: The heartbeat in the center of the tech stack
The primary obstacle to providing these highly personalized customer solutions and experiences is connecting the systems on the backend. This is exacerbated in the banking industry because of high levels of data protection and regulation. But although traditionally banks have lagged behind, "today we're at the point where it's expected."
The answer is to align the marketing technology with the sales enablement, your CRM, your data partners and your IT partners and get them to collaborate on how the backend will work in a way that feeds the organizational vision.
Of these, Erin calls the CRM system "the heartbeat in the center," the critical tool in the tech stack, because it "connects all the various touchpoints so that there's a known map or known understanding of how you are engaging the client, and how the client is engaging you."
For example, the CRM shows whether individual customers prefer to interact on the phone, through email, SMS, a call center, in-person or another mode, helping your digital and assisted channels perform in lockstep and deliver a more connected experience:
"It enables us to see [their preferences] from a digital perspective, but also share that with the banker… Plus from where we're sitting on the backend, it helps if I know when the bankers had the conversation if someone reached out so that we're not overly-communicating with a client… I think that connectivity is critical to aligning and defining the ultimate experience."
With Erin Pryor's savvy approach to data management and customer intelligence, First Horizon is well on its way to deliver more personalized experiences for its customers.
How can you listen to the podcast?
Please tune in and join me and my guests on this journey. Episodes of Banking on Innovation will be released every 2 weeks.
You can access new podcast episodes here: Spotify, Apple, and Google.
Want to explore how your bank can harness the power of AI to engage and serve customers? Request a demo now
Latest Posts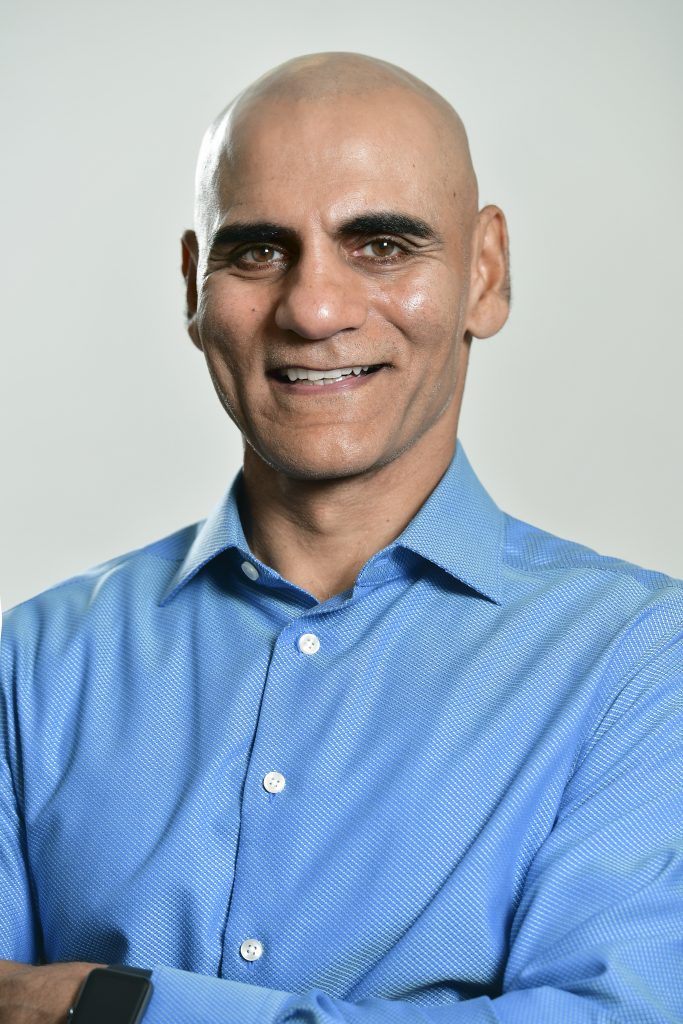 Jody Bhagat
President of Americas, Personetics
Jody brings deep operating experience in financial services – managing direct channels, launching digital ventures, and leading digital transformation programs. He was previously a Partner at McKinsey & Company, where he helped financial institutions define and execute digital transformation programs to drive customer growth and operating efficiency. Jody also served in senior digital operating roles at U.S. Bank, Wells Fargo, and Providian. In these positions, he led digital sales and service functions and direct to consumer businesses to deliver organic growth and enhanced customer experience. Jody has an MBA from Northwestern University and a BS in Computer Engineering from The University of Michigan.