September 12, 2022
The "Express Lane" to Differentiation, Personalization, and Business Impact for Midsize Banks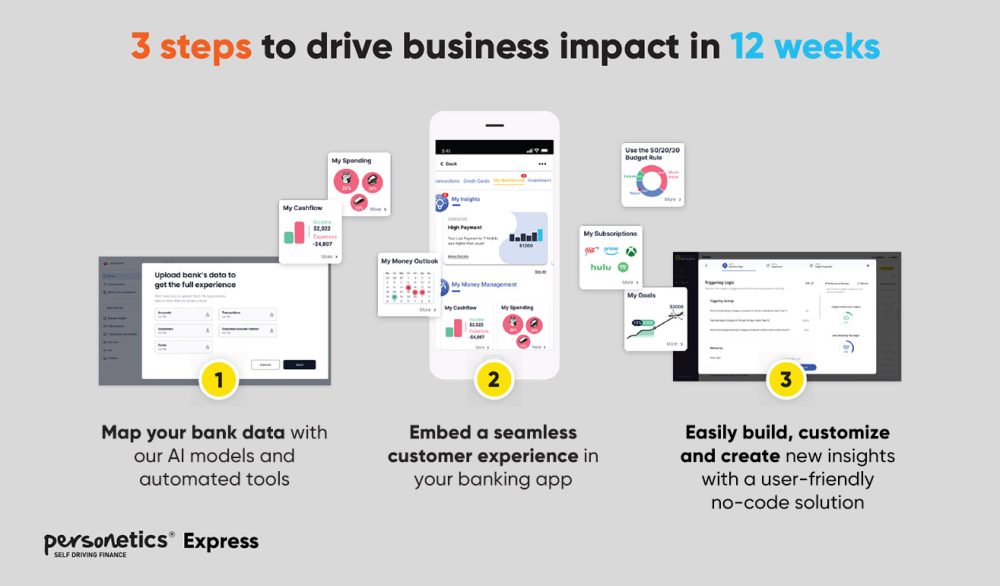 Financial data-driven personalization has too often been considered "only for big banks," with great complexity and cost. Smaller banks might have looked at data-driven personalization as a "nice to have," but not something they were ready to implement for themselves. But it's becoming more apparent that personalization is worth investing in: Gallup data shows that fully engaged banking customers bring 37% higher annual revenue to their primary bank, and BCG found that personalization can lead to annual revenue uplifts of 10% for banks.
Understanding the importance of personalization is one thing. Knowing the best way to implement it is another. It's little wonder that less than 20% of bankers believe that their institutions are doing a good job of personalization (according to Financial Brand data). Additionally, many midsize bank leaders have expressed concerns about whether their institutions would have adequate time and resources to really do personalization well.
That's why we have developed Personetics Express – our new offering to give midsize banks an enterprise-level of personalization, delivered cost effectively at mass market speed.
By using the new capabilities of financial data-driven personalization, midsize banks can build deeper relationships with their customers. The power of analytics and AI can help these institutions capitalize on their brand promise, unleash their creativity, and offer a more distinctive and personalized customer experience that also drives greater value for the business.
The business case for personalization in banking is clear. Now midsize institutions have a better way to implement it: Personetics Express.
Introducing: Personetics Express
Personetics Express is our new offering for midsize financial institutions, $5B-$50B in assets. Mid-market institutions are ideally positioned to express their brand promise with data-driven personalization – and now you can get the right package of solutions to make it a reality, in as little as 12 weeks to launch.
Personetics Express can provide this enterprise-level solution as an out-of-the-box offering because we've done the heavy lifting ahead of time. For more than a decade, we've worked with dozens of banks of all sizes, in all geographies, helping them foster engagement with more than 130 million customers.
We've used that experience to:
Identify the bank data that's needed to make an impact on personalization.
Train our AI/machine learning models to rapidly enrich and categorize that data.
Learn what insights and advice customers like, what nudges they'll engage with, and what timely product offers lead to actual sales.
All that advanced work speeds up the implementation time for Express and enables you to quickly achieve business impact once it's launched. Let's see why it can be a game-changer for midsize banks.
Express Support for Your Customers' Financial Wellness
Personetics Express gives you timely contextual content to show your customers in the form of a set out-of-the-box financial data-driven personalized insights and advice that are proven to drive engagement and time-tested by billions of customer transactions.
These insights include a few categories such as smart budgets, cashflow projection, subscription management and new product offers. They give your institution a variety of ways to show your banking customers a clearer view of their finances and uncover new occasions for customer engagement, more efficient service, and better-targeted sales. All these insights and advice included in Personetics Express are pre-selected and identified as having received high customer ratings and high engagement.
You don't have to build your own insights, start from zero, or reinvent the wheel. With Personetics Express, you can hit the ground running with just the right package of personalized insights to start driving customer engagement fast.
Express Your Brand Promise: Make Custom Insights with Engagement Builder
With Personetics Express, you also get access to Engagement Builder, our codeless creation and management console. This tool is intuitive to use and helps your team unleash your bank's creativity, modify insights and develop your own IP – without relying on in-house resources.
Engagement Builder lets you bring in your data from your data catalog that is uploaded and auto-validated. You can change names, images, and other details on each insight to create unique offers and express your brand promise and customer experience through your digital banking user interface (UI). With Engagement Builder your team can easily change logic and rules, simulate, segmentize, and much more.
Express Deployment: Go to Market in as Little as 12 Weeks
Personetics Express gives you a rapid implementation approach – in as little as 12 weeks via SaaS deployment. We give you a turnkey widget to propagate into your environment, and a turnkey set of KPIs and dashboards.
Banking executives from midsize institutions are speaking up about the impact that personalization and AI can bring to their organizations.
At the American Banker Digital Banking conference, Liz Wolverton, EVP, Head of Consumer Banking and Brand Experience at Synovus, said: "Through AI, with some of the things we're doing through analytics, Personetics is one example, that's taking the data that customers give us every day, and giving it back to them in a way that's usable. We're coming out with 100 insights in the fourth quarter and that's the tip of the iceberg. The next step for us is to customize some of those insights, so through machine learning and artificial intelligence, we can connect better with those customers in those moments that matter."
Chris Barlow, Digital Channels Manager, Technology and Data Services at Union Savings Bank, told American Banker that personalized financial insights have helped his bank to "punch above our weight class" and that "the customer adoption rate with Personetics has been immediate and significant."1 After only a few months from launch of its new personalization capabilities, Union Savings Bank has achieved a greater than 20% increase in customer engagement, and is presenting personalized insights to 94% of mobile users – with the insights receiving high ratings from customers (average customer rating of 4.6 out of 5).
Financial data-driven personalization is no longer the exclusive playground of the world's biggest banks; it's becoming table stakes for any bank that wants to compete in today's market. With Personetics Express, midsize banks now have that ability to deploy the most sophisticated personalization solutions but at a higher level of speed to quickly achieve business impact. There's never been a better time to accelerate your growth with Personetics Express.
Want to see how Personetics Express can help you deploy data-driven personalization in as little as 12 weeks? Request a demo.
Source:
1 American Banker, "Connecticut community bank deploys AI-powered spending insights," Aug. 1, 2022, https://www.americanbanker.com/news/connecticut-community-bank-deploys-ai-powered-spending-insights
Want to explore how your bank can harness the power of AI to engage and serve customers? Request a demo now
Latest Posts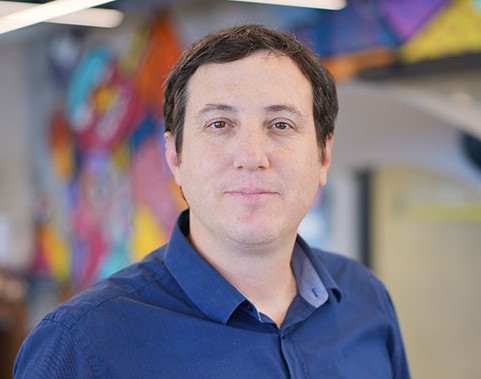 Dorel Blitz
VP Strategy & Business Development
Dorel Blitz brings over 13 years of experience in global strategy and business development in the financial services industry. Dorel joined Personetics from KPMG, where he headed the Fintech sector at KPMG Israel and was a member of the global Fintech practice. In this role, Dorel was instrumental in establishing KPMG's collaborative relationships with global financial institutions and leading Fintech companies including Personetics. He also acted as a subject matter expert and led advisory projects involving digital transformation strategies with financial services organizations. Prior to joining KPMG, Dorel led the Innovation & Fintech practice at Bank Leumi, and earlier in his career he headed the banking & finance division at global research firm Adkit.