June 27, 2016
How Can Regional and Mid-Tier Banks Catch Up to the Big Banks in Mobile?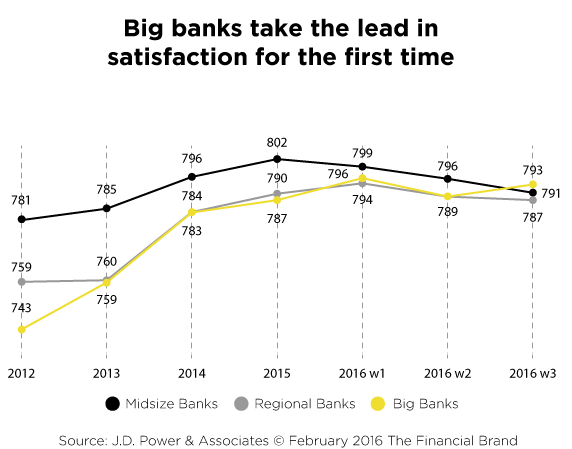 Regional and mid-tier banks face an uphill battle on the digital front, but have advantages they can capitalize on with some focus and determination
Alarm bells are sounding in boardrooms of regional and mid-tier banks across the U.S. Or at least they should be. The largest national banks have pulled ahead in mobile, according a recent Forrester report — the 2016 U.S. Mobile Banking Functionality Benchmark. While a year ago none of the big banks ranked at the top in Forrester's mobile banking, this year Bank of America and Wells Fargo earned the highest scores, followed by Chase, US Bank, and Citi.
It's a trend that spells trouble for regional and mid-tier banks, which are falling behind the industry leaders. The 2016 U.S. Retail Banking Customer Satisfaction Study from J.D. Power noted that for the first time ever the largest six banks had taken the lead in customer satisfaction, largely through better customer-facing technology.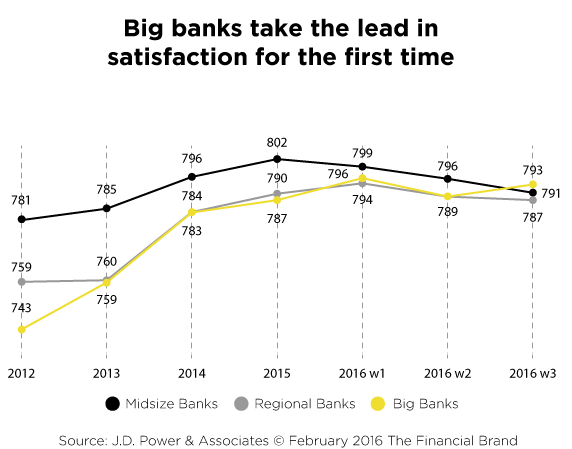 Too Big to Fail or Too Small to Compete?
While regulators and politicians may be concerned with the big banks getting bigger, market forces will continue to favor the big banks as long as they do a better job serving their customers. According to a new Greenwich Associates report, the odds are stacked in favor of the big players, as "regional banks will struggle to keep up with mounting costs of IT investments for client benefit."
Jim Marous, co-publisher of The Financial Brand, said the J.D. Powers report shows the big banks have made significant improvements in all digital categories. "The inability for the majority of regional and mid-sized banks to keep pace with investment in digital technology became more apparent in the most recent survey, with online, mobile and ATM satisfaction levels all being below 2015 levels," according to Marous.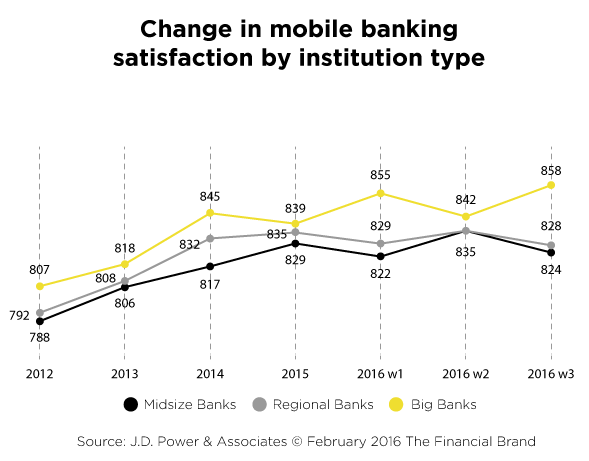 How customers feel about a bank's digital offerings could affect their views of other banking services, from fees to face-to-face encounters, J.D. Power found. Marous warned that digital natives are no longer defined by demographics but can span a bank's entire customer base. The big banks ranked better across multiple segments, including the coveted millennials, emerging affluents, and minorities.
A 2015 Bain & Company study of customer behavior and loyalty in retail banking shows that "for example, Chase has steadily progressed in loyalty rankings relative to regional banks, in part by developing a distinctive mobile experience. This creates a challenge for regional banks that struggle to match the investment required to lead in mobile. But the biggest winner in creating distinctive experiences is direct bank USAA," showing that it's not just a matter of size but also focus. Smaller banks with a digital focus are better positioned for success in the digital age.
What Can Smaller Banks Do?
Many consumers find the "not so big" banks appealing. However, as consumer behavior and preferences continue to evolve, there are steps these banks need to take to better position themselves against the surge of their larger competitors.
Realize investment in technology is no longer optional: Regional and community banks may be underestimating the importance of a strong digital offering. The big banks' advantage in technology is not new. What's new is how essential technology has become to everything we do, and banking is no exception. According to McKinsey, over 30% of financial services revenues could be displaced as a result of digital disruption. With the country's largest banks achieving the highest scores in the increasingly important mobile channel, laggards are putting their business at risk.
Don't lose the personal touch: Traditionally, community and regional banks prided themselves on providing a personalized service that helped these banks chalk up high satisfaction scores, according to the American Consumer Satisfaction Index on banking as recent as 2013.
A 2014 Gallup survey showed that regional and small banks did a better job making customers feel they are on their side. As a growing portion of customer interactions takes place through digital channels, these banks need to invest in transforming this level of personal touch to their digital platforms. Banks that do a good job with digital and personalization win with millennials, as Ally Financial is showing.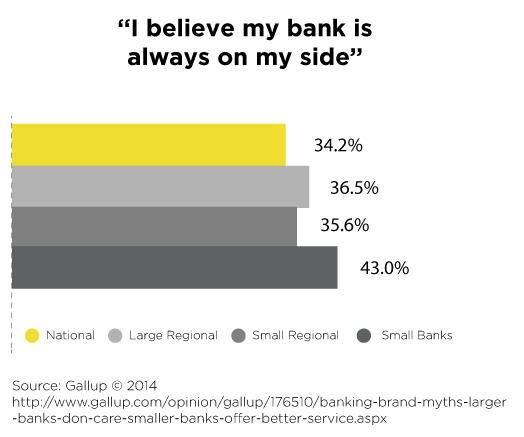 Don't go it alone: It's important to mention that competition is no longer coming only from traditional banks. Alternative financial services providers from Silicon Valley to Silicon Alley are enticing customers with slick and simple applications and products that slowly but surely continue to snatch business away from the banks. The big banks are doing a pretty good job partnering with FinTech companies to turn the disruptors into collaborators. Some smaller banks are following their footsteps, but not enough.
Jim Marous points to various ways in which banks of all sizes partner with FinTech companies, noting that "smaller banks cannot afford to stay on the sideline while larger banks and non-bank FinTech competitors better serve the digital consumer." We agree.
Additional Resources
Forrester Report: Using Digital Money Management to Deliver Personalized Financial Coaching
On-demand Webinar: Up Close and Personal: The Future of Digital Banking
Want to explore how your bank can harness the power of AI to engage and serve customers? Request a demo now
Latest Posts