Celent Report Finds Personetics Is the Top Banking Solution for Small Business Banking in North America
Celent evaluated eight fintech providers across data analytics and insights, product recommendations, and workflow digitization.
Personetics, the global leader in financial data-driven personalization and customer engagement, today announced that Celent recognized its platform as superior to other fintech solutions in enabling banks to become "challengers" in small business (SMB) banking. Celent, a leading research and advisory firm for the financial services industry, profiled eight fintech companies and their capabilities, including Personetics, that are powering banks and credit unions' value propositions for SMBs. Celent published its findings in a report "Become a Challenger in Small Business Banking: Embedding Fintech."
Celent undertook this assessment because of the growing signs that financial institutions' competitive position in SMB banking is eroding, mostly due to deposit run-offs to fintechs and shrinking shares of small business credit.
According to the report, 71% of small businesses believe forecasting cash balances is critical in the short term and many look to their financial institution for cash flow forecasting solutions. As a result, by offering personalized cash flow forecasting solutions, FIs could position themselves as valuable partners to small businesses, win their loyalty and boost customer engagement.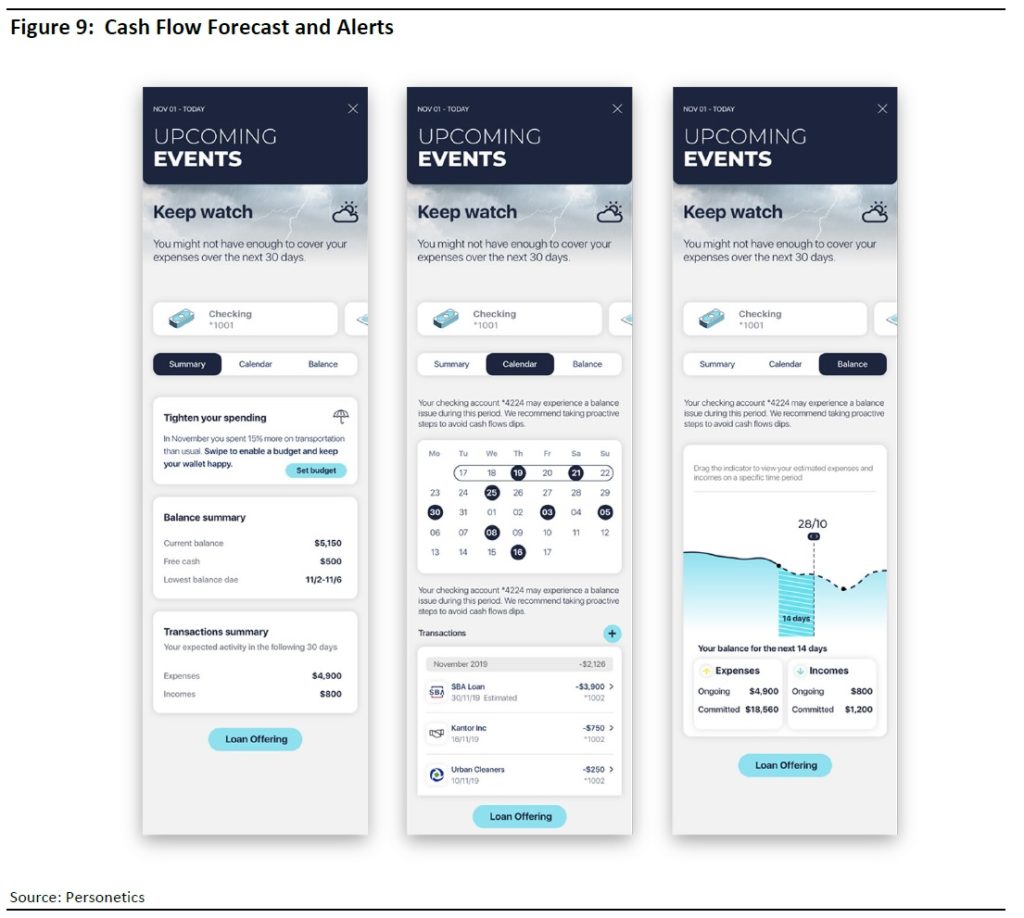 "Competition in this space has never been fiercer. However, most banks and credit unions are missing out on the opportunity to deliver advanced solutions to SMBs that would enable them to generate new revenue streams and better serve their customers," said David Sosna, CEO at Personetics. "SMB owners are demanding much more from their banking provider – more tools, more proactive insights, more relevant guidance, and more automation that removes friction from their finance-related tasks. Time and time again, our platform has been shown to deliver for banks and credit unions exactly what they need to grow their customer base."
Celent also emphasizes the significant role financial data plays in enhancing the relationship manager and customer engagement and the need to effectively leverage this data to deliver hyper-personalized and proactive insights and recommendations to customers. To become challengers in small business banking, banks and credit unions need to partner with fintech providers to quickly increase customer engagement and lifetime value.
By analyzing internal and external financial data, including transaction history and cash flow patterns, Personetics enables banks to generate valuable insights and identify trends or patterns that can inform cash flow management decisions and provide the actionable recommendations the small business customers need. As a result, banks stand to gain from higher customer satisfaction, greater customer lifetime value, and a more enduring customer franchise.
Celent evaluated eight leading vendors of technologies and solutions in the SMB banking market for their customer-facing solutions across three categories: data analytics and insights, product recommendations, and workflow digitization. Personetics outperformed its competitors across all categories according to the report.
"Personetics has developed the most extensive customer engagement platform," wrote Alenka Grealish, Celent analyst and author of the report. "It uses real-time data in addition to batch data from different sources, and leverages AI models to create more customized and contextually relevant personalized interactions for both the SMB customer and the banker and digital marketing teams."
Sosna added: "Celent's evaluation confirms our commitment to using the power of AI and predictive analytics to empower financial institutions to become leaders in SMB banking by enabling them to provide real-time, predictive, and actionable insights and advice personalized for each customer."
First published on Yahoo Finance, 24 May, 2023: https://finance.yahoo.com/news/celent-report-finds-personetics-top-110000241.html?guccounter=1