[Webinar Replay] Personalisation and Open Banking: The Tale of Two Cornerstones of Successful Customer Engagement
The goal of Open Banking was to drive financial innovation in terms of product offering and experience for consumers and SMEs. While fintechs, such as neobanks or lending platforms, have fulfilled this goal over the past few years, only a handful of banks have brought this promise to fruition. Most still struggle to build compelling digital experiences on top of Open Banking.
Personetics, in partnership with Plaid, are collaborating with banks to implement Financial data-driven personalised engagement on top of Open Banking. The expected outcome is sizeable:
Increase customers' financial resilience as they manage their finances across all accounts
Boost open banking adoption to ~20% for affluent, SME and younger client segments
Generate daily, actionable insights, advice and automated financial wellness programs for banks' customers
Increase Digital Sales & Balance Growth by 20%
Join this webinar to learn about how Personetics and Plaid work together to support banks in this exciting digital journey.
Speakers:
Farid Sedjelmaci
Plaid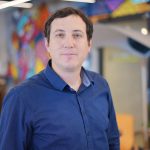 Dorel Blitz
VP Strategy & Business Development
Personetics