Personetics Recognised as Top Solution for Banks Serving Small Businesses
According to a new report, Personetics' platform gives banks a competitive advantage serving SMBs by using data analytics and insights, product recommendations, and workflow digitisation.
LONDON–(BUSINESS WIRE)–Personetics, the global leader in financial data-driven personalisation and customer engagement, is the best solution for banks to gain a competitive advantage when serving the small business (SMB) market, according to a new report from Celent, "Become a Challenger in Small Business Banking: Embedding Fintech". Celent, a leading research and advisory firm for the financial services industry, undertook this assessment because of the growing signs that financial institutions' competitive position in SMB banking is eroding, mostly due to deposit run-offs to fintechs and shrinking shares of small business credit.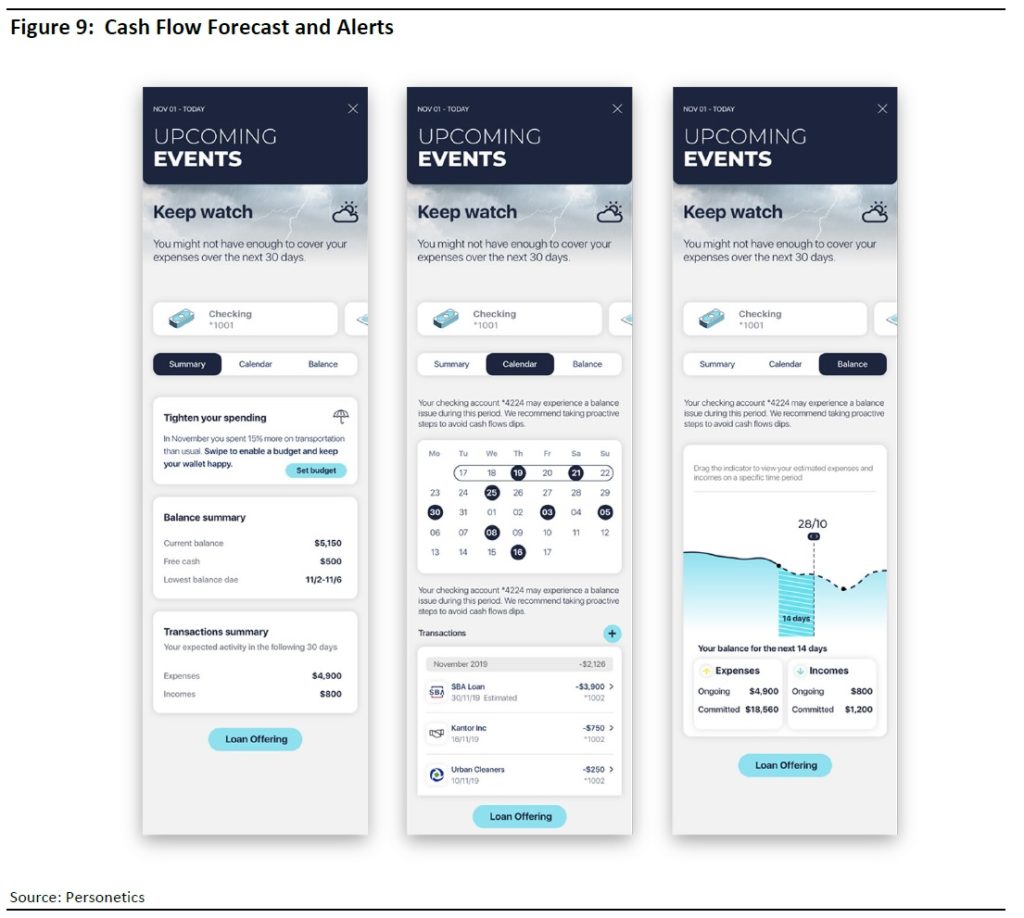 SMBs are increasingly turning to non-traditional financial institutions and banks' competitive position is eroding, as exemplified by deposit run-off to fintechs and shrinking share of small business credit.
"Banks have the power to move from being challenged to being challengers, despite competition in this space being fierce. However, most banks are missing out on the opportunity to deliver advanced solutions to SMBs that would enable them to generate new revenue streams and better serve their customers," said David Sosna, CEO at Personetics. "SMBs are demanding much more from their banking provider – they want banks to be providers of proactive insights, more relevant guidance, and provide automation that removes friction from their finance-related tasks. Time and time again, our platform has been shown to deliver for banks exactly what they need to grow their customer base."
Celent compared Personetics' solutions and engagement capabilities alongside seven competitors in the space. The report says that deploying platforms such as Personetics are key to enabling banks to deliver a value proposition, making them more competitive in serving SMBs.
"Personetics has developed the most extensive customer engagement platform," stated Alenka Grealish, Celent analyst and author of the report. "It uses real-time data in addition to batch data from different sources, and leverages AI models to create more customised and contextually relevant personalised interactions for both the SMBs customer and the banker and digital marketing teams."
Sosna added: "Celent's evaluation confirms our commitment to using the power of AI and predictive analytics to empower financial institutions to become leaders in SMB banking by enabling banks to provide real-time, predictive, and actionable insights and advice, personalised for each customer."
In order to boost engagement with SMBs and create long-term relationships, it's vital for banks to deploy new ways of adding value and support financial wellness. Personetics' thought leadership in the world of hyper-personalised, data-driven insights enables banks to identify trends and provide SMBs with suggested actions for them to make better cash flow management decisions and ensure they are getting the best from their banking relationships.
Originaly published on Business Wire on 24 May 2023: https://www.businesswire.com/news/home/20230523006050/en/Personetics-Recognised-as-Top-Solution-for-Banks-Serving-Small-Businesses