Techcombank and Personetics Partner to Help Vietnamese Customers Improve their Financial Well-Being
April 18th, 2023 – Vietnam Technological and Commercial Joint Stock Bank ("Techcombank") today announced a new partnership with Personetics, the global leader in financial data-driven personalization and customer engagement for financial services, to introduce artificial intelligence (AI)-powered money management capabilities.
The cost-of-living crisis has been impacting consumers in Vietnam and around the world. In a recent survey of 5000 banking customers conducted by Personetics, 56% were "very concerned" about how rising costs are affecting their daily lives and impacting their finances. Vietnam is also facing the challenge of a "getting old before getting rich" population (*). Despite feeling secure in their current personal finances, 49.4% of participants in a survey conducted by Techcombank reported feeling stressed about their money management, due to a lack of: tools (26.5%); time and mental bandwidth (22.9%), knowledge (16.9%), and confidence in their income (44.6%).
To help address these concerns, Techcombank has joined forces with Personetics to provide its nearly 11M customers with a hyper-personalized banking experience that helps them achieve financial wellness. The partnership will bring new advanced money management capabilities to Techcombank mobile app that have been designed to create an automated, personalized, and independent financial journey for customers. They will offer capabilities designed to analyze customers' financial transactions, aggregate bank accounts, and provide valuable insights about unexpected payments, excessive spending, and insufficient account balances. The technology also provides tailored suggestions on savings, asset growth, and card usage to help customers increase their financial resilience and achieve their goals independently.
Pranav Seth, Chief Digital Officer of Techcombank
"At Techcombank, our mission is to revolutionize the way our customers manage their finances to achieve more in life. We believe that data-led insights and personalized financial solutions are the key to unlocking true financial wellness and will enable our customers to make smarter financial decisions that align with their unique goals and challenges. From identifying new savings opportunities to proactively monitoring spend, our ultimate goal is to empower our customers with unprecedented convenience and control. Our partnership with Personetics marks a significant milestone in our long-term vision of enhancing our customers' lives by making banking hyper-personal to each and every customer."
Huyen, a 30-year-old freelancer, manages her fluctuating income using Techcombank's AI-powered money management capabilities. The mobile app helps her track her expenses, invoices, and payments, and assists her in tracking her budget each month. It also provides her with personalized financial advice, such as which accounts to pay first and which investments to consider, enabling her to make informed decisions that optimize her finances.
Huyen shared her positive experience: "Techcombank's new features have been a game changer for me. With my income varying from month to month, it's been a challenge to stay on top of my finances. But the app's personalized recommendations on how to save more and invest wisely have been invaluable. I feel much more in control of my finances now."
Similarly, Minh, a busy executive in his 40s with a high income, uses the Techcombank Mobile to optimize his investments with ease. Not only is he able to track his expenses and investment portfolio while on the go and receive day-to-day insights, with the latest AI technology Minh can also receive personalized advice on saving money, reducing unnecessary expenses, and investing in products that align with his financial goals and risk appetite.
After deploying these advanced money management capabilities in a 3-week pilot program with 10,000 participating customers, the results were impressive. During that time, Techcombank saw substantial increases in the following metrics:
Savings balances increased 9%
Customer monthly average log-in rates – up from 14.2 times before the pilot period, to 77.3 times during the period.
Installments volume (up 43.7%) and total installment value (up 32%).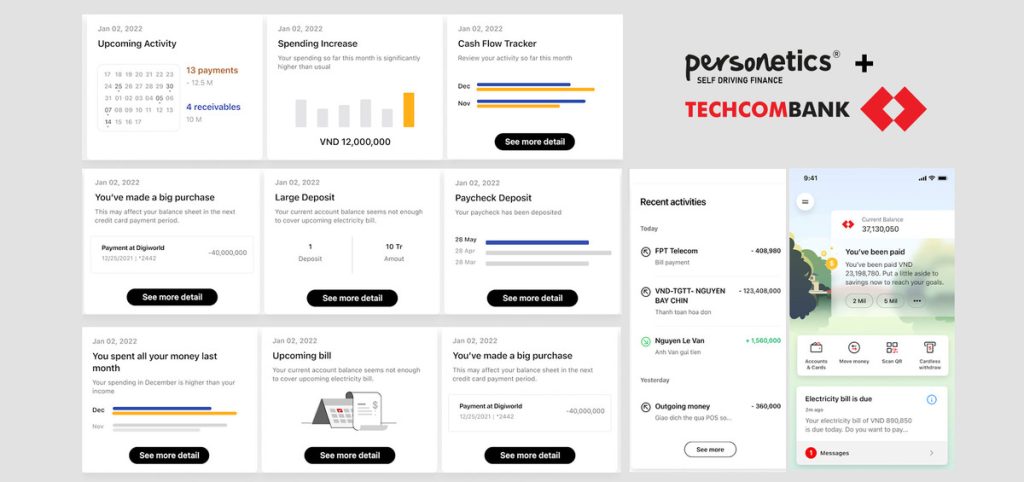 Santhosh Mahendiran, Chief Data and Analytics Officer, Techcombank
"Combining the power of our data and insights with Personetics provides us with a fantastic opportunity to tailor unique customer journeys. In a world where all products can be easily replicated, what ultimately differentiates every bank is how we use data & create unique experiences for each customer. At Techcombank, the customer is at the heart of everything we do. We believe that the strategic partnership with Personetics is a step towards "Change banking, Change lives".
David Sosna, Personetics Co-Founder & CEO
"We're thrilled to join forces with Techcombank, one of the most innovative banks in Vietnam and Southeast Asia. Their pilot phase results were extremely promising and surpassed expectations, indicating that Techcombank's customers are eager for the personalized insights and advice that only the Personetics platform can offer. We eagerly anticipate the next phase of our partnership, where we will continue to collaborate with Techcombank in enhancing the financial well-being of their customers and delivering substantial business outcomes".
The partnership between Techcombank and Personetics promises to transform Vietnam's banking industry. Techcombank is confident that by partnering with high-profile companies like Personetics, they can continue to develop innovative solutions to enhance their customers' banking experience.
About Techcombank
Vietnam Technological and Commercial Joint Stock Bank (Techcombank) is one of the largest joint stock banks in Vietnam, and a leading bank in Asia, with a vision to Change Banking, Change Lives. The Bank pursues a proven customer-centric strategy in providing a broad range of retail and corporate banking solutions and services to help financially empower its customers. Techcombank has over 10.8 million retail and corporate customers, which it serves through a market-leading digital banking platform and mobile app, and an extensive network of transaction service outlets at locations across Vietnam. The Bank's ecosystem approach, co-created through partnerships in multiple key economic sectors, adds further scale and differentiation in one of the fastest growing markets in the world.
Techcombank is the only bank in Vietnam rated with Ba2 ("Stable" Outlook) for Baseline Credit Assessment (BCA) by Moody's. The Bank is also rated by S&P with BB – "Stable" Outlook. Techcombank is listed on the Ho Chi Minh Stock Exchange (HoSE) as TCB.
Recognized for excellence and innovation, Techcombank received the following awards in 2022:
"Best Bank in Vietnam" – Euromoney in 2022 (awarded for 3rd year);
 "Domestic Retail Bank of the Year – Vietnam", and "Credit Card Initiative of the Year
Vietnam" – Asian Banking & Finance in 2022 (ABF);
 "Best Digital Consumer Bank" – Global Finance in 2022;
 "Best Companies to work for in Asia" – HR Asia in 2022;
 "Leading Partner Bank in Vietnam" 3Q22 – Asia Development Bank (the third year in a row).
Explore feature on Techcombank Mobile: https://apps.apple.com/US/app/id1548623362?mt=8
Personetics is the global leader in financial data-driven personalization, customer engagement, and advanced money management capabilities for financial services. We are creating the future of "Self-Driving Finance," where banks can proactively act on their customers' behalf to help improve their financial wellness and achieve financial goals.
Our industry-leading data analytics solutions harness customer financial transaction data to provide day-to-day actionable insights, personalized recommendations, product-based financial advice, and automated financial wellness programs. We offer solutions for mass market consumer banking, SMB banking, wealth management, and credit card issuers.
We drive business impact for financial institutions by improving relevant product targeting for accurate, efficient cross-selling and upselling. We help financial institutions deepen their customer relationships, increase core deposits and customer retention, expand share of wallet, and boost Customer Lifetime Value.
Personetics currently serves over 100 financial institutions spanning 32 global markets, reaching 130 million customers. We are backed by leading venture capital and private equity investors, with offices in New York, London, Tel Aviv, Singapore, Tokyo, Paris, Spain, and Australia.
Learn more at Personetics.
(*) Financial Literacy and Retirement Planning in Vietnam (2017) Do Thu Huong* VNU International School
Originally published on Fintech Finance News, 18 April 2023: https://ffnews.com/newsarticle/techcombank-and-personetics-partner-to-help-vietnamese-customers-improve-their-financial-well-being/