A Panel Discussion About Customer-Centric Innovation for Overdrafts
The financial industry is rapidly evolving its response to overdrafts. Major banks and credit unions are eliminating fees, offering extended grace periods and buffers, and extending short-term liquidity solutions such as loans or lines of credit.  
Would you like to hear from industry leaders to see how forward-leaning FIs are taking action to support their customers?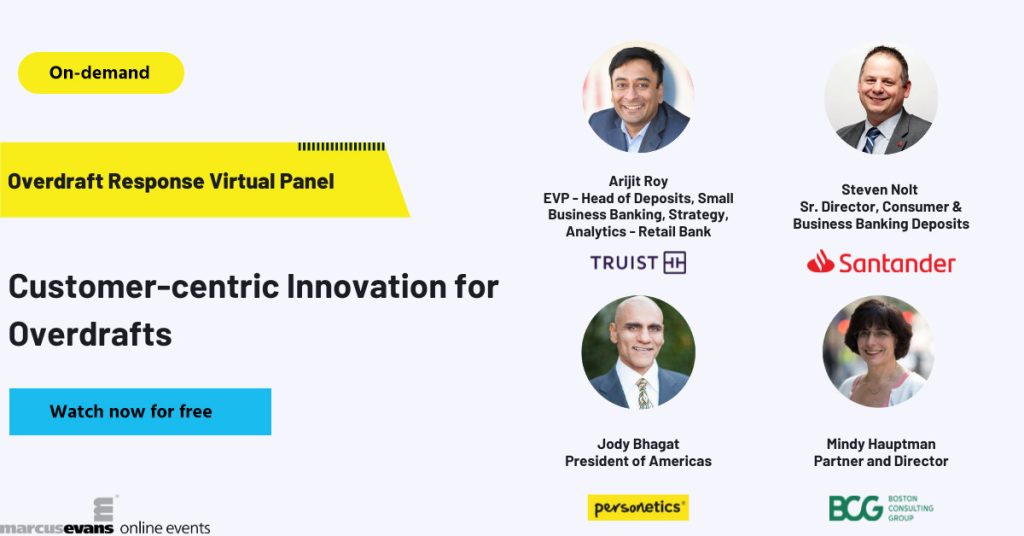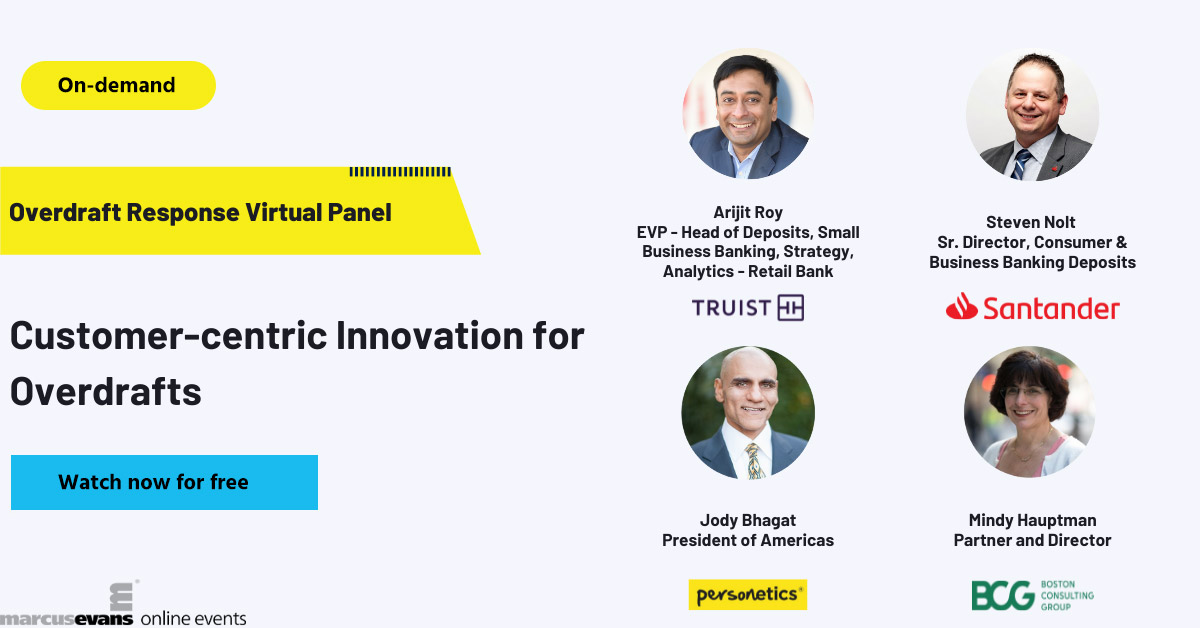 In our webinar, "Customer-centric Innovation for Overdrafts," we gathered an illustrious panel of industry experts, including:  
Arijit Roy, EVP – Head of Deposits, Small Business Banking, Strategy, Analytics at Truist 

 

Steven Nolt, Sr. Director, Consumer & Business Banking Deposits, Santander US

 

Mindy Hauptman, Partner & Director, Boston Consulting Group 

 

Jody Bhagat, President of Americas, Personetics

 
They discuss the latest trends that they're seeing in the market, what they're hearing from customers, how the competitive environment has shifted, and what FI leaders need to know now to position their institution for future success – and stronger customer relationships.  
Here are a few key concepts that you'll learn in our webinar:  
What are the root causes of overdrafts, and how can FIs be more agile and creative in offering short-term liquidity solutions? 

Which customer groups and profiles are most likely to experience low balance issues, and how can FIs support these customers? 

How can FIs respond quickly to support customers with low balance issues, while minimizing operational impact and going to market as fast as possible?   

How can financial institutions unlock an even bigger opportunity to deepen customer relationships and increase Customer Lifetime Value? 

What are the competitive pressures and evolving customer expectations that are driving these changes to how FIs manage overdrafts?

How can FIs embrace the next frontier of overdraft response with proactive cash flow management solutions that predict, anticipate, and treat overdraft conditions in a customized way for each customer's needs? 

 
This was an exceptional group of panelists who offered powerful insights about where the industry is heading on overdraft response. Any financial institution leader who wants to take a customer-focused stand on this issue should watch this webinar.  
Sign up to download our webinar.