November 3, 2020
Santander UK partners with Personetics to improve customer digital experience and engagement through AI-driven personalised insights

Santander has partnered with Personetics to deliver personalised AI-driven insights to increase customer engagement
The new digital solution – My Money Manager – is integrated into Santander UK's mobile banking app
My Money Manager will help Santander UK's customers be on the front foot of their financial situation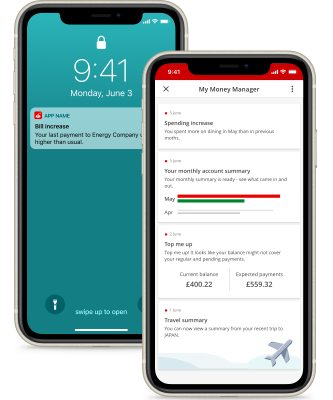 Santander UK and Personetics, the leading global provider of data-driven personalisation and customer engagement solutions and a Mouro Capital portfolio company (the successor fund of Santander InnoVentures, which has recently spun out of Santander1), have launched a new digital solution called 'My Money Manager'.
My Money Manager is integrated into Santander's mobile banking app, which has 4m active monthly users2. Driven by AI, it will help to ensure the things that matter are not missed, with financial tips, helpful nudges and easy to understand personalised insights into spending and upcoming financial commitments which are all delivered through push notifications and a new insights inbox.
My Money Manager users can view cashflow analysis, including deposits and regular payments, and analysis of their spending broken down by category. My Money Manager will help Santander's customers to be on the front foot of their financial situation, something that's particularly important for many who are experiencing financial uncertainty brought about by the impact of the coronavirus pandemic.
Andy Warren, Head of Customer Journey Design at Santander UK said: "My Money Manager is the result of a new kind of partnership between Santander and Personetics. Working collaboratively, the Personetics team is an extension of our internal teams, generating new use cases and co-creating beyond off-the-shelf solutions. Building long-lasting and meaningful relationships with our strategic partners is key to accelerate Santander's digital transformation. We're proud to bring innovation to our customers."
David Sosna, CEO and co-founder of Personetics, commented: "We're proud to be working with Santander to provide the technology to deliver personalised, proactive insights that significantly impact a customer's financial confidence and ability to make lasting improvements to their financial situation.  Santander's continued investment in customer-centric technologies demonstrates their innovative approach to customer engagement and digital innovation to better service their customers in a very tumultuous time."
About My Money Manager
My Money Manager is seamlessly integrated into the Santander mobile banking app to give easy access to personalised financial data-driven insights, alerts, and tips. These will be continuously developed as the app learns customer behaviour, preferences and integrates customer feedback. Some examples of the insights and tools available include:
Expected deposit dates for regular payments like salaries, pensions and benefits.
Push notifications if a regular payment, for instance a household bill or subscription, has increased or decreased, been duplicated or if a new payment has started to be claimed from the account.
Purchase analysis, including summaries of whether a category of spend has increased/decreased e.g. "You spent £50 more eating out this month than last month."
Notice of subscription services that are coming up for renewal, or if an auto-renewal payment has been taken from the account.
Advanced warning if a bank card is due to expire.
A spending quiz "guess how much you spent last week at xxx" to help users be aware of where they're spending.
Want to explore how your bank can harness the power of AI to engage and serve customers? Request a demo now
Latest Posts