November 28, 2022
Ankit Bhatt, EVP, Consumer and Chief Digital Officer at US Bank: How 'Digital Plus Human' Transformed Our Organization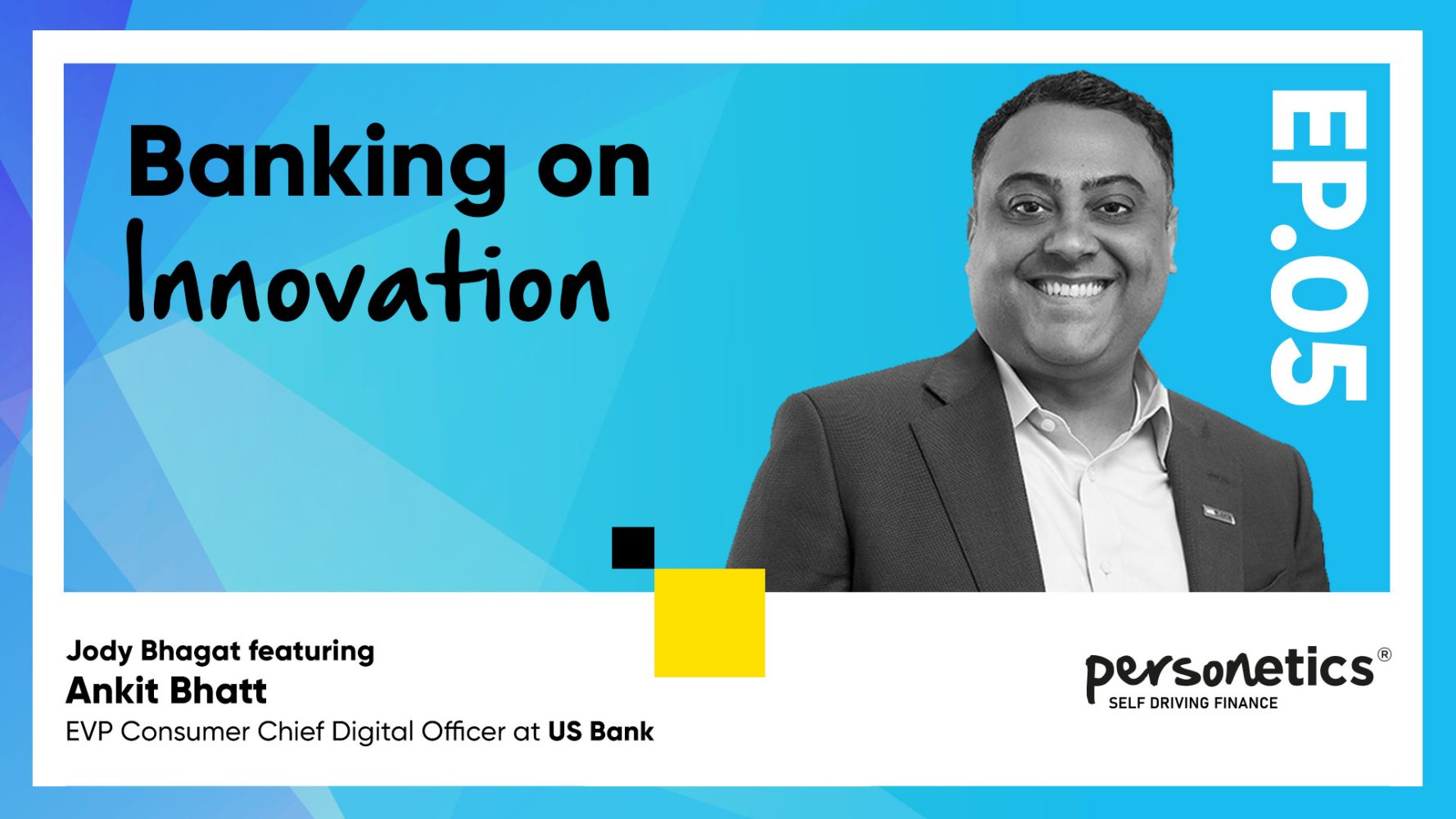 Our guest on the fifth episode of Banking on Innovation, our leadership podcast, is Ankit Bhatt, Executive Vice President, Consumer Chief Digital Officer at US Bank.
When it comes to digital transformation, both Ankit and US Bank are extremely results-focused. Ankit led the development of the US Bank mobile app in 2019, the same year he was named Digital Banker of the Year by American Banker. The app, which has delivered more than 2 billion personalized insights, has more than a million 5-star reviews in app stores. And in the third quarter of 2021, the industry benchmarking firm Keynova Group named it as the top mobile app and US Bank's mobile app and mobile web as #1 overall.
US Bank is a long-standing client of Personetics, and during that time Ankit and I have built a warm friendship. I was eager to hear how, in a hyper-competitive environment, Ankit created the industry-leading app.
Four principles for excellence in mobile banking strategy

Ankit shared four key principles he had learned while shaping mobile strategy at firms like E*Trade, JPMorgan Chase and American Express, which subsequently influenced his approach at US Bank.
At US Bank, "one of the core principles of our redesign of the app was the customers actually telling us, in order for you to differentiate and [for customers to] have a good experience, you need to anticipate. It's no longer good to just say, 'My experience is going to be personalized'. You need to anticipate my needs. And through the great partnership we have with you guys [at Personetics], we're able to deliver that experience to the customer."
The ambition the bank set was "to have the best digital experience, period – not just in financial services, but overall," says Ankit. That ambition must be articulated clearly across the organization, allowing all team members "to really wrap their head around what we need to do to deliver on that vision."
"So really being on the forefront, understanding what does good look like? How does the pace of change that's happening in the technology world change customer expectations?" At US Bank, there is a continuous focus on measurement and optimization, which allows them to stay current with evolving customer expectations. First, you must become "Customer obsessed", ensuring you have deep empathy with the customer so you can design an experience that resonates with theSecond, you must set an ambition or overarching gThird, you must accept that customer expectations evolve, not just because of their experiences in the banking industry, but because of their broader experiences with best-in-class technology.
Finally, you must focus on implementing your vision in a nimble, agile way. For Ankit this means working in a non-siloed organization, "building out capabilities that are reusable across the organization… Because at the end of the day, a consumer customer's needs might be very similar to a business owner's needs." And it may not be necessary to build that multiple ways across the organization.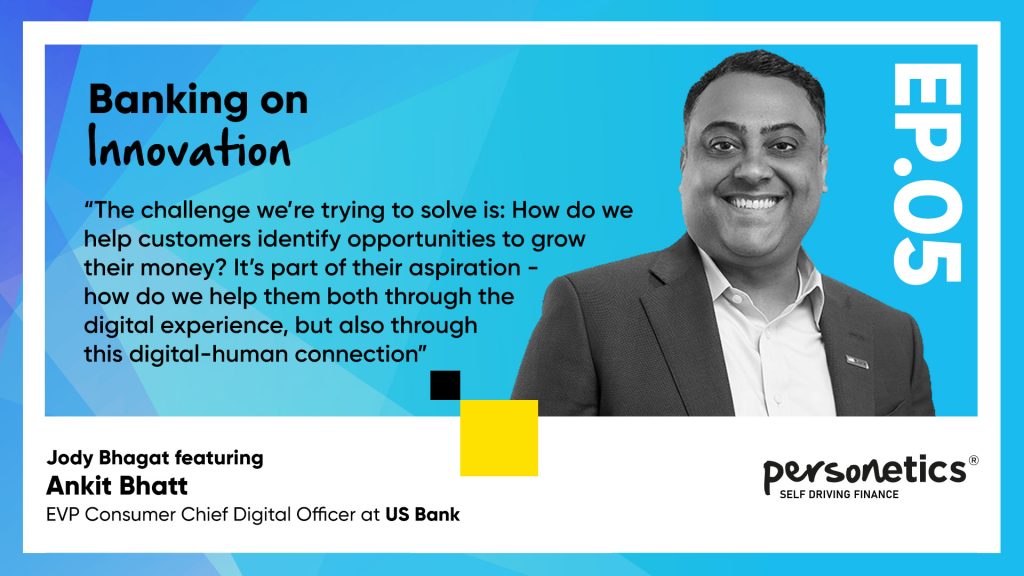 'Digital Plus Human' as the key differentiator
All this allowed US Bank to effect a successful digital transformation. But the app's true differentiator, says Ankit, is a "Digital Plus Human" strategy – which, as I have written recently, is the next frontier for mid-sized banks. At Personetics, we call this "Connected Channels," meaning that banks deliver unified advice to customers across digital and banker channels.
"We have a very defined approach – a philosophy if you may – which is that, in order for us to become central to our customers' lives, we need a great digital experience. But we fully recognize that if we don't combine that great digital experience with a great human experience – connecting customers to the colleagues that serve [them] at the bank – we will fall short."
It may seem counter-intuitive that the success of the mobile app rests on the degree to which it works harmoniously with assisted channels. But Ankit points out that for consumers, technology is only ever a means to an end:
"Customers don't wake up and say, 'You know, I really want to open up that app and engage', right? They're living their day-to-day life. And they have aspirations, like all of us. And if their aspiration is, I want to buy a car or a home, our job is to make sure that we really partner with them, that we create that trustworthy relationship to help them achieve whatever their needs are… Connecting them to an experience which is really seamless, but also acknowledging the fact that at some point the customer is going to want help from a human being."
Two advanced mobile features that add value
One way US Bank makes this happen is with its co-browse capability, which allows bank team members to interact with customers' browser in real-time. Ankit says this feature "creates the most excitement within the bank and is one of our highest customer-satisfaction capabilities we have today."
A second feature Ankit singled out for responding to customer needs and adding value is Personetics' patented Pay Yourself First solution, which automatically helps bank customers intelligently save or invest funds based on their cash flow patterns.  In March 2021, US Bank became the first to integrate this micro-savings capability into their app.
The challenge they are trying to solve, says Ankit, is: "How do we help customer identify opportunities to grow their money? It's part of their aspiration – how do we help them both through the digital experience, but also through this digital-human connection?"
Uniting the team around a strong, common vision
"Digital Plus Human" is now part of US Bank's core culture. One surprising reason this has been instrumental to its success is that it has it has created a sense of purpose amongst team members. And it has kept them focused on what really matters, which is ultimately not the technology:
"It's not just about creating that digital feature… That technology person who's helping bring that to life, they're not just thinking about, 'How do I code this to bring this alive'. They're thinking about the purpose behind it: How are we helping the customer? How is this going to improve their life?"
Similarly, in some banks in-branch teams have resisted the digital agenda, worried that they will be displaced. But at US Bank, this hasn't happened: "Everyone, whether it's the teller servicing the customer or the contact center agent answering the phone… [is] very clear on what the end purpose is, which is to really help our customers."
Future-proof?
So how does an organization maintain this pace of innovation long-term?
In such a fast-evolving space, you need a relentless focus on what's coming next in order to remain nimble, says Ankit. His talent monitors marketplace trends, including in technology advancements and customer expectations; he predicts providing experiences on a more real-time basis as a key trend to watch.
Other key parts of their process include "having a robust test-and-learn approach," and continually reading customer testimonials to identify dissatisfactions and potential problems to solve.
But ultimately, he's not worried about competing in future.
"We feel we're well positioned, whatever scenario plays out in the industry. And the reason we believe that – and I know it sounds like a broken record – goes back to the focus on the customer and really focusing on executing on this Digital Plus Human agenda."
Broken record? Perhaps, but it's one I truly believe every banking executive needs to hear. Play on, Ankit.
How can you listen to the podcast?
Please tune in and join me and my guests on this journey. Episodes of Banking on Innovation are released every 2 weeks.
You can access new podcast episodes here: Spotify, Apple, and Google.
Want to explore how your bank can harness the power of AI to engage and serve customers? Request a demo now
Latest Posts