December 4, 2014
Will FaceTime-Style Digital Banking Replace the Bank Teller?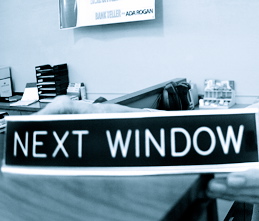 .
Barclays has taken the wraps off an interesting, new video banking service that it will start offering to its mortgage, business and wealth management customers early next year — and to its retail banking customers by the end of 2015.
The Financial Times reports that several European banks are working on a similar service but that Barclays is likely to be first out of the gate. According to the article:
"The moves mark another advance in the digitisation of high street banking, which has already led to a sharp drop in people visiting branches as they do transactions on mobile applications instead…"
The article went on to quote Steven Cooper, chief executive of personal banking at Barclays:
"'We're trying to give customers a choice of when, where and how they bank with us but with the added comfort of a human face,' said Steven Cooper, chief executive of personal banking at Barclays.  He said the bank had invested tens of millions of pounds in the service, which will initially be operated by about 50 staff in a video call-centre in Sunderland.
"'We will have fewer branches, but the branch network will always exist and this is just about developing extra services on top of it to complement the branches,' he said."
The Personetics Take:
Innovative retail banks are quickly coming around to the fact that their customers are rapidly transitioning to digital banking.  And the hunt is on for new ways to maintain (and grow) customer relationships online, whether it's about building loyalty, improving service standards, cross-marketing new products or lowering costs.
Besides agreeing on that, there is a bit of a "Wild West" feel to the various strategies being pursued.  Will video chat with a bank teller be able to replace the real in-branch experience? For many customers, quite possibly. Certainly it could give comfort to someone who needs to see a human face on the other end of a communication with their bank.
But we suggest that bank leaders will need to manage their expectations when it comes to layering new technology on top of the old-fashioned model. Fact is, retail banking is in the process of a true disruption to these old models. Merely mimicking the off-line experience in digital form may prove to be a good interim step – but not be enough to deliver on the level of service customers are going to expect.
When old banking models come wrapped in new digital clothing, customers may find them convenient, even cool for a time.  But customers are likely to be far more thrilled by innovations that deliver step-change improvements — the kind that could never have existed in the off-line world in the first place.
Want to explore how your bank can harness the power of AI to engage and serve customers? Request a demo now
Latest Posts