May 11, 2021
For Digital Banks, Great Process Matters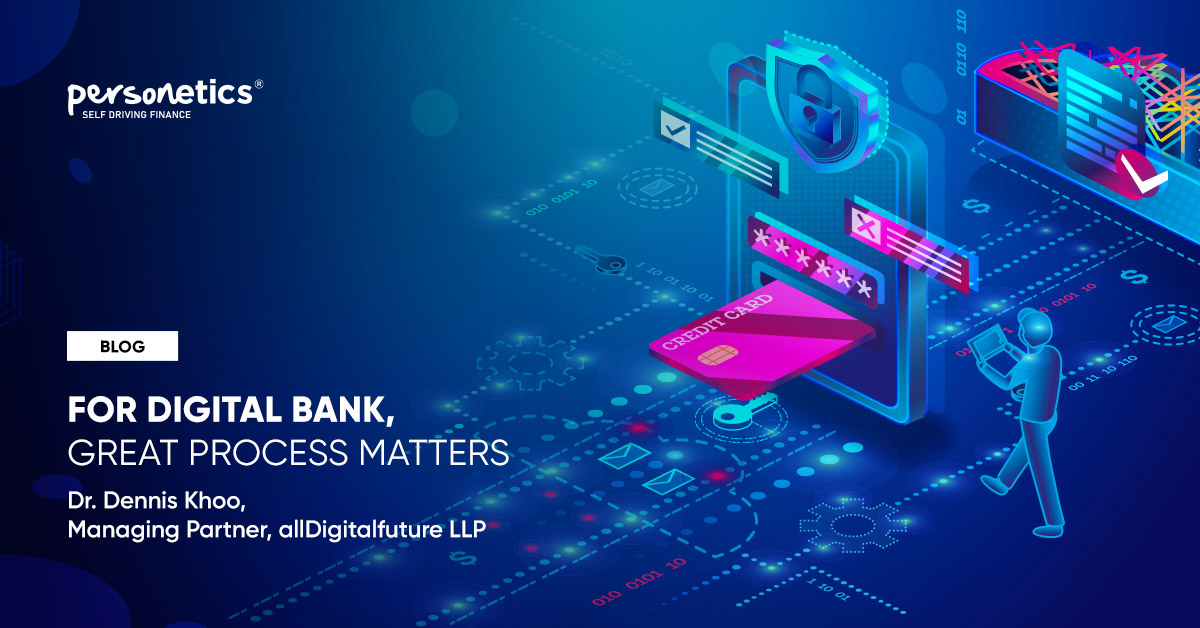 All banking today is, to some extent, digital. But digital banking and digital banks are not quite the same. Digital banking is part of an omnichannel strategy that consists of a repertoire of channels that banks use to serve customers alongside call centers, branches, and internet banking. Traditionally, it is product-centric. The digital bank is a new business model predicated, first and foremost, on a frictionless customer experience and a customer-centric culture. Digital banks are also characterized by their low-cost business models (8x lower than legacy banks), high NPS® (3x higher than legacy banks), and ability to leverage data-based engagement. None of these are legacy banks' strengths, and to compete in the crowded field of big tech and fintech startups, incumbent financial institutions must transform.
Legacy banking used to differentiate based on what I call the "6 P's": people, place, product, price, promotion, and process. Today, in a digital world, people and place are no longer relevant, and product has been commoditized. Price and promotion should be used sparingly. That leaves the process as the key differentiator for financial institutions to focus on as they undergo digital transformation.
Why is the process so important?
Banks cannot create sufficient value on a Minimum Viable Product alone. Banks are not Netflix or Uber. To create enough value for the customer, banks must reach a Minimum Experience Score, the combination of many small features that may not create enough value alone but can be powerful enough to acquire and retain customers when put together. Therefore, to differentiate, banks must offer customers a frictionless banking experience, overcoming many small issues, defects, and peeves which, unfortunately, there are still many. To be able to do this, process is key and king.  No company has been able to deliver a seamless experience in a complex service like banking seamlessly without being a master at the process. Banks that try to differentiate their digital banks without putting customer experience in front simply won't make an impact. Unfortunately, at many banks, processability is not coveted and is usually executed by the bottom third of the organization, with insufficient top management attention.
Design + Process + Tech: A Path to Profit
While I led UOB's digital bank, TMRW, we worked in close partnership with Personetics to implement a flywheel process that I call ATGIE: First, customers are acquired. They then undertake financial transactions, and, as they do that, banks began to generate data, which Personetics' technology helped us cleanse and offer insights to our customers that drove engagement. For this flywheel to be effective, three key capabilities were required:
Design: We designed TMRW around 3 key differentiators:

Frictionless and intuitive experiences in onboarding, credit, and transactional banking.
Great service
Data-enabled engagement leveraging Personetics

Process: We focused on the total experience and transforming ourselves from product to customer-centric. Great attention was paid to the customer experience and journey to generate industry-leading NPS® scores in the countries we launched.
Technology: We utilized Personetics' advanced analytics and AI capabilities to generate engaging insights that did not make sense for us to develop in-house.
The path to profit of a digital bank is long because it requires large up-front investments. But banks that do it right will later enjoy a strong annual fee stream for many years to come. The process-focused blend between design and technology will allow banks to enter the market with a much higher NPS® than their competition by truly creating great experiences but also engaging customers. Further, digital banks utilize new cloud technology to bring costs down and scale. As banks scale, if their experience ratings haven't risen, they will not reduce their acquisition costs. But if they invest in customer experiences, revenues will rise as cost is reduced because the bank has invested in a solid experience platform with many advocates.
TMRW in Thailand & Indonesia
At TMRW, by following this path, achieved rapid, high-quality market expansion with 80% new to bank in Thailand and 54% new to bank in Indonesia, and industry-leading NPS of +45 and +60 in Thailand and Indonesia, respectively (Source: UOB Website, 7 Dec 2020). These figures demonstrate the potential for banks that decide to invest in a customer-centric digital experience and process.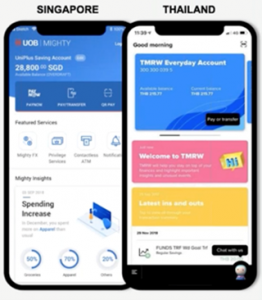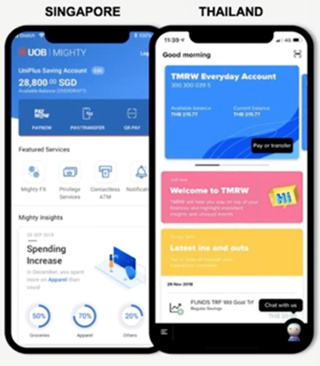 UOB also leveraged the data-enabled digital engagement across UOB Mighty that serves the traditional UOB base in Singapore, Malaysia, Thailand, and Indonesia, and Thailand through TMRW by UOB.
Digital Banks: Frictionless and Customer-Centric
In recent years more forces are joining the hyper-personalization battleground. Big tech, traditional banks, and fintechs are all competing in the area of customer-centricity. Some legacy financial institutions' digital offerings fall to the wayside because they haven't modernized their thinking and haven't designed and executed the seamless experience and process needed, treated digitization as a tech-only issue, and lack the talent or organizational infrastructure to execute.
To build a winning digital bank, financial institutions must take an approach informed by creating frictionless financial data-based customer experiences that can be deployed easily at low cost, creating a continuous journey toward automated finance. The digital bank must be customer-centric by design and powered by superior capabilities in business process design and re-engineering to be successful.
Contact us to learn how to incorporate both disciplines into your digital bank and digital banking strategy.
The full webinar Digital Banking VS. Digital Banks: The Ultimate Challenge, can be found here.
The full webinar Digital Banking VS. Digital Banks: The Ultimate Challenge, can be found here.
You're welcome to reach out to Dr. Dennis Khoo directly. Dr. Khoo is a managing partner at allDigitalfuture LLP, where he has invented a method to significantly raise the probability of success of complex digital transformations or innovations, known as The allDigitalfuture Playbook.  Check this out at www.allDigitalfuture.com.
Want to explore how your bank can harness the power of AI to engage and serve customers? Request a demo now
Latest Posts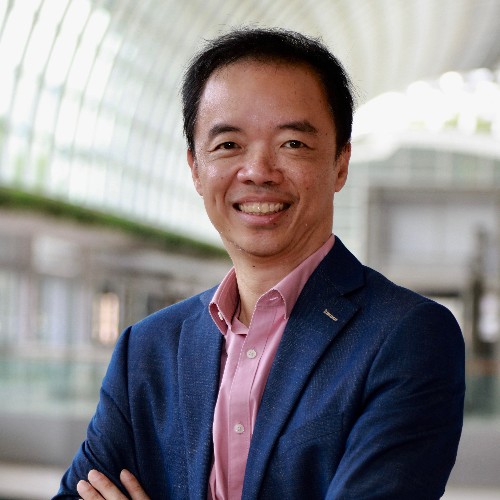 By Dr. Dennis Khoo
Managing Partner, allDigitalfuture LLP
Dr. Dennis Khoo is Managing Partner at allDigitalfuture LLP and former MD of UOB TMRW Digital Bank. Armed with dual experience in Information Technology and Banking, he has a unique advantage in developing and executing strategies for the transformation of businesses in a digital world. Dennis was a senior banker who had previously run billion-dollar businesses as head of a consumer bank for Standard Chartered Bank and UOB in Singapore. A digital bank pioneer in ASEAN, Dennis was global head of TMRW Digital Group (UOB's Millennial digital bank), where he was responsible for the strategy, growth, and delivery of the TMRW Digital Bank. The first TMRW Digital Bank ( www.tmrwbyuob.com ) went live in Thailand in 2019, and the second in Indonesia in 2020. TMRW won Global Finance Most Innovative Digital Bank in Asia Pacific in 2019. Dennis also led the joint venture initiatives into Fintechs like Avatec.ai and VUI Pte Ltd as part of the ecosystem to support the growth of TMRW. Dennis was previously CEO-Designate in one of the consortiums bidding for the digital bank wholesale license in Singapore. Dennis is a WABC (Worldwide Association of Business Coaches) Registered Corporate Coach, a certified Gallup Strengths coach, and accredited in Harrison Assessment Employee Development. Dennis has mentored and coached many successful executives in his long career.