November 15, 2022
How Personetics Express Can Solve the Build vs. Buy Dilemma for Midsize Banks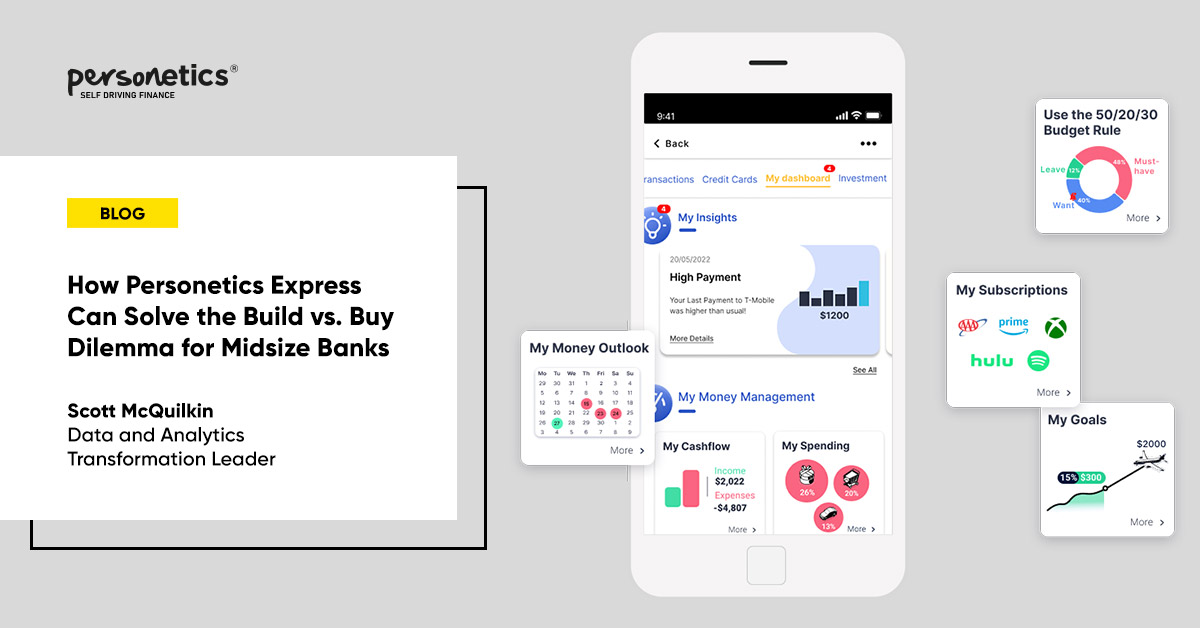 One of the big decisions banking executives face when adopting financial data-driven personalization is which side to choose in the "Build vs. Buy" debate. Should you try to build your own data-driven personalization solutions with in-house resources, or buy a solution from a vendor?
This decision is especially significant for midsize banks ($5-50B in assets), which may not have the extensive resources of large regional banks but need to stay in lockstep with leading digital experiences. Sometimes midsize banks get caught in an untenable middle ground, struggling to keep pace of innovation while tied to legacy technology stacks or the constraints of core platforms.
When it comes to personalized insights and advice, Personetics Express can help resolve this dilemma with an effective "hybrid" solution. With Personetics Express, midsize banks can get the best of both worlds: a proven, cost-effective financial data-driven personalization solution, along with the flexibility to build their own custom IP to pursue specific goals and strategies and stand out from the competition.
Let's take a closer look at the key questions your bank should ask, and how Personetics Express provides the transformative answers, delivering impact for your institution through personalized insights and advice.
Do You Have the Time?  
Midsize banks need to make smart use of their valuable internal resources. Even if you could build a data-driven personalization platform within your institution, the project would likely take a great deal of time. Many institutions find they require 12 months or more just to test and build 5-10 personalized insights.
Personetics Express enables your bank to go to market quickly, usually within 12 weeks, with financial data-driven personalization. Instead of waiting to achieve business value or struggling to reinvent the wheel, you get a select set of personalized insights out of the box that are proven to drive business impact and increase customer engagement.
Is Your Data Foundation Strong Enough?
Data-driven personalization doesn't happen overnight. Turning raw customer transaction data into real-time accurate advice and personalized insights requires a multi-step approach. Data needs to be sourced, cleansed, and enriched, providing consistent categorization and a clear, accurate view of the customer's transactions. This foundation is critical to deliver intelligent insights and interactions.
Personetics Express helps you quickly get through the hard work of developing this data foundation. Our 12+ years working with banks all over the world has taught us what data is needed to spark customer engagement. Furthermore, our AI enrichment models have already been trained by billions of customer transactions (30B+ in North America alone). The data can be brought in from your bank's financial data, or from external data sources, via account aggregation and our open banking connectors.
Instead of experiencing growing pains, you benefit from leveraging a global, market-leading product, putting your institution in the "Express" lane to data-driven personalization.
Do You Have the Right Analytics and Modeling Resources?
With Personetics Express, your institution doesn't have to worry about overextending your internal teams or trying to develop capabilities on your own. You can tap into Personetics' expertise, developed through years of analyzing customer transactions at 100+ financial institutions around the world. You can immediately move forward with your own vision for financial data-driven personalization and start to plan for the business strategy around it, without having to do the legwork of analyzing data and building models.
Can You Support and Grow Your Solution Post-Launch?  
One of the challenges with internal builds is trying to drive continuous improvement post launch. Do you have the capabilities to learn, optimize, and build new interactions easily? Or will you be stuck with a stagnant platform that isn't learning, adapting, and growing?
This is not a one-time engagement, where you flip the switch and leave it alone. A truly effective financial data-driven personalized engagement platform should keep learning from your customer interactions and expand insights to support your business as it grows.
Personetics Express seamlessly embeds into your banking app and provides you with a higher level of support for ongoing maintenance, performance tracking, and scalability. On top of that, we give you the flexibility you'll need to keep growing. We enable you to easily customize and build your own money management insights and product-based advice, ensuring they will meet your business needs and goals as they shift over time.
Compete Quickly and Cost-Effectively
Midsize banks don't have to be left behind or feel they're at a disadvantage in adopting advanced data and analytics capabilities. These capabilities are not just the playground of "big banks" anymore; small and midsize institutions can leverage advanced data analytics and AI-powered personalization at an effective price point, while achieving differentiation for your customer franchise.
Want to explore how your bank can harness the power of AI to engage and serve customers? Request a demo now
Latest Posts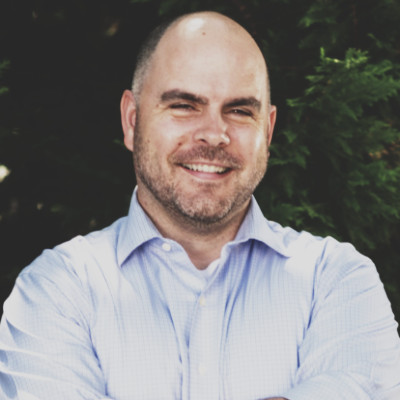 Scott McQuilkin
Data and Analytics Transformation Leader
Scott has built artificial intelligence products at more than 20 financial institutions over the past 15 years, including 3 of the top 4 U.S. banks.  Having managed AI projects with more than 300 stakeholders, Scott has seen first-hand how these undertakings can quickly grow exponentially without a deep understanding of the nuances of AI in the compliance and regulatory environment that banks and credit unions live in. His primary focus is on packaging Personetics products to provide the most value in the least amount of time for our bank partners.