April 19, 2023
Ken Meyer, Truist Chief Information & Experience Officer: Fostering Innovation Through a Merger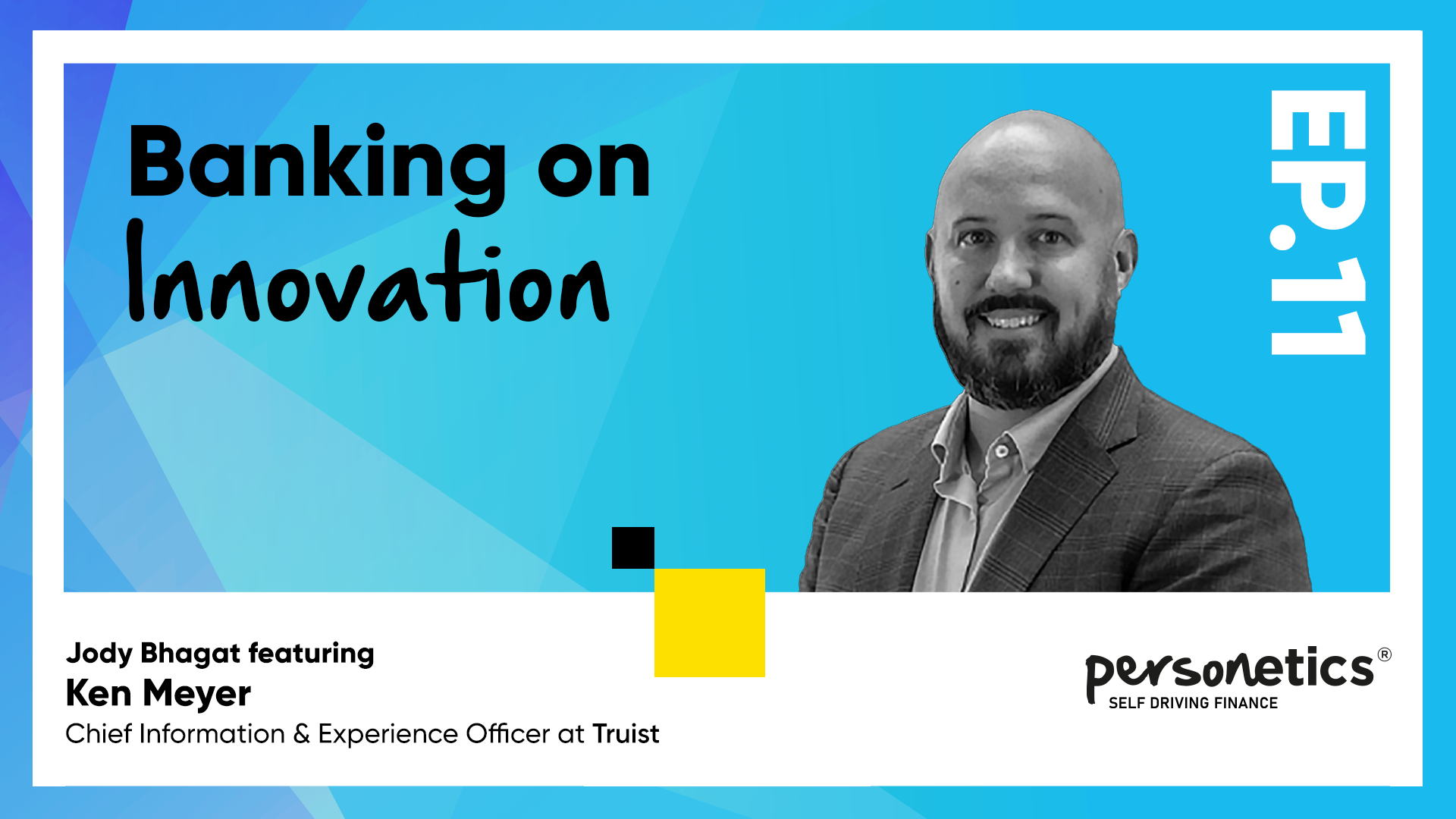 In our 11th episode of the Personetics Banking on Innovation podcast, we welcome in Ken Meyer, Truist Bank's Chief Information and Experience Officer for Consumer Products.
Those twin titles have meaning for Ken, who sees his job as bringing tech "forward" in the bank at Truist, to where it can markedly improve the customer experience.
"That mix (of tech and customer experience) has always been something that's fascinated me," Ken told us on the podcast. "It's something that drove my focus: Making sure we can really translate what our technical capabilities are and pull them forward to actually impact our clients."
As a key contributor to one of the biggest bank tech stories in recent years – the merger of BB&T and SunTrust to create Truist – Ken had plenty of interesting topics to cover including:
Truist's approach to tech implementation during the merger, and why often their choice wasn't between the legacy tech of SunTrust or BB&T, but new, innovative solutions.
How Truist used innovation and personalization, as well as their T3 Initiative (Tech + Touch = Trust) to deliver on Truist's new purpose and brand promise.
How Truist plans to use innovation of product and experience to win in the ongoing battle for deposits.
Choosing Tech During a Merger: A or B? Actually, C
While the investment community largely focused on the BB&T/SunTrust merger in terms of synergies and efficiencies, Meyer and his Truist colleagues saw it as an opportunity to deliver on their T3 initiatives – Tech plus Touch = Trust.
Truist focused their efforts on bank/customer interactions by starting with the customers' needs and then working backward from there to the various touchpoints with the bank. They expanded their definitions of touch to include both the interactions on the Truist digital platforms as well the human-to-human touchpoints in branches or over the phone.
To do that, they took an approach to Truist's tech stack that differed from the typical merger.
"It's easy in a merger to say 'Hey we've got system A and we've got system B, which one do we want to pick?" Ken said. "In some cases for us, we said, "You know what? System A and System B are not acceptable. We need to think about option C."
Going with Option C allowed Ken and the Truist tech team to add new, innovative solutions that took the customer experience up a level and also helped build the tech stack foundation for more nimble future moves. The speed and ease with which the new tech enabled Truist to move actually left Ken wondering if, in retrospect, their incredibly ambitious approach to the merger could have been even more aggressive.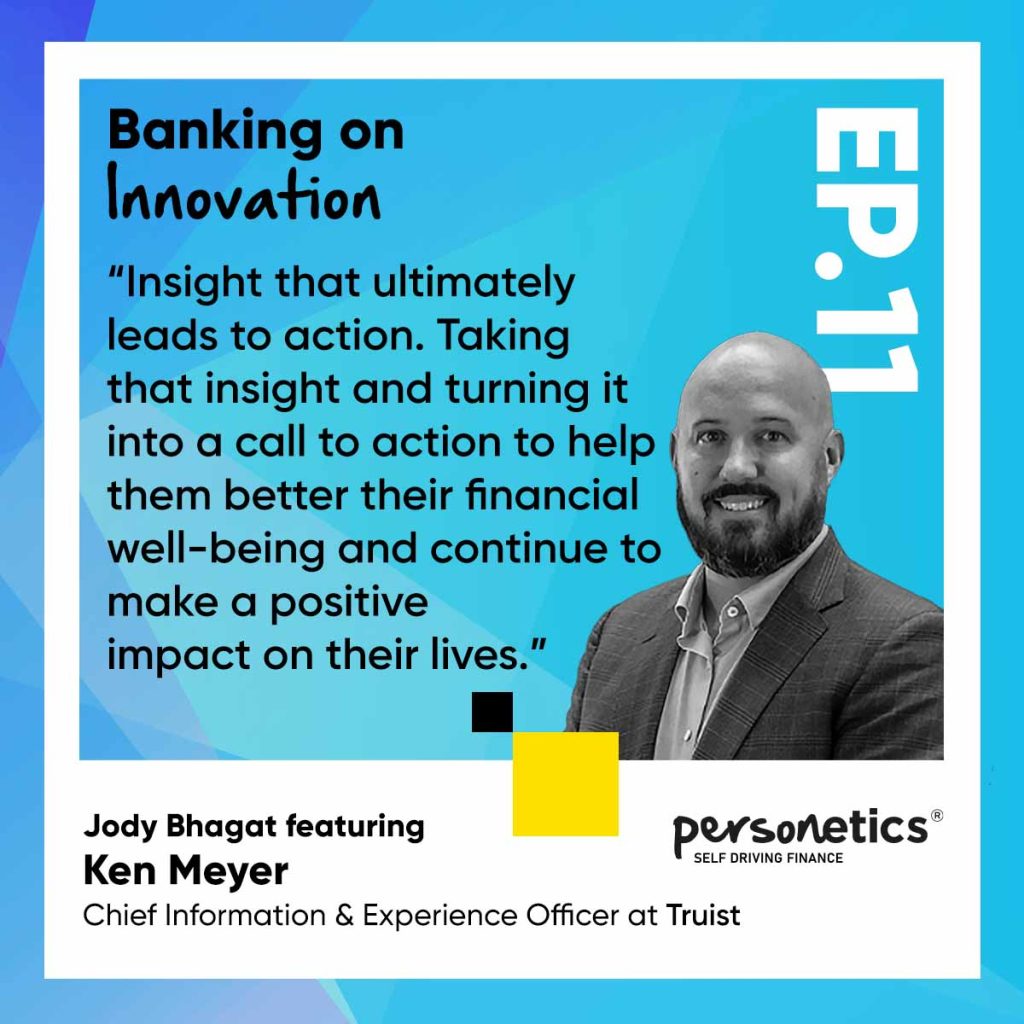 Using Tech and to Deliver Personalization and Build a New Brand
Ken and his team focused on selecting tech systems that support Truist's new stated purpose: To inspire and build better lives and communities. That meant delivering a truly personalized experience.
"You can't do that unless you really understand your clients," Meyer said. "You're building bespoke, unique experiences, bringing that to the table to help them however they need help."
Truist focused on solutions that enable them to not only understand and leverage their customers' data, but to then deliver timely, contextual insights.
"And not just insights," Ken added, "but insight that ultimately leads to action. Taking that insight and turning it into a call to action to help them better their financial well-being and continue to make a positive impact on their lives."
Often that insight delivery came through Truist's digital channels, but, in keeping with their T3 initiative, they also focused on putting vital customer intelligence in front of their customer-facing bankers.
The Formula for Winning Deposits: Products + Customer Experience
One of the specific areas where Ken has seen Truist's approach to tech pay off is in the ongoing battle for deposits. Truist has eschewed the traditional tactics of simply raising rates to attract deposits. Instead, they've taken a two-pronged approach.
One prong has focused on creating innovative, differentiated products – like the Truist One checking account that helps customers avoid painful overdraft fees.
The second prong is connecting those innovative products into the customer experience and insights that Truist has worked with Personetics to deliver.
"You have to be relevant both from an experience perspective, as well as a product perspective," Ken said. "It's about how to deliver the whole bank to the digitally engaged customers – putting those insights and products together in a simple, seamless way that doesn't cause unnecessary friction.
"When you can do that, you can win."
How can you listen to the podcast?
Please tune in and join me and my guests on this journey. Episodes of Banking on Innovation will be released every 2 weeks.
You can access new podcast episodes here: Spotify, Apple, and Google.
Connect with podcast host Jody Bhagat on LinkedIn: https://www.linkedin.com/in/digitalbusinessgrower
Want to explore how your bank can harness the power of AI to engage and serve customers? Request a demo now
Latest Posts
Jody Bhagat
President of Americas, Personetics
Jody brings deep operating experience in financial services – managing direct channels, launching digital ventures, and leading digital transformation programs. He was previously a Partner at McKinsey & Company, where he helped financial institutions define and execute digital transformation programs to drive customer growth and operating efficiency. Jody also served in senior digital operating roles at U.S. Bank, Wells Fargo, and Providian. In these positions, he led digital sales and service functions and direct to consumer businesses to deliver organic growth and enhanced customer experience. Jody has an MBA from Northwestern University and a BS in Computer Engineering from The University of Michigan.