February 4, 2019
Webinar Highlights: Empowered to save more, happy customers fuel RBC's growth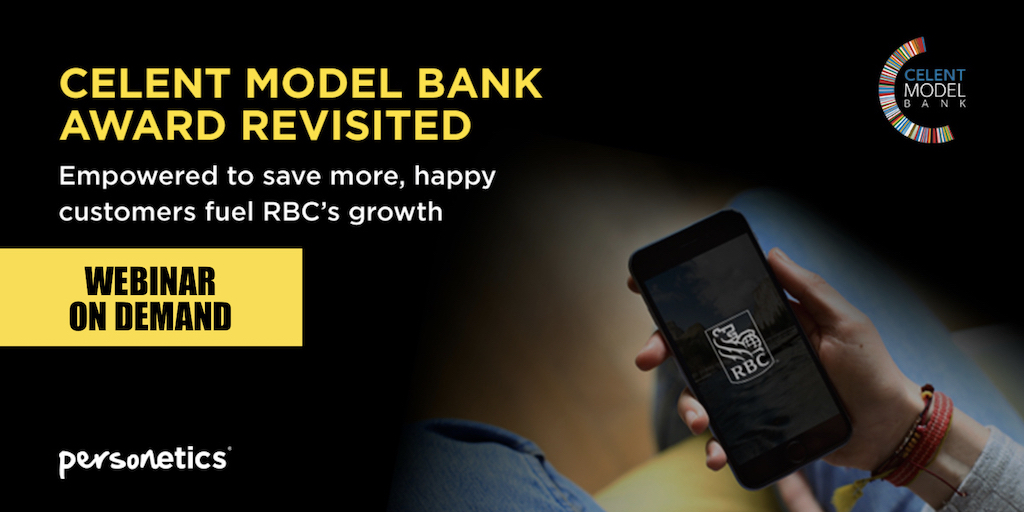 For the January session of our 2019 Self-Driving Finance™ webinar series, we were joined by representatives from Celent and the Royal Bank of Canada to examine the success and lessons learned from NOMI Insights™ and NOMI Find & Save™, the Celent Model Bank Award-winning AI-powered solutions that RBC implemented to empower their customers and make savings effortless.
A recording of the webinar is now available on-demand.
Using AI-powered predictive analytics to identify individual behavior and spending patterns, NOMI Insights provide personalized, timely and relevant tips to help customers manage and control their day-to-day finances. NOMI Find & Save helps customers save more by safely and effortlessly moving available money from checking to a savings account based on real-time analysis of their personal cash flow.
Our conversation looked at how NOMI meets the needs of both the customer and the bank, answering these questions and more:
Why did RBC build NOMI?
With a name inspired by a play on words, NOMI ("know me") was key to the goal of connecting with customers on a more meaningful level. According to Rami Thabet, RBC's VP of Mobile & Digital Money Management, "One of the things we've always strived for when we created the North Star for the program is to know and provide insights to clients that demonstrate value and show that we have [their] best interests at heart."
Why did Celent choose RBC as a Model Bank?
Pursuing a bold culture shift for the concept of customer experience, Bob Meara, Senior Banking Analyst for Celent said "RBC established value through a very unique personal experience delivered through its mobile banking platform. It wasn't a separate app, customers didn't have to request it, it just happened. The value was delivered in real-time, based uniquely for each user according to how they interact with the app."
How is RBC closing the Trust Gap with customers?
While the far majority of customers trust their banks for transactional financial services like moving their money and keeping it safe, less than half of them believe that advisory services provided by their bank are competent and unbiased, exemplifying the significant Trust Gap that exists in retail financial services.
By taking a proactive approach to meeting customer needs, and pursuing win-win interactions and engagement, instead of just selling attempting to sell products.
How has NOMI affected user engagement?
Right from the start, NOMI was a success. According to Rami, "The platform has been amazingly responsive in terms of user engagement. Clients who experience NOMI feel a tremendous amount of value immediately. In terms of measurements, we have doubled our interactions on our digital properties. NOMI users spend double the time that non-NOMI users spend in our digital properties. They are also more engaged. They spend more thoughtful time per screen, and they will also act on calls to action… at double the rate of a non-NOMI user."
What are the keys to success for banks?
Banks that can drive meaningful engagement with their customers in a way that proves that they care about their financial well-being will be able to inspire their customers to take action to pursue their own financial success, while at the same time increasing customer satisfaction and loyalty to the bank.
"When we explain to banks the concept of Self-Driving Finance™," according to David Sosna, Personetics CEO, "we always talk to them about the need to create a sustainable win-win relationship between the customer and the bank. They have to win the customer's trust if they want to impact behavior."
For deeper insights into these questions and more, watch the webinar replay on- demand now.
Related links:
Winning the Deposit War by Empowering Bank Customers with Self-Driving Savings [eBook]
Self-Driving Finance™ in Action: How Banks Use AI to Improve Customers' Financial Lives
Personetics Reveals Industry-first Self-Driving Finance™ Platform
Want to explore how your bank can harness the power of AI to engage and serve customers? Request a demo now
Latest Posts