May 5, 2023
What the Personetics – Q2 Partnership Means for Your Financial Institution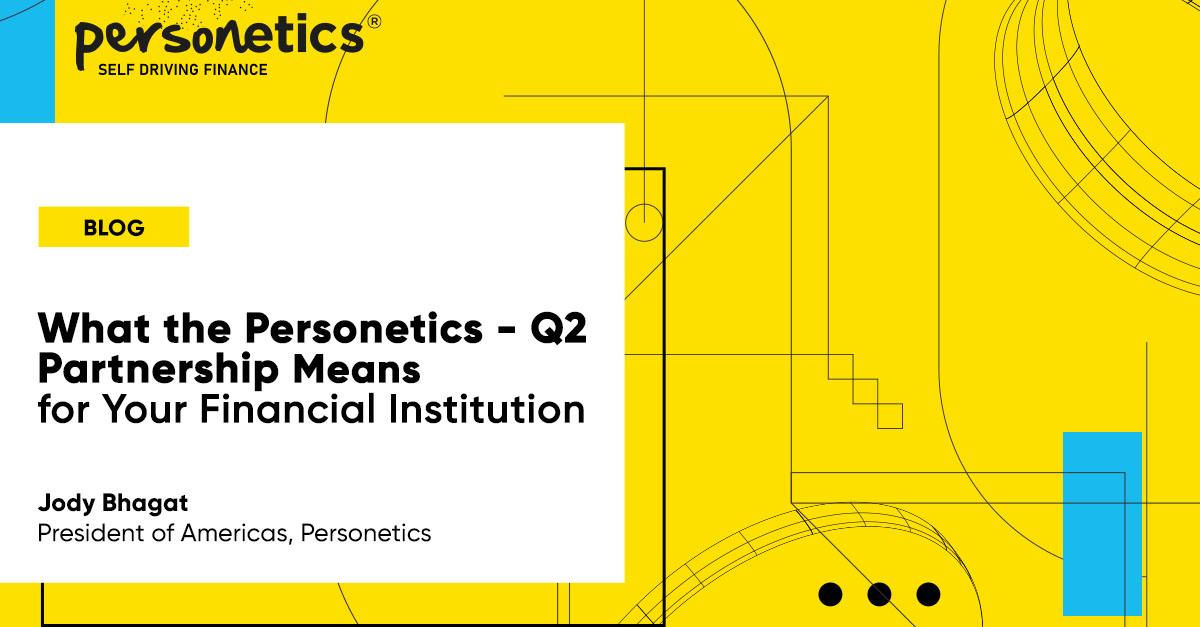 Earlier this week, Personetics announced our partnership with Q2. As part of the Q2 Partner Accelerator Program, Q2 clients can now obtain Personetics' financial data-driven personalization and offer the solution to their end users via the Q2 Digital Banking Platform.
What does this actually mean if you're a bank or a credit union that has been using Q2's digital capabilities, and how will it impact your customers/members?
Here are 6 advantages your FI will gain by leveraging the Personetics-Q2 partnership.
Now, You Can Truly Engage with Your Customers
Traditional PFM (Personal Financial Management) solutions just don't resonate with customers and have low customer engagement rates (5-10%). Without the benefit of personalized and timely engagement, most banks see little customer value or business benefit.
Personetics, though, produces a customer engagement rate of 35%. The Personetics customer engagement platform generates hyper-personalized, timely insights and advice that help customers understand their finances and take steps to improve them. Unlike traditional PFMs, that can only show you what's happened previously in your financial life, Personetics' AI and machine-learning models leverage customers' financial transaction data to give them a clear picture of what lies ahead – like potential cash flow issues or saving opportunities.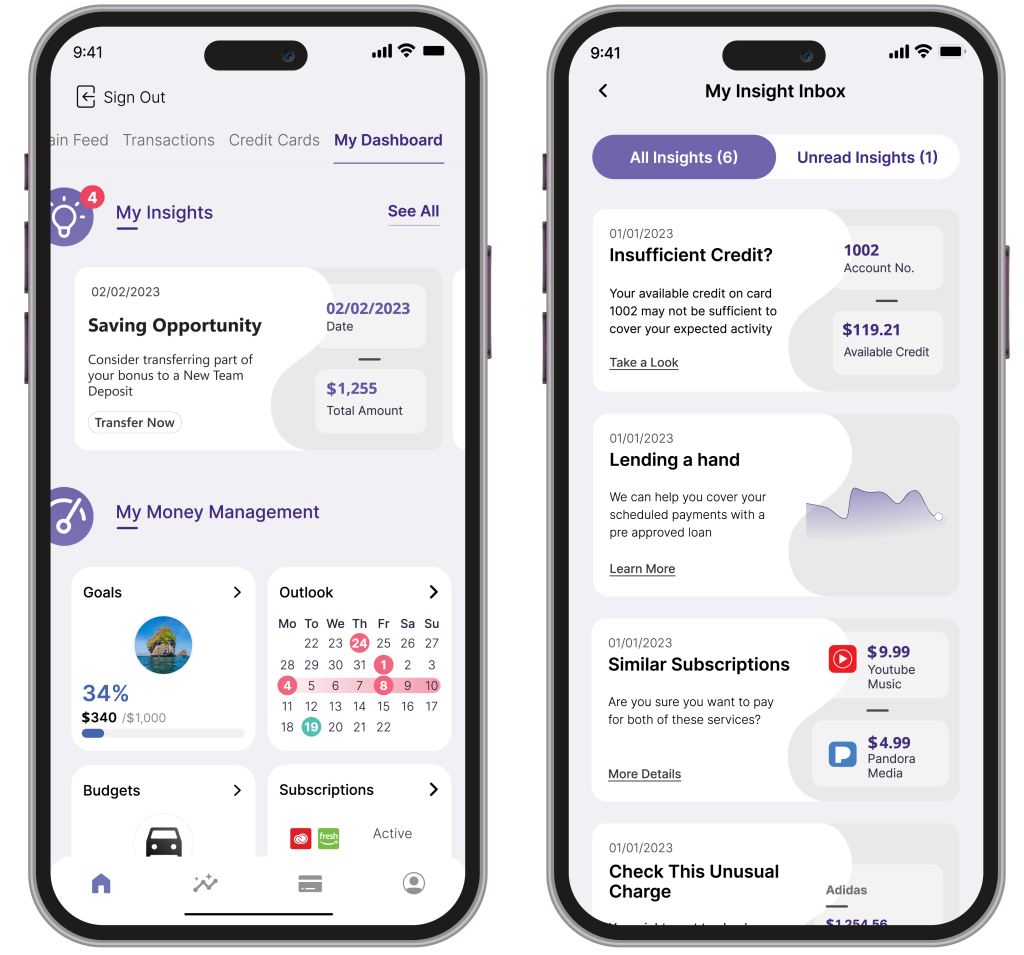 That Engagement Leads to Action
When you foster engagement with your customers, that builds trust. And when you have a customer's trust, your ability to "nudge" them to toward taking suggested actions improves dramatically.
Personetics' high engagement rates lead to improved conversion rates when suggesting products and services, in some cases 6X higher than the industry benchmarks.
You'll Gain a Key Advantage in the Battle for Deposits
Every bank and credit union out there is looking to grow deposits and strengthen their franchise. Many are using traditional tactics – rate promotions and special offers. To truly stand out from the competition and increase your customers' deposits, you need to keep them engaged and show them you can help.
Personetics make it easier for your customers to save more, at YOUR institution. It delivers insights that help your customers monitor and manage their spending, lets them know when it's safe for them to set money aside, and makes the act of saving with your institution easier.
Personetics is the Antidote to Attrition
Customer attrition rates in the banking industry are increasing, and rising rates are putting more money in motion. Furthermore, a recent survey found that more than half of customers would consider switching banks for better money management and support. If you're not taking action to better engage customers, they may be more susceptible to offers from your competitors.
To build a strong customer franchise, customers need to be engaged with your bank. When you're providing your customers with timely, useful insights, guiding them toward products and services that will improve their financial well-being, and helping them save toward important goals, engagement and loyalty are the outcomes.
It's Easily Customizable
Most, if not all, banks believe their points of differentiation are keys to their success. So why settle for a cookie-cutter PFM (Personal Financial Management) solution that doesn't allow you to mold your engagement approach to match your customer needs and your offerings?
Personetics gives you the control you need to customize your customers' experience. The platform includes a no-code tool, called Engagement Builder, that enables you to quickly and easily change your hyper-personalized insights and advice – what you share when you share it, and who you share it to. You can also rapidly generate custom insights to address customer and business needs.
The best news is that you can leverage a platform that has been proven at scale. You start off with 60+ actionable insights that are operating at more than 130 banks, with 135M+ customers worldwide.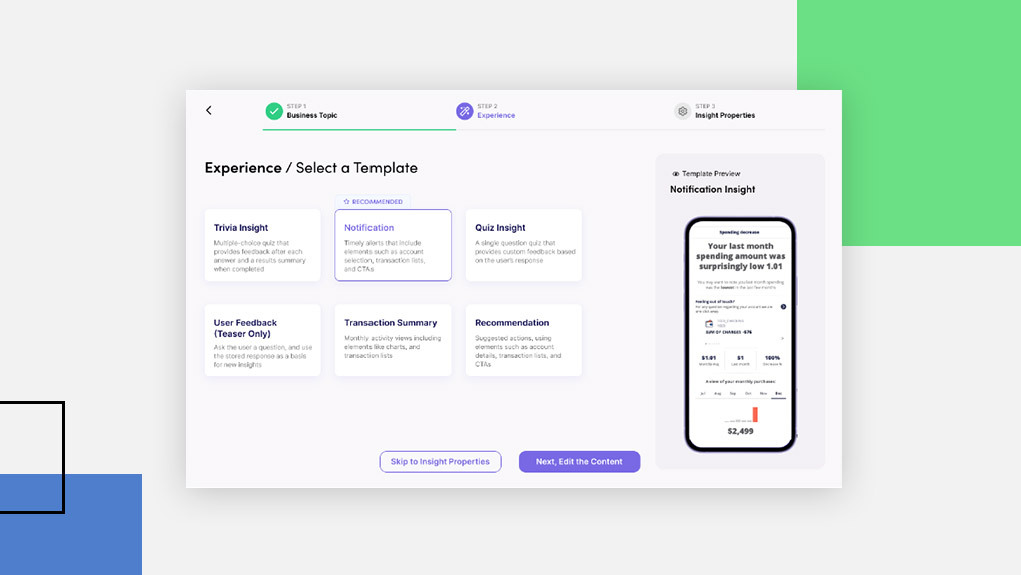 Implementation Is Refreshingly Easy
The Personetics platform provides your institution with enterprise-level financial data-driven personalization capabilities, but without eating up all your time and resources. Thanks to the pre-built integration between Personetics and the Q2 Digital Banking Platform, you can begin building engagement and driving business impact in just 12 weeks (via SaaS implementation).
Let's Talk
Sign up for a demo and get an in-depth look at all the ways the Personetics-Q2 Digital Banking Platform integration can transform your customers' experience.