June 1, 2022
5 Ways to Overcome the Green Banking Consumer Paradox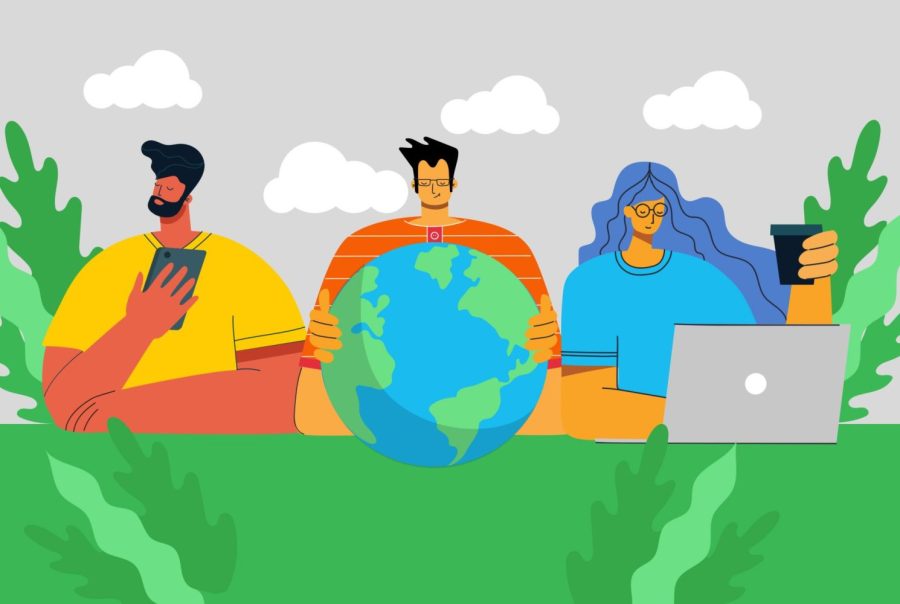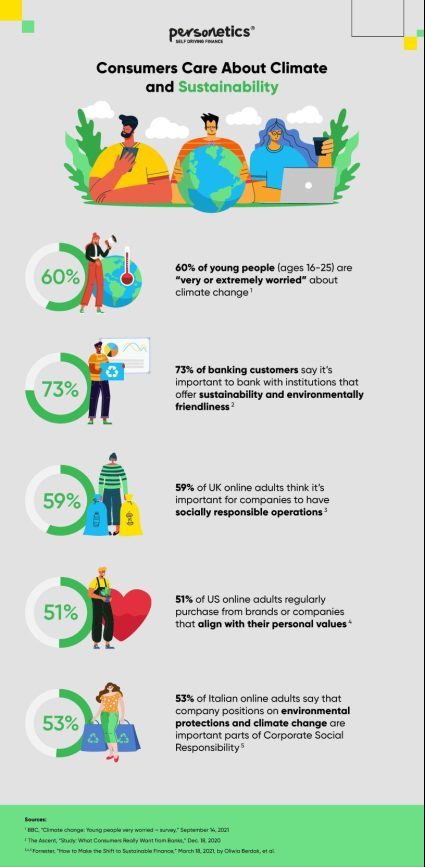 Green banking is not just about brand image, or a matter of divesting from fossil fuels or signing high-level commitments to faraway emissions goals.
As green banking becomes part of the public conversation about climate change, financial institutions are facing new demands from regulators, central banks, activist groups, and consumers to take a leadership role in sustainability.
Recent research shows that customers care about climate change and sustainability, and they want financial institutions (and other consumer brands) to align with their values and support the environment with business practices.
But what does sustainability really mean for banks?
How can financial institutions do more to help address climate change?
And is "green banking" just about allocating capital, or is there a role for retail banking to play?
"If you are a financial services firm, there are a lot of different things that you can do, if you think about sustainability as a broad ESG spectrum of Environmental, Social, and Governance issues," said Oliwia Berdak, VP Research Director at Forrester, at our recent webinar, "How Banks Can Engage Customers With Sustainability."
By incorporating sustainability, financial institutions can achieve the following key business impacts:
Acquire and retain climate-conscious, values-driven customers
Attract and retain climate-conscious, values-driven employees
Maintain compliance and achieve better ESG ratings
Revenue growth from new sustainable finance products
Developing new sustainable finance products can help financial institutions engage with sustainability-minded customers. This starts by understanding the "Green Consumer Paradox."
The Green Consumer Paradox: Customers Want Help to Make Greener Spending Choices
Forrester research found that consumers often say that they want to support the environment and fight climate change, but their actions don't always match their intentions. This is what Forrester calls the "Green Consumer Paradox."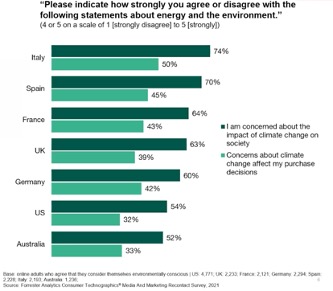 Customers want to spend in climate-friendly ways, but they don't always know how to do so. This is an opportunity for retail banks to help their customers with greener spending and climate-conscious financial goals.
By changing the way they design and offer sustainable financial products, financial institutions can help overcome this "Green Consumer Paradox," and help people's spending align with their climate-conscious ideals.
Building Sustainability Business Practices into Banking Products to Overcome the Green Consumer Paradox
According to Forrester's research shared on our webinar, there are five prominent barriers that are part of the Green Consumer Paradox. Here are a few examples of how Personetics solutions can help financial institutions overcome the biggest barriers to sustainable behavior for banking customers.
1. Economic barrier challenge
Forrester's research has found that even among the most environmentally conscious customers, price is still the biggest barrier to making more sustainable spending choices. If greener products are more expensive, or if reducing carbon emissions causes a consumer's cost of living to increase, consumers might be reluctant to make those choices.
Economic barrier solution: To overcome this, banks can help customers reduce their spending while also reducing their carbon emissions. For example: Personetics can offer financial data-driven personalized insights to analyze a customer's spending, watch for excess spending trends (when monthly spending in particular categories is higher than usual), and recommend setting up a budget to help reduce expenses for target categories. By suggesting that customers reduce their spend on a carbon-intensive category such as dining, the bank can also help customers reduce carbon footprints.

2. Convenience barrier challenge
Forrester's research also found that 24% of European adults want to make more environmentally conscious spending choices, but not at the expense of convenience.
Convenience barrier solution: To overcome this barrier, banks need to make it as easy and automatic as possible for customers to choose sustainability goals. For example: Personetics Sustainability Insights offering helps banks identify situations when customers are spending more than average benchmarks on utility bills.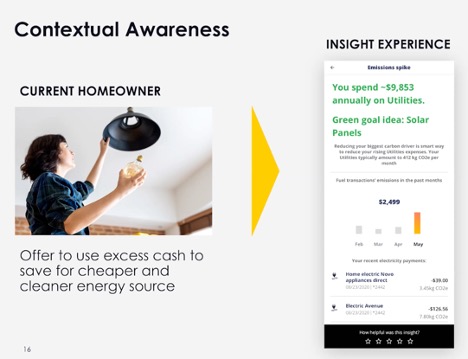 The bank can then proactively reach out to these customers, show them that their utility spending is high, and offer a personalized goal to use their excess cash for a green goal – such as saving for solar panels.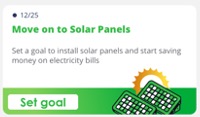 3. Performance barrier challenge
Banking customers sometimes worry that sustainable banking products are not as high-quality as traditional products. To overcome this, financial institutions need to demonstrate that their green banking products offer significant value to the customer, beyond the sustainability impact.
Performance barrier solution: Personetics can help accomplish this. Our Sustainability Insights integrates sustainability content into a mixed feed of personalized money management advice. "Green banking" shouldn't be a standalone feature; it should be integrated into the center of the banking experience and become an occasion for everyday engagement with customers. While you talk to customers about saving the environment, show them how to save money.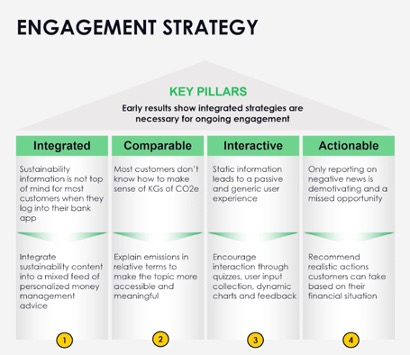 There are multiple engagement strategies to make this happen. Sometimes a bank will need to show insights to a customer multiple times or in various formats before the customer decides to act. By building sustainability into the everyday digital banking experience, you can show customers that sustainability is yet another way that you're supporting their financial wellness and adding value to their financial life.
4. Knowledge barrier challenge
Consumers are demanding more information about the environmental impact of their personal choices and of the products that they buy.
Knowledge barrier solution: To empower bank customers with better knowledge of the climate impact of their consumer choices, Personetics offers Carbon Footprint Tracking. This solution analyzes bank customer transaction data to determine the total carbon footprint of each bank customer's complete transaction activity (banking transactional and payments data). Our methodology is based on granular analysis of merchants, categories, utility providers, and other public data sources to provide a clear picture of the estimated carbon emissions for each transaction, whether it's a gasoline purchase at a convenience store, or an online shopping purchase of home goods. We show customers their total carbon footprint based on bank account activity.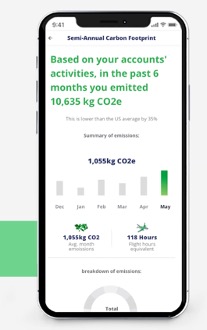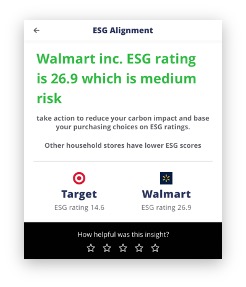 5. Trust barrier challenge
Consumers want brands to demonstrate credibility about their climate change commitments, without "greenwashing." Forrester research found that only 34% of Europeans trust companies that say they will commit to reducing climate change.
Trust barrier solution: Personetics believes that the greatest contribution that retail banks can make to mitigate climate change is to encourage sustainable consumer spending behavior. With transparent communication and personalized recommendations based on actual customer transaction data, retail banks can show a trustworthy commitment to fight climate change while supporting their customers' financial wellness.
By connecting sustainability to people's financial goals, retail banks can help shift customer behavior in a more sustainable direction. Personetics' Sustainability Insights integrates with each financial institution's existing product offerings. We help you show your customers how to spend responsibly (while reducing carbon emissions), invest in ESG funds, or choose green banking products (such as green mortgages).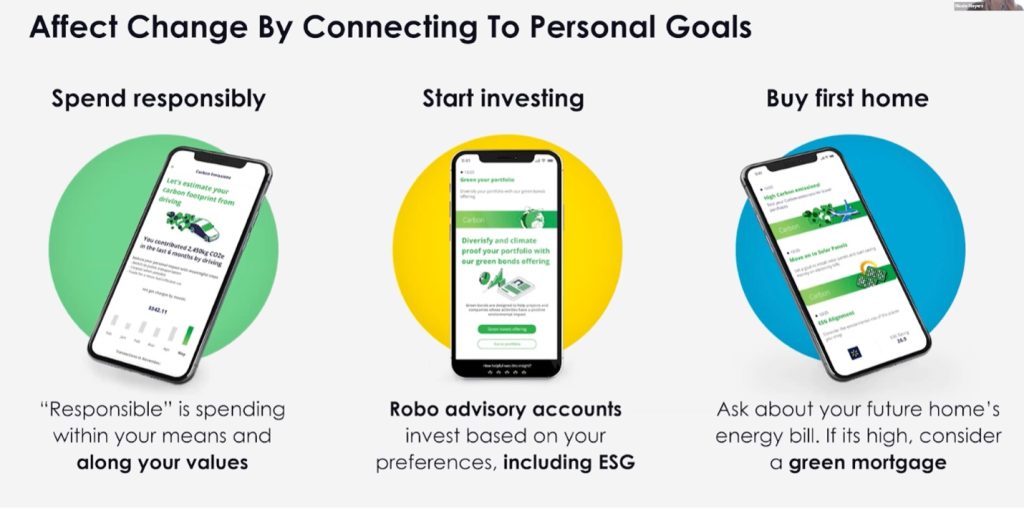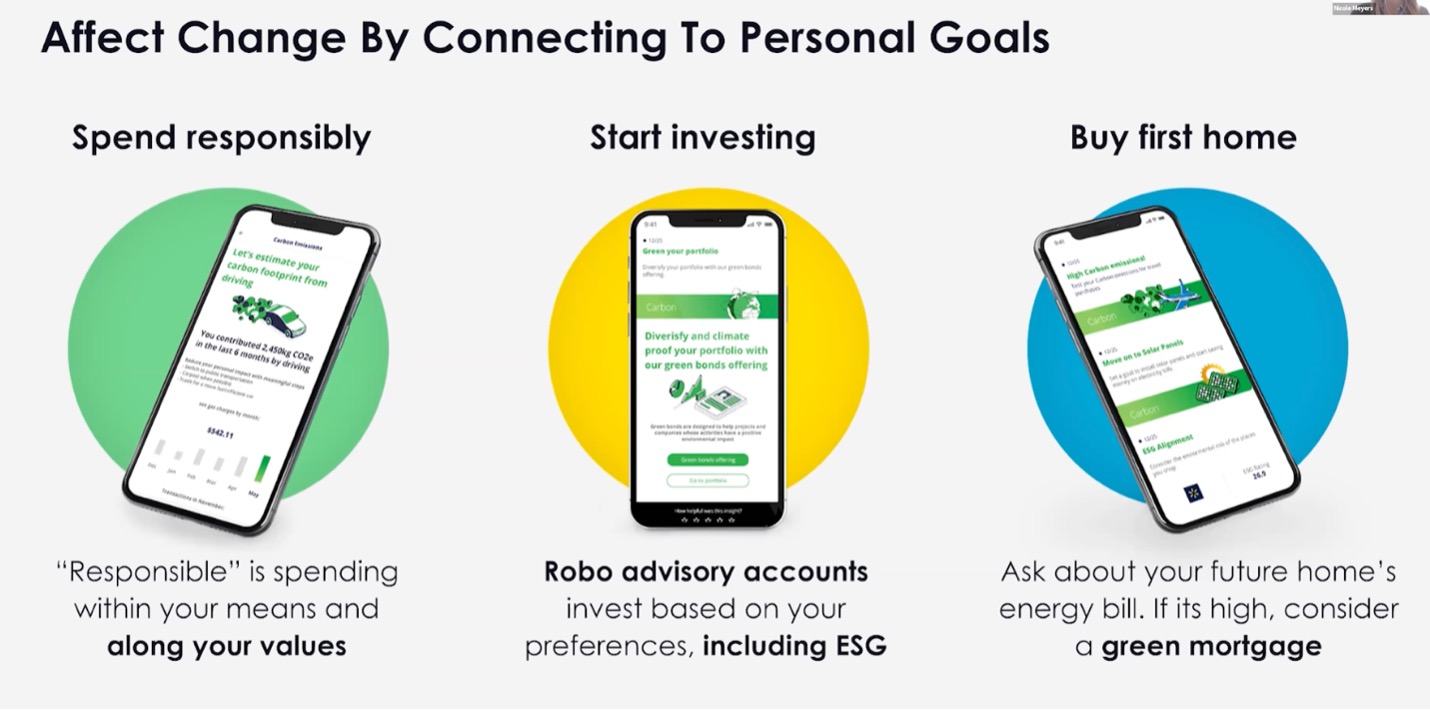 "If you think about what banks can do, they are things that they need to be doing across products, policies, and processes," said Oliwia Berdak, "but the products aspect is very important because this is the way in which they need to be nudging their customers toward more sustainable behavior through those green finance and green investment products."
How to Take Sustainable Banking to the Next Level
Helping bank customers make green spending choices can be part of an overall money management approach, where banks can show customers how to spend smarter, manage their budgets, save money, and reach their financial goals while supporting the environment. In this way, retail banks can also drive business impact by suggesting relevant financial products to the right customers at the right time.
Retail banks have a chance to put sustainability at the center of the everyday retail banking experience, in a way that builds trust with customers and drives business impact for the institution.
Ready to learn more? Watch the replay of our webinar with our special guest from Forrester, "How Banks Can Engage Customers with Sustainability."
Get more information about Personetics Sustainability Insights.
Want to explore how your bank can harness the power of AI to engage and serve customers? Request a demo now
Latest Posts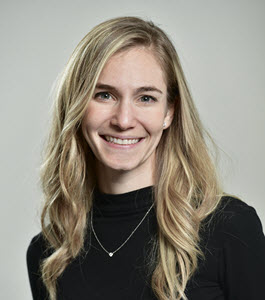 Nicole Meyers
VP Strategic Account Management
Nicole brings over a decade of experience in consumer banking strategy and operations. In her role, Nicole is responsible for building and growing client relationships, ensuring each project achieves impact. Prior to joining Personetics, Nicole was a consultant at McKinsey & Company, where she advised financial services clients on digital enablement, regulatory compliance and strategic planning. Nicole led the World Economic Forum's initiative to promote global financial inclusion, in partnership with the World Bank Group. Nicole also served as the Director of Strategic Partnerships at Grameen America, a micro-lending credit union, where she built and managed savings programs with Wells Fargo, Citibank and Capital One. Nicole holds a B.A. in International Relations from Bucknell University.