October 4, 2020
AI-Bank of the Future: Using Proactive Personalization to Transform Retail Banking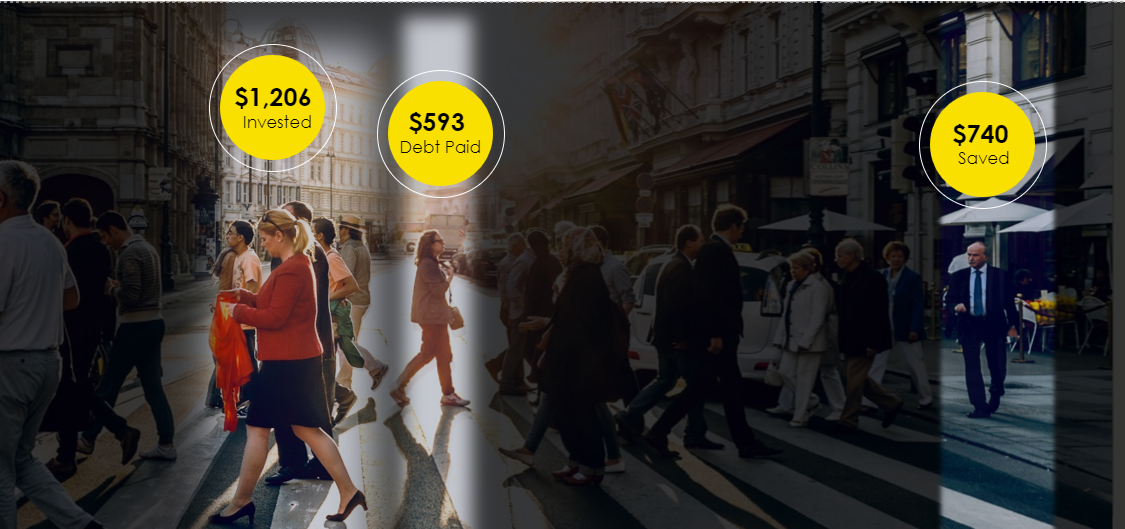 McKinsey & Company's recent Global Banking & Securities article entitled: AI-bank of the future: Can banks meet the AI challenge?, outlines what the futuristic world of AI first banks would look like.
Surprisingly, the article's tone is set as some far off, a futurist vision of what an ideal bank could and should look like when a fair number of the recommendations can already be found in some dynamic and future-looking banks who are adopting technologies based on AI and predictive analytics today.
The McKinsey article brings several specific use cases and outlines where AI could be implemented to offer customers an improved experience. Let's take a look at 28-year-old, professional Anya and her experience working with her bank.
1 -Anya engages with her bank through seamless integration with other nonbanking apps.
2 &3 – She logs in seamlessly with facial recognition and immediately is 'rewarded' by being served personalized offers relevant to habits.
4 – Once Anya trusts that her bank truly understands her by the relevance of her offers, she is now willing to take advantage of the personalized money-management solutions that the bank pushes through her mobile app.
5 – Anya is now comfortable with the level of intimacy with her bank, then more and more frequently depends on her app for payment reminders and overviews of her financial activities.
6 – With her comfort level intact, Anya now requires all of her financial and banking activities to happen in a single location and looks to the bank for long term recommendations on how to best optimize her financial life.
What is most interesting in this use case is that 2/3 of these stages are already being implemented and utilized by banks including Ally, Royal Bank of Canada, UOB, DBS and others, all of which are partnering with Personetics AI-Powered Customer Engagement Platform and solutions.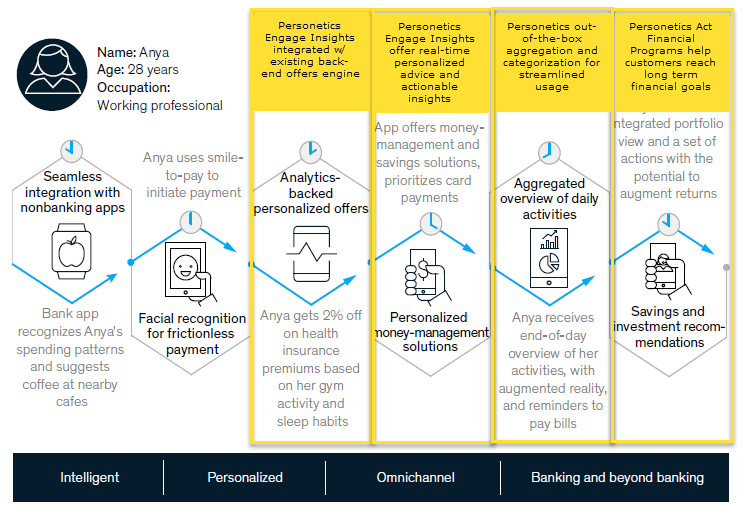 Personetics integrates with all of the leading banking back-end platforms including Oracle, Salesforce.com and MS Dynamics to align real-time transaction insights to the offers that the bank has on hand. No more irrelevant offers to loans when your balance is strong. And with Personetics Engagement Builder, the codeless management tool that speeds up the development cycle and deployment to all bank channels, banks can quickly and easily create custom insights with their specific target audience and offerings in mind.
DBS, named the most innovative bank in the world, just updated their Digibanking mobile application to include over 100 automatic personalized insights that expand the reach of their proprietary AI-driven predictive analytics engine to their customer base.
Royal Bank of Canada, a digital banking leader, has launched a full suite of personalized automation tools called NOMI that have become the central hub for customers to view their full account activity, get nudges and reminders about relevant financial activity as well as automatically shift 'safe-to-save' funds into specially designated savings accounts. RBC has seen 17% to 20% year-over-year growth in mobile banking utilization from 2015 to 2019 and customer attrition of 2% vs industry of 7-8%. Their NOMI Find & Save app opened 250k new savings accounts and is #1 savings account originator with customers saving on average 225$ a month!
Ally Bank launched a number of AI-Based Smart Savings Tools aimed at encouraging customers to become better savers. This is the first time a major Bank is using AI-based technology that combines open banking, account aggregation, goals and automated money movement in a unified tool with external funds.
The same level of intelligence and relevance can be applied to SMBs who are interested in integrating with common cloud-accounting software, handle the instability of accounts receivable, invoicing and payments, handle the complexity of tax submissions and can serve as the single source of truth for their overall business needs. Personetics full suite of SMB specific automated, personalized  tools support SMBs throughout their financial lives.
For most banks, ensuring the adoption of AI technologies across the enterprise is no longer a choice, but a strategic imperative. Personetics is the partner that can integrate seamlessly which bringing immediate ROI to all AI business initiatives.
Want to explore how your bank can harness the power of AI to engage and serve customers? Request a demo now
Latest Posts