October 2, 2023
Akbank Partners with Personetics to Boost Customer Engagement and Sustainable Revenue Growth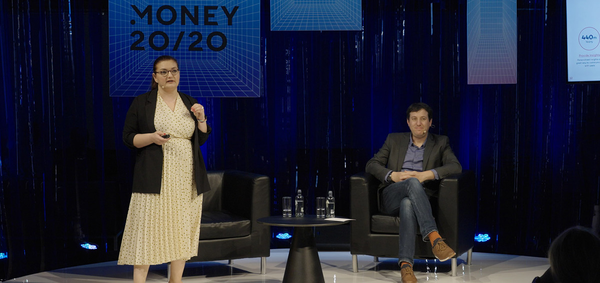 At the recent Money 20/20 conference in Amsterdam in June, I had the pleasure of sharing the stage with Burcu Küçükünal, Digital, Design and Innovation SVP at Akbank, one of the largest private banks in Turkey.  Burcu and her team's vision was to create a mobile app for the bank that would act as a trusted financial advisor for their clients and boost customer engagement. During our session, titled, "The Journey to Financial Data-Driven Personalization", Burcu reported on the bank's successful increase in customer engagement, experience, and satisfaction after delivering hyper-personalized insights. She also outlined the bank's roadmap for increased personalization and her team's strategy to continue higher customer engagement in the future. 
Akbank's Initial Strategy to Increase Customer Engagement 
With half of Turkey's population under the age of 35 and a large digital customer base of 10 million, Akbank wanted to build a captivating digital solution that users could relate to as a financial companion. The bank's mobile platform needed to engage customers with a wide variety of financial insights, creating a dialogue through personalized interaction. Burcu elaborated on Akbank's goals for their platform:  
To allow clients to successfully navigate their money management options and reach their financial objectives

 

To realize better engagement and stickiness by offering hyper-personalized insights to bank customers

 

To create more of an individual and personal connection through each engagement with the customer, building customer loyalty

 

To differentiate Akbank from other Turkish banks as a digital innovator and increase market share.

 
Akbank Creates Banking IQ With Personetics 
To reach the objectives above, Akbank partnered with Personetics to offer a range of hyper-personalized insights to effectively engage their customers via advanced money management capabilities. Akbank started out by delivering 25 types of specific insights that related to the customer's financial status, calling these insights Banking IQ. For example, Banking IQ shows the customer their financial behavior patterns and historical cash flow and makes suggestions on how to increase his/her financial standing. Burcu's team originally prioritized 25 tailored insights, and she reported in the Money 20/20 session that the Banking IQ service has now expanded to include 42 hyper-personalized insights. These insights cover budget management, cash flow, payment reminders, up-to-date stock listing and trades, and mobile payments, and note both the usual and out-of-the-ordinary expenses being charged to the customer account. Personetics' AI algorithms have been integrated into the core of Akbank's everyday banking system. When a customer logs in to the mobile app, they immediately begin to see these personalized insights.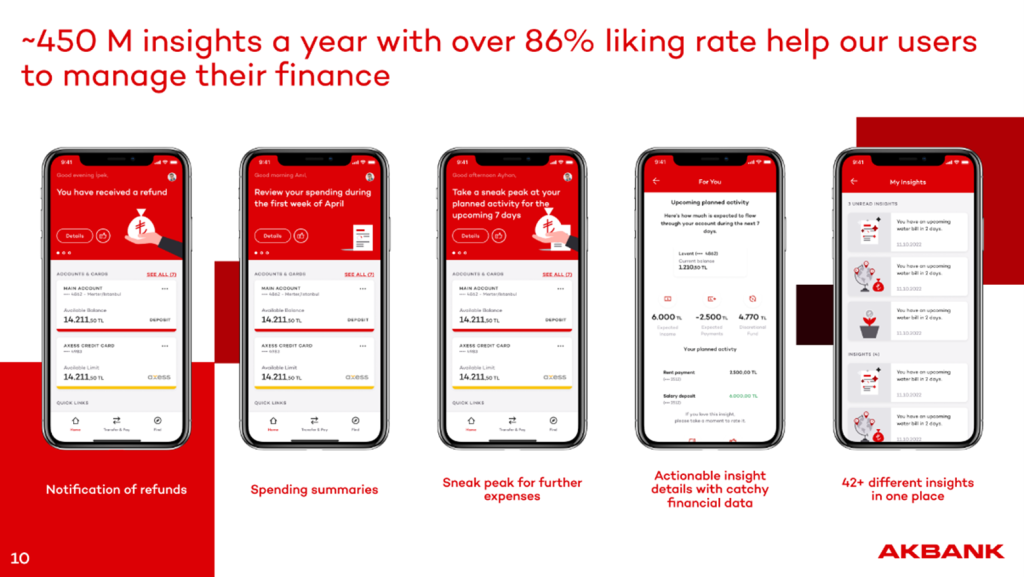 Burcu Küçükünal, Digital, Design and Innovation SVP, noted: "Our digital strategy with Personetics was to engage clients more frequently, where each and every engagement creates more value for the client. The engagement rate is a crucial strategic KPI for us. Now that we have seen positive results in the engagement rate, we plan to expand the number of personalized insights in the future."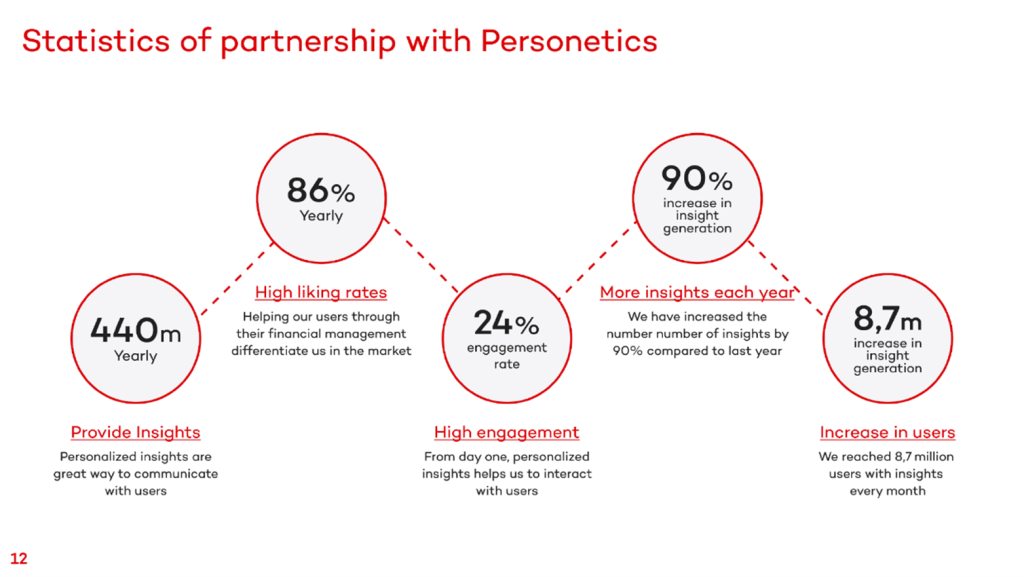 End Result:  Customer Satisfaction 
As a final tribute to the Banking IQ offering from Akbank, Burcu reported that the customer base has responded with an 86% satisfaction rate and 24% engagement rate. Some of the customer quotes generated in performance surveys include: 
"These insights made my job easier. This system works very well.  It is easy to understand, practical, and fast." 
"I am working really hard and sometimes I can miss some important details but this system reminds me of this important information, thank you." 
"It is like having a personal accountant. What more could I ask for?" 
While working with our team at Personetics, Akbank has achieved some inspiring statistics in order to better service its banking customers. But they are not stopping with these achievements; they are looking to continue to offer better insights and personalized service. We look forward to helping Akbank continue to increase its engagement with customers, creating trust and confidence in the process. 
Akbank's Roadmap for Banking IQ:  More Insights Based on Customer Needs 
Akbank has three specific goals while working with the Personetics platform in the long term. The first is implementing the bank's version of Open Banking, integrating their customers' other financial institutions and payment companies into the database for a seamless banking experience. This will provide customers with a holistic and more accurate financial behavior analysis, presenting competitive alternatives, increasing engagement, and helping them to navigate financial decisions. The second goal is to boost the number of personalized insights from the current number of 42, to better facilitate the customer's daily financial needs. By the end of the year, Burcu shared that her team plans for 65 such insights with the objective of enhancing the bank's development capabilities to build new insights on their own. Leveraging Personetics' Engagement Builder, our codeless creation and management console, Akbank can quickly and easily create these customized insights. The third goal is to create additional personalized insights, based on the needs of Akbank's customers. They want their banking clients to contribute to this process by relating information they themselves would like to see offered as insights into the future, elevating the customer dialogue.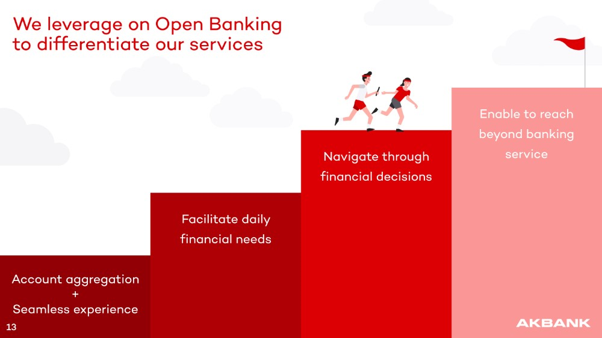 If you'd like to learn more about how Personetics can help your organization, download the full case study or fill out this form to secure a free consultation with one of our experts.
Want to explore how your bank can harness the power of AI to engage and serve customers? Request a demo now
Latest Posts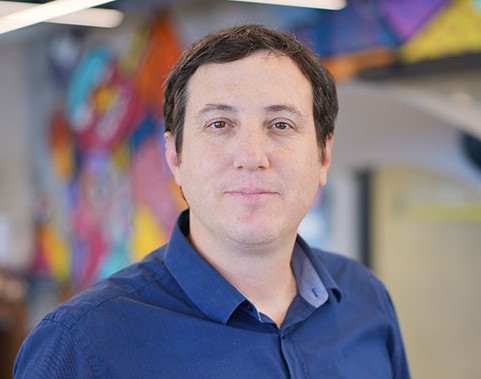 Dorel Blitz
VP Strategy & Business Development
Dorel Blitz brings over 13 years of experience in global strategy and business development in the financial services industry. Dorel joins Personetics from KPMG, where he headed the Fintech sector at KPMG Israel and a member of the global Fintech practice. In this role, Dorel was instrumental in establishing KPMG's collaborative relationships with global financial institutions and leading Fintech companies including Personetics. He also acted as a subject matter expert and led advisory projects involving digital transformation strategies with financial services organizations. Prior to joining KPMG, Dorel led the Innovation & Fintech practice at Bank Leumi, and earlier in his career he headed the banking & finance division at global research firm Adkit.