March 20, 2023
Community Banks are Becoming Leaders in Customer Advocacy & Digital Engagement by Utilizing FIS Spending Insights Solution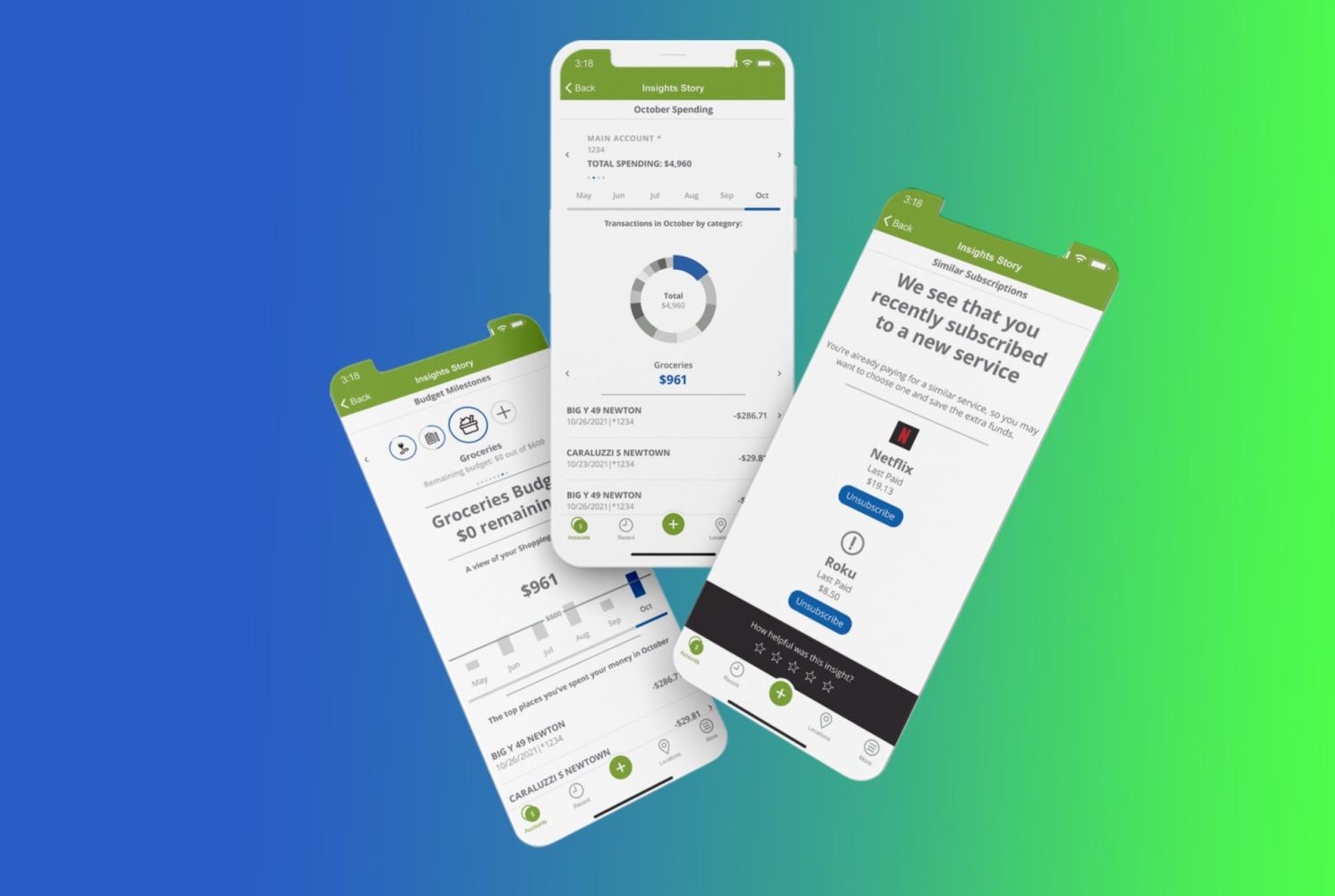 Lessons Learned: Union Savings Bank's Personalized Financial Wellness Journey
Community banks are competing against agile, digital-first fintech apps and major banks with big budgets for digital features. Today, with the help of partners like FIS and Personetics, community banks are actively deploying new personalized financial wellness strategies that are driving differentiation, digital engagement, and building trust and loyalty with customers. These partnerships are enabling community banks to respond quickly, and effectively compete with these emerging FinTechs and capabilities.
A great example of how community banks can deliver exceptional digital banking experiences for their customers is Union Savings Bank (USB), a $3 billion AUM community bank based in Connecticut, with their recent launch of FIS Spending Insights, powered by Personetics. After only a few months of launch, USB has achieved greater than 20% increase in customer engagement, and is presenting personalized insights to 94% of mobile users.
With FIS Spending Insights, community banks like USB can get access to embedded advanced data analytics and deploy personalized insights to their customers, powered by Personetics' financial data-driven engagement platform. Forward-thinking community bankers can equip their banks with industry-leading data analytics and money management capabilities – without the complexity of a custom build.
Union Savings Bank is already seeing strong business impact from "USB Spending Insights," which uses AI to analyze customers' day to-day spending and help them make it easier to budget and save. USB is seeing significant increase in digital engagement, customer satisfaction, and digital utilization after just a few months of offering these new capabilities.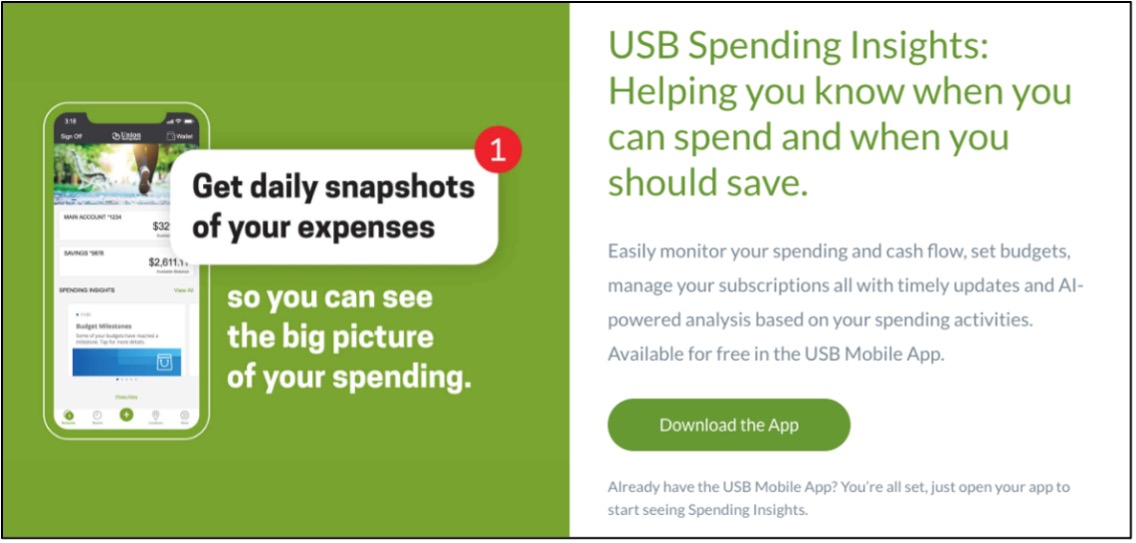 Let's take a closer look at how Union Savings Bank is leveraging this proactive financial wellness strategy to better engage and personalize the digital banking experience for their customers.
The Challenge: Driving Digital Engagement
Like many community banks, Union Savings Bank was evaluating its strategic options to increase customer engagement and interaction. When Chris Barlow joined Union Savings Bank in January 2020 as Vice President Digital Channels, he was charged with improving digital engagement and promoting better financial wellness strategies for their customers.
Chris Barlow and his team wanted to quickly ramp up a more robust suite of solutions for digital engagement, while also supporting customers' ability to gain greater control over their day-to-day finances. USB Spending Insights is becoming a central part of the bank's overall digitalization strategy.
Click here to download the case study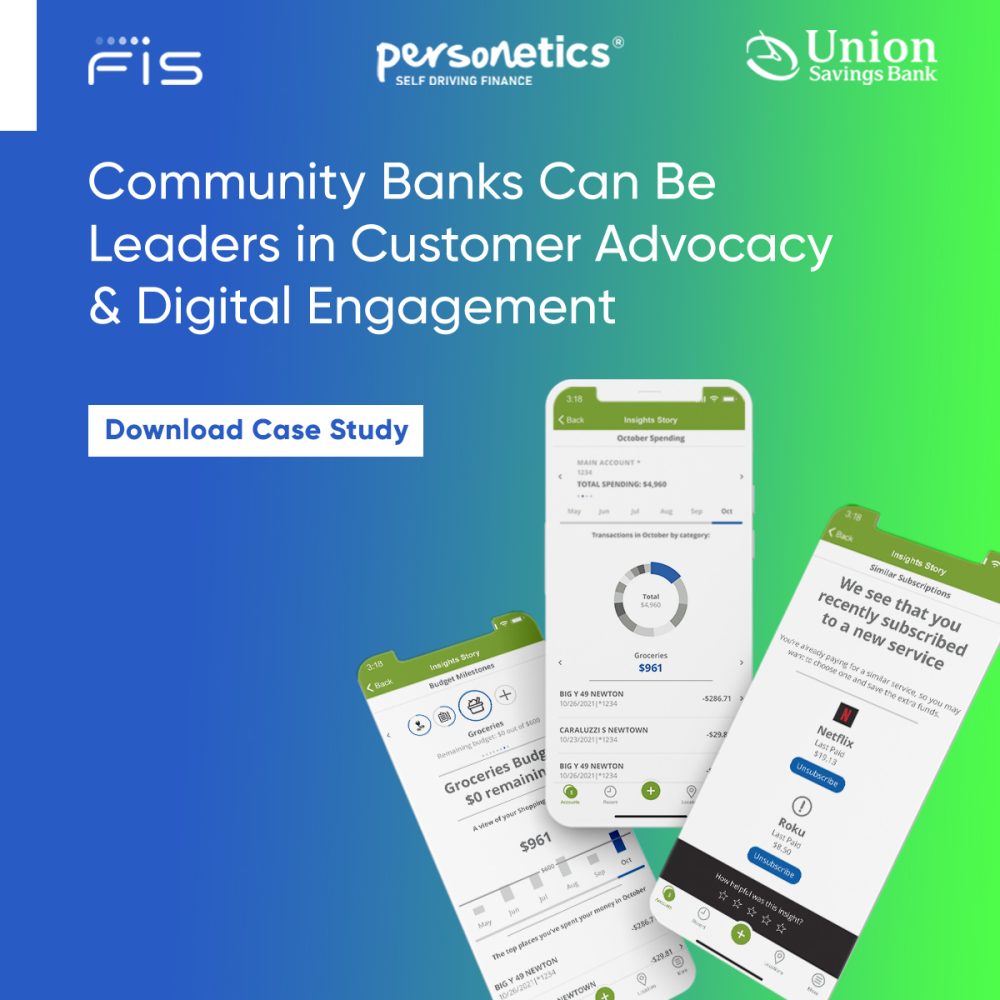 The Solution: Harnessing the Power of Customer Transaction Data
From a previous role before joining Union Savings Bank, Chris had heard of Personetics and was intrigued by their highly personalized financial wellness strategies and advanced money management capabilities. After learning about the recently inked partnership between FIS and Personetics, he advocated for USB to be at the forefront of the FIS Financial Wellness Suite Spending Insights launch.
This persistence enabled USB to quickly take advantage of the fully embedded FIS Spending Insights features and functionality within the FIS Digital One Financial Wellness Suite – giving the bank a powerful set of solutions to empower their customers' financial control and quickly deliver a highly personalized and differentiating digital experience for their customers. FIS Spending Insights is pre-integrated into the FIS core banking solutions, making it possible for any FIS client to tap into these powerful capabilities for personalized insights.
"Because of how FIS decided to integrate Personetics capabilities into their digital banking platform, it made it easier for us to quickly deploy and get internal support. It became a collaborative effort throughout the development and launch process," Chris Barlow said. "We did an initial pilot with 30 pilot testers from our call centers, branches, leadership team and digital innovation team. Once they saw insights based on actual transaction data and the intelligence behind the experience, we realized the impact this could have with our customers."
Customer transaction data is financial institutions' biggest asset, but too often, community banks have limited assets to understand and harness this data to improve the customer experience. Union Savings Bank is a great example of how leveraging customer transaction data can help engage customers, build trust, and further deepen each customer relationship, driving significant value for customers and for the business.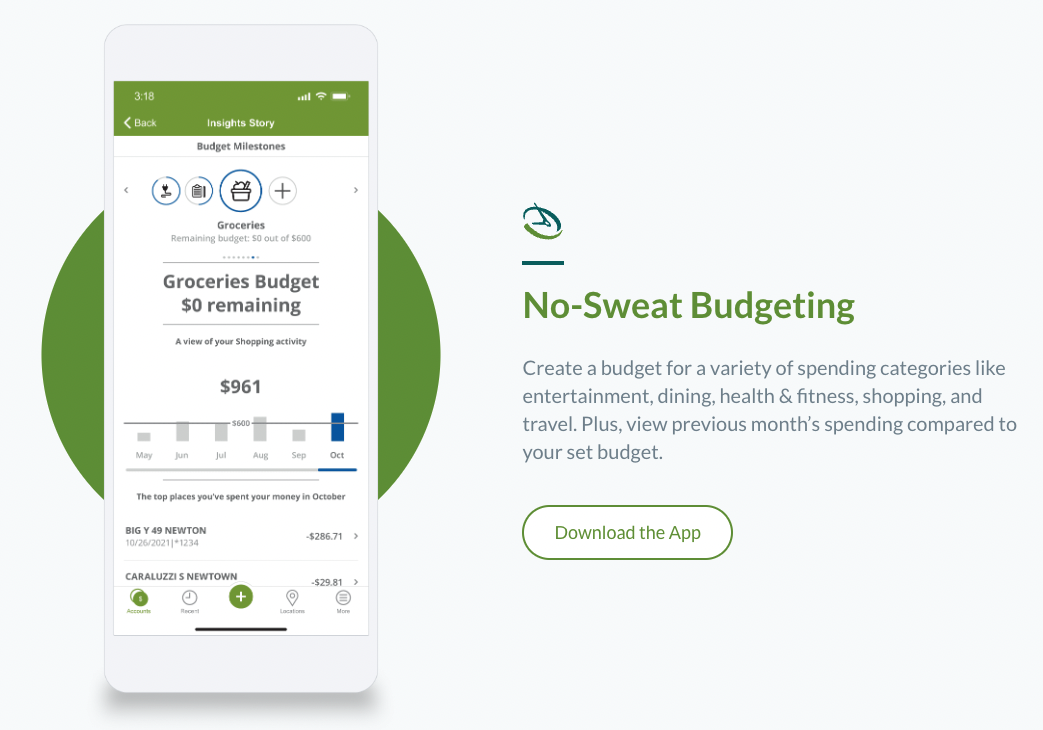 The Result: Supporting Financial Wellness by Showing Customers How to Spend and Save
USB Spending Insights is available within the USB mobile banking app, and it enables customers to have a better understanding of their day-to-day finances, offering proactive insights and advice on spending, budgeting and savings, and recommendations for relevant products and services the bank provides. The insights are personalized for each customer based on AI-powered analysis of the customers' own transaction data, helping customers to monitor spending and cash flow, set budgets, manage subscriptions, and more.
The integrated Subscription Tracker helps customers recognize duplicate and unknown subscriptions to eliminate "subscription creep" and put money back into customers' pockets.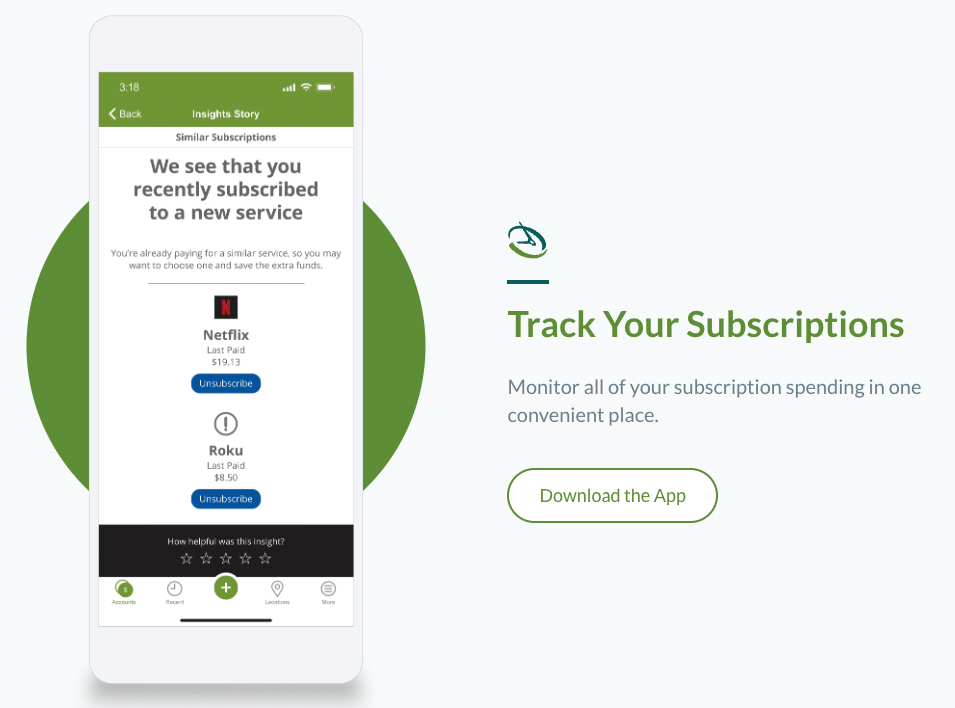 USB Spending Insights offers more than 50 different personalized data points about each customer's finances. Just by swiping within the USB mobile banking app, customers can see their spending trends and make better-informed decisions about their finances.
Capabilities include:
Learning about spending habits
Tracking spending trends on categories like entertainment, food, gas, restaurants, and subscriptions
Setting budgets
Analyzing accounts to predict how much money customers will have
Suggesting actions that customers can take to gain control of their finances
To show the power of unlocking additional savings from people's monthly budgets, the Union Savings Bank Marketing team did a creative campaign with a mobile glass-sided truck. The bank promoted the new capabilities of USB Spending Insights to help customers save, asking people to share "What Would You Do with an Extra $50."
"It's exciting to show people how these data-driven insights can make a real difference in their financial wellness, helping them see their own spending more clearly, set smart budgets, and identify opportunities to save," said Chris Barlow. "The Personetics philosophy is all about taking a bottom-up approach to win confidence of customers, and that was a key selling point for us in deciding to partner with Personetics via FIS."
Driving Proactive Digital Engagement to Over 94% of Mobile Users
Ever since Union Savings Bank began the USB Spending Insights project in November 2021 with FIS and Personetics, they've been seeing resounding results. After only four months, 94% of Union Savings Bank customers who use the mobile app are being consistently presented with personalized insights.
The bank's overall results are in line with industry-wide benchmarks that Personetics has seen from other institutions after adopting personalized insights, including:
Average of 30-35% increase in digital frequency, dwell time, and overall engagement
Customer Experience & Satisfaction Rates: +7 points NPS increase, and consistent averages of 4.5/5.0 in customer satisfaction ratings
Other banks such as RBC have achieved 17-20% year-over-year growth in mobile banking utilization, and a significant improvement in customer retention rate of 5-8%
Union Savings Bank is receiving overwhelmingly positive feedback from customers who appreciate the newly improved, personalized digital banking experience.
Customer comments about USB Spending Insights include:
"Shows me my spending history and has a graph to visualize it in an easy way."
"Nice way to track how closely I'm sticking to my budget."
"Awesome to know you keep track."
"I like the breakdown of the different categories of what I spend."
"Very helpful to manage inconsistencies."
"Love interacting with the quizzes and learning more about my spending.
"You've really been helping me out with everything! Even when I'm out of town! Thank you for all you people do for all of the families who do their checking account with USB!"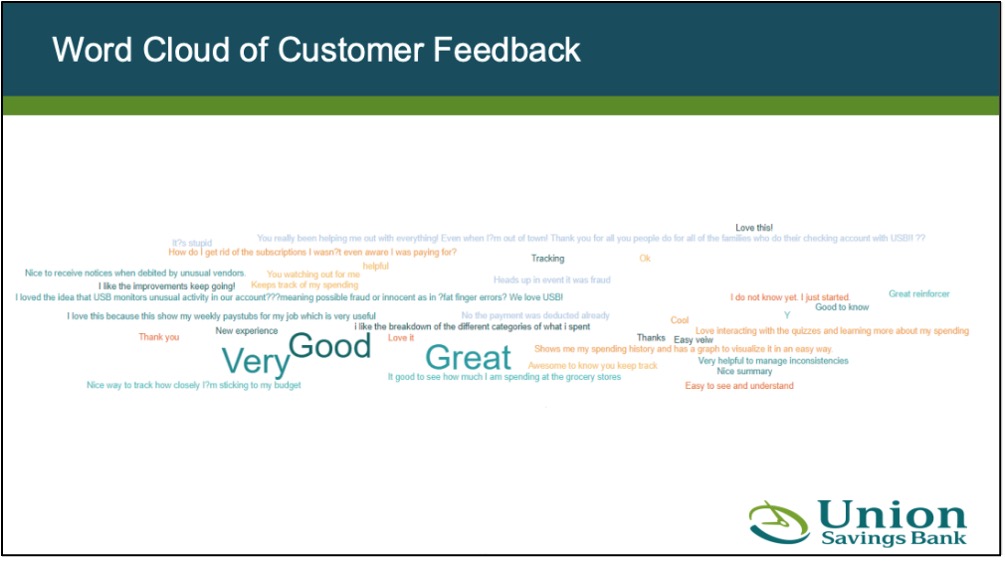 "Before we partnered with FIS and Personetics on USB Spending Insights, we weren't using personalization to drive mobile engagement, and this is our first foray into AI," said Chris Barlow. "The customer adoption rate with Personetics has been immediate and significant."
Not only are 94% of the bank's customers being engaged via personalized insights, but they're also seeing significant value from the insights. Each insight invites the customer to rate the insight's usefulness on a scale of 1 to 5 stars. The average rating for USB Spending Insights is 4.6.
After only a few months of Union Savings Bank's implementation of USB Spending Insights, the bank is already seeing strong ROI and big potential for future innovation to drive business impact.
"We see the success of USB Spending Insights as the start of a larger journey to enhance our offerings," Chris Barlow said. "We will continue to look for opportunities to evolve to support customers' financial wellness with advanced money management capabilities."
Union Savings Bank is an ideal example of how community banks can be leaders in digital engagement and driving business impact from customer transaction data. Community banks do not have to be at a disadvantage in getting access to advanced money management capabilities and AI-powered analytics solutions; by partnering with FIS and Personetics, you can get access to the same kinds of industry-leading solutions that are offered by major banks.
For their great work with FIS, Personetics, and USB Spending Insights, Union Savings Bank has been named a finalist for Best FinTech Partnership in the 2022 Banking Tech Awards USA from Fintech Futures. We hope to see even more good news for this forward-thinking community bank.
To see the full case study about Union Savings Bank's success story from partnering with FIS and Personetics, click here.
Learn more about our recently announced partnership with FIS.
Learn more about Union Savings Bank's USB Spending Insights.
Are you a community bank leader who wants to see what we can do for your institution? Request a demo today. 
Want to explore how your bank can harness the power of AI to engage and serve customers? Request a demo now
Latest Posts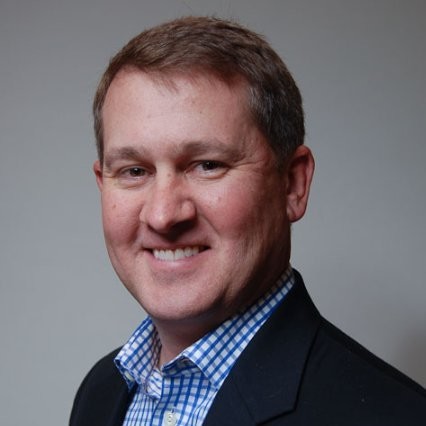 Tom Roberts
Head of North America Strategic Partnerships
One of Personetics' most experienced sales executives, Tom Roberts manages channel partner relationships to drive adoption of Self-Driving Finance and other advanced money management capabilities and digital banking technologies. Tom and his colleagues help create collaborations with Financial Institutions to make AI-powered banking a reality for 35+ million customers today – delivering real time personalized & predictive financial guidance based on customer financial transaction data. By working with Tom to integrate with Personetics, core banking providers and other front-end and back-end platforms can help their clients improve CSAT & NPS and other key metrics to achieve significant business impact.