May 11, 2022
Green Banking Without "Greenwashing": How Sustainability Can Build Trust with Banking Customers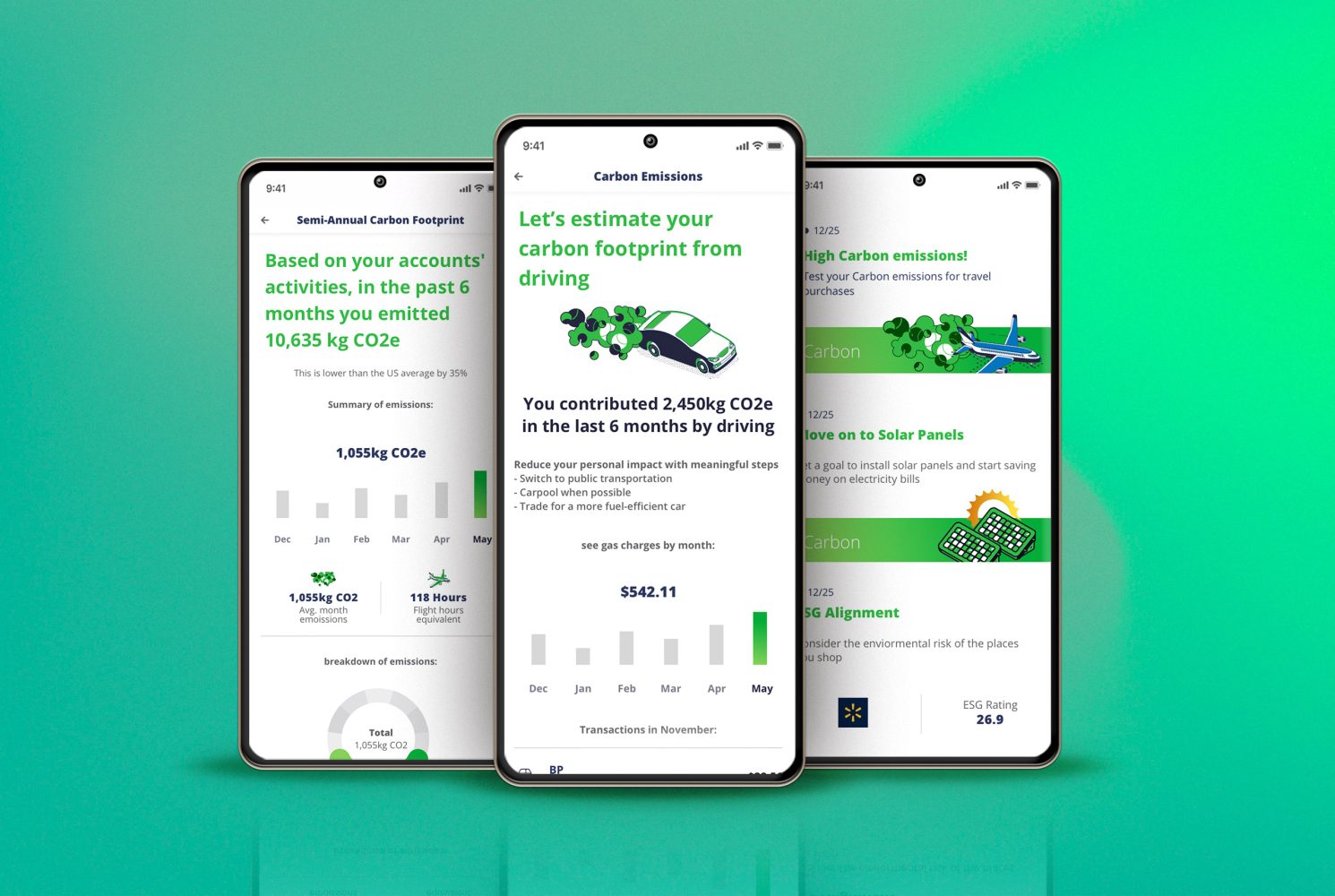 Financial institutions are navigating a complex landscape on sustainability. Many banking leaders want to do more to promote sustainability and be leaders by providing "green banking solutions," to use the power of finance to help fight climate change, accelerate the transition to clean energy, and achieve net-zero carbon emissions. Green banking can also help financial institutions appeal to environmentally conscious customers, improve their brand image in Corporate Social Responsibility, and enhance their ESG ratings.  
 Regulators and advocacy organizations are also pushing the financial industry to take a stronger leadership role in getting to net-zero carbon emissions and fighting climate change, such as divesting from fossil fuels, investing in renewable energy production, and offering "green bonds" and ESG investment products.   
Along with changing their business operations to net-zero and transforming the way they allocate capital, financial institutions can put sustainability at the center of the retail banking experience. Sustainability is not just a topic for boardroom decisions; it can be a reason for everyday customer engagement with banking customers.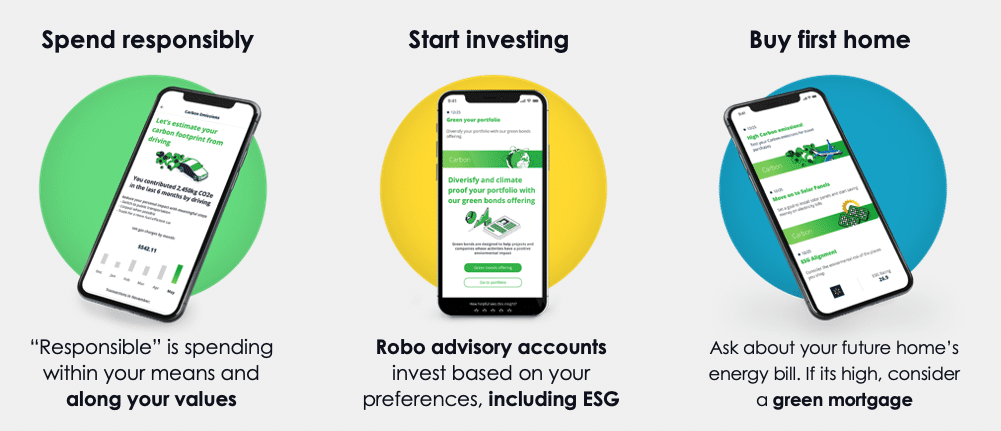 Let's take a closer look at a few key trends in green banking – and how banking leaders can manage this opportunity the right way to build trust and deliver value to banking customers.  
How Retail Banks Can Be Leaders in Sustainability
Customers are demanding a higher level of leadership from financial institutions to take action on climate change and publicly share their bias towards brands that prioritize ESG practices:  
59% of UK online adults think it's important for companies to have socially responsible operations 1

51% of US online adults regularly purchase from brands or companies that align with their personal values 2

 

53% of Italian online adults say that company positions on environmental protections and climate change are important parts of Corporate Social Responsibility

3
Nearly 60% of young people (ages 16-25) say that they are "very or extremely worried" about climate change 4

 

 

73% of banking customers say that it's important for them to bank with institutions that offer sustainability and environmentally friendliness, but sustainability was one of the areas where banks scored lowest in customer satisfaction rates 5 

 
The opportunity: financial institutions can create competitive advantage with sustainability. By offering better advice on how to make environmentally aware spending choices and savings and investing goals, your institution can build stronger relationships with your customers and create higher Customer Lifetime Value.  
Avoid Greenwashing: Provide Real Value for Sustainability-minded Customers
Promoting environmental sustainability requires an authentic strategy for financial institutions to build trust with customers. If financial institutions' sustainability offerings are perceived as "greenwashing," or of trying to promote themselves and their products without delivering meaningful impact on sustainability goals, this can break trust with customers which is costly to repair.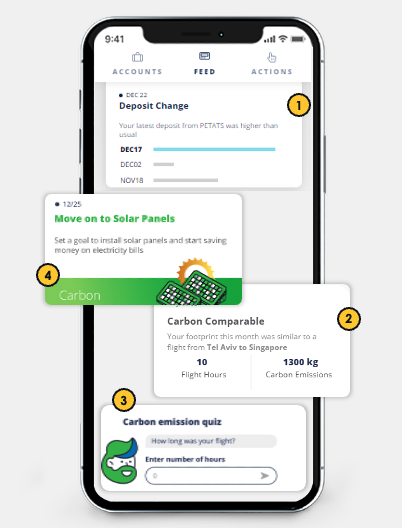 So, how should banking leaders approach sustainability? By helping address several of the barriers holding customers back from making more environmentally friendly choices. Start with knowledge. If customers were aware of the real impact of their purchasing decisions, then they would be more inclined to choose differently.  
Many consumers are already seeking more information and guidance about the sustainability metrics and carbon emissions of their purchases. Since banks have access to their customers' everyday transaction trails, banks and credit unions are ideally positioned to support their customers with better advice and insights on the sustainability of their spending choices.   
Integrating Sustainability into the Banking Experience
Sustainability is not a "nice to have" or a separate issue of ESG; sustainability can become part of the core of the bank's value proposition. In this way, sustainability is the next competitive advantage for banks.  
Some banks and financial institutions have already launched green banking products, such as checking accounts with carbon footprint tracking, or credit cards that provide carbon offsets for purchases. This is a good start, yet these solutions have mostly been reactive and limited to showing customers the carbon impact of purchases that have already happened. The industry can go farther. Financial institutions can go beyond awareness to proactive behavior change.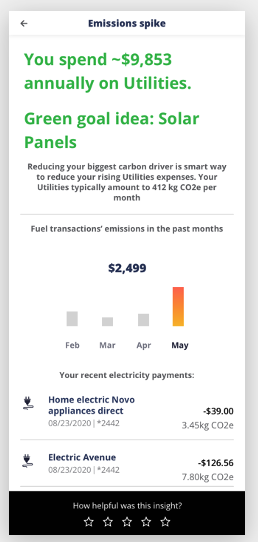 For example, financial institutions can highlight similar companies with better ESG ratings than the companies that a customer frequently purchases from. The convenience barrier to switching is a lot lower if the substitute is known and nearby.  
Financial institutions can also use transaction data to understand each customer's personal financial goals and tie sustainability measures to these goals. For example, a customer looking to renovate his home, may consider putting in solar panels if it would also help reduce his utility bills in the long term. A home equity line of credit could be a relevant affordable product that also helps achieve a sustainability objective.  
Driving Business Impact with Sustainability Insights
Personetics' new Sustainability Insights is our next-gen solution that helps financial institutions integrate sustainability into your existing product offerings. With the power of advanced data and analytics, backed by enhanced carbon emissions data models from our partner ecolytiq, Sustainability Insights gives your institution the ability to drive business and environmental impact.  
Sustainability Insights doesn't just show customers their carbon footprint; this is the world's first solution of its kind to help banking customers take control and minimize their carbon footprint. Financial institutions can use Sustainability Insights to recommend greener spending choices, offer options to choose lower-carbon merchants or spending categories, and more; all personalized for each customer, based on their transaction data.  
For financial institutions, Sustainability Insights helps you achieve a new level of personalized engagement with customers, and it's all fully integrated with your existing products and services. We give you powerful insights and relevant occasions to help customers open new savings accounts, offer loans for solar panels or electric vehicles, or connect customers with ESG investments.  
Knowing more about your customers' preferences around sustainability can help banks provide highly targeted recommendations and product-based advice for climate-conscious customers who are willing to spend, save, and invest based on their values. Drive higher cross-sell, boost Customer Lifetime Value, and most importantly, build credibility with your customers as a trusted advisor on how to live by their values.    
In this way, sustainability can be a win-win-win for customers, for the climate, and for financial institutions. Not merely a brand promise.  
Ready to learn more about Sustainability Insights? Watch our live webinar with Forrester on May 17 (Americas and EU) or May 24 (APAC) on "How Banks Can Engage Customers with Sustainability." 
Sources:  
1, 2, 3 Forrester, "How to Make the Shift to Sustainable Finance," March 18, 2021, by Oliwia Berdak, Luis Deya, Diane Deng with Laura Koetzle, Alla Valente, Salvatore Schiano, Aurélie L'Hostis, Corrado Loreto, Sam Bartlett  
4 BBC, "Climate change: Young people very worried – survey," September 14, 2021 https://www.bbc.com/news/world-58549373   
5 The Ascent, "Study: What Consumers Really Want from Banks," Dec. 18, 2020, https://www.fool.com/the-ascent/research/study-what-consumers-really-want-from-banks/  
Want to explore how your bank can harness the power of AI to engage and serve customers? Request a demo now
Latest Posts

Nicole Meyers
VP Strategic Account Management
Nicole Meyers brings over a decade of experience in consumer banking strategy and operations. In her role, Nicole is responsible for building and growing client relationships, ensuring each project achieves impact. Prior to joining Personetics, Nicole was a consultant at McKinsey & Company, where she advised financial services clients on digital enablement, regulatory compliance and strategic planning. Nicole led the World Economic Forum's initiative to promote global financial inclusion, in partnership with the World Bank Group. Nicole also served as the Director of Strategic Partnerships at Grameen America, a micro-lending credit union, where she built and managed savings programs with Wells Fargo, Citibank and Capital One. Nicole holds a B.A. in International Relations from Bucknell University.